*product received
Every year, with every season, not only does my makeup routine switch up, but so does my skin care routine. I usually will use a lighter moisturizer during the spring/summer months and a heavier one in the fall/winter time.
Why? Because I don't want anything heavy feeling, on my face, during the warmer months. During the winter, fine, but not summer!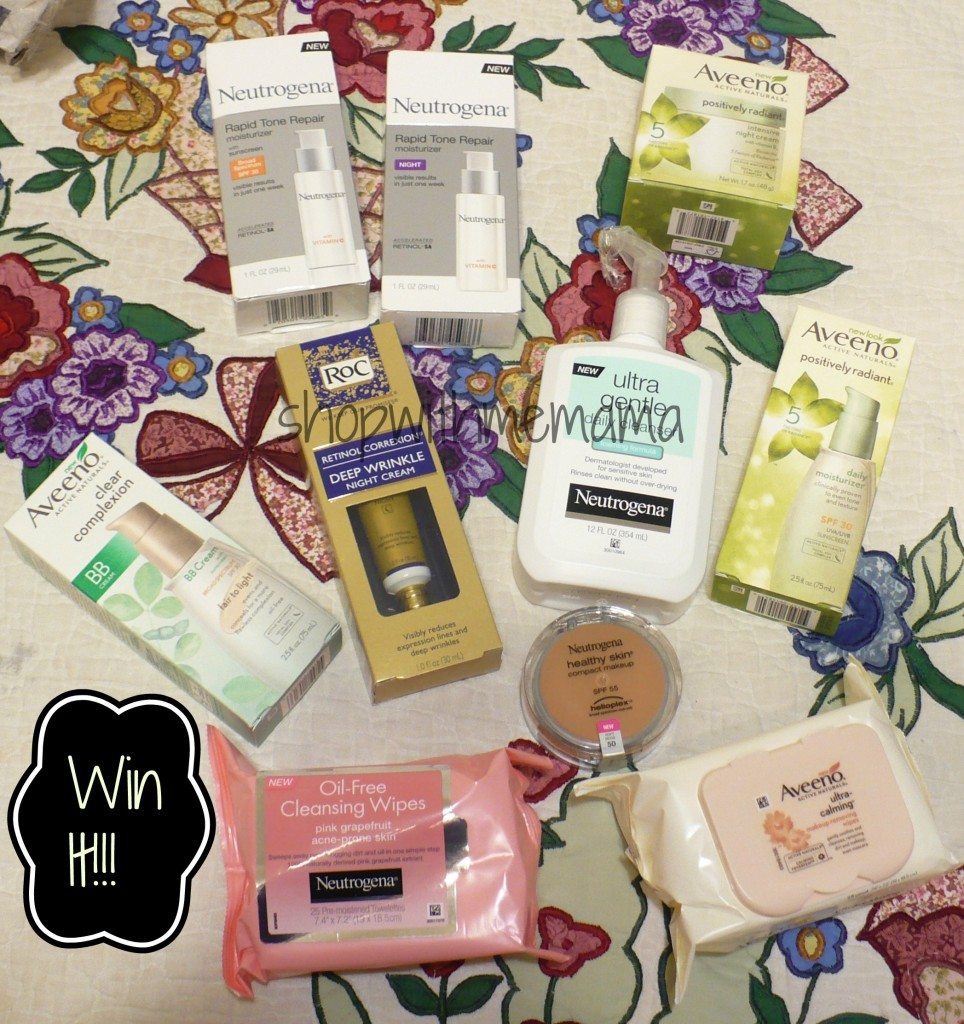 I received some great products to help me switch up my skin care routine, from Johnson & Johnson! The products I received are below and how I felt about each one:
RoC® RETINOL CORREXION® Deep Wrinkle Night Cream: This is something I have already used and just love. It is great for us middle-aged women with those dreaded signs of aging beginning to emerge and show their ugly head. Blah. Instantly, this makes my face feel soft and my lines look softened.
AVEENO® ULTRA-CALMING® MAKEUP REMOVING WIPES: These are very gentle on my skin. They clean off my eye makeup with no problems at all, leaving clean, fresh skin behind.
AVEENO® POSITIVELY RADIANT® INTENSIVE NIGHT CREAM: Love this stuff. It really plumps up my skin and makes it feel really soft and moisturized. I really like the scent too.
AVEENO® POSITIVELY RADIANT® DAILY MOISTURIZER WITH BROAD SPECTRUM SPF 30: LOVE this!! It smells so  nice and clean and it really does make my face radiant looking. I swear it has some pearlized  stuff in it. I use this on my face all the time, morning and night.
AVEENO® Clear Complexion BB CREAM: This smells really good too. It is very creamy and blends better than most BB creams. It leaves my face flawless and smooth. I just wish I got a darker color, but I am not sure it comes in a darker shade???
Neutrogena® Rapid Tone Repair Night: This is great for the warmer months ahead. It is a lightweight moisturizer that really keeps your skin hydrated. It absorbs quickly into your skin leaving it just so soft and nice feeling.
Neutrogena® Rapid Tone Repair Day SPF 30: This also absorbs very quickly and is pretty light feeling on my face. It helps even out your skin tone for a more flawless look.
Neutrogena Healthy Skin® Compact Foundation SPF 55 w/ Helioplex®: This is a lightweight, creamy formula that blends into your skin nicely. It did leave my face a bit greasy feeling, so I did not use this more than once. I ended up giving it to my sister who does not have a problem with greasiness. She loves it.
Neutrogena® Ultra Gentle Daily Cleanser:This is a wonderful facial cleanser. It really cleans down deep and leaves my face a squeaky clean feeling. It is great for sensitive skin, which I definitely need. I love the scent of this too!
Neutrogena® Oil-Free Cleansing Wipes Pink Grapefruit for Acne-Prone Skin: These are great for after a workout or day out in the sun, to clean up your face and get all the greasies off. It is made of 100% naturally derived grapefruit extract + vitamin C.