Since turning 36, I have started to see some dreaded and not welcomed signs of aging on my face 🙁 No woman likes to see that, EVER. I want to stay looking as young as possible for as long as possible.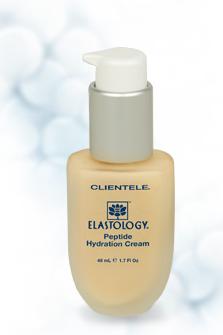 Moisturizing and exfoliating are two very important factors to help prevent aging on your face and body, we all know that! The Clientele lab has formulated a great cream to do both and it is called Clientele Elastology Peptide Hydration Cream. I received this cream to review. I love getting beauty and skin care products in the mail to try out, so this was exciting 🙂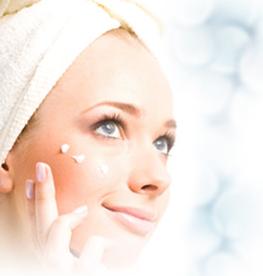 This is a VERY light cream that goes on your skin easily. It blends in and leaves your skin very soft and smooth feeling. The first time I used this I noticed it smells nice. I can't quite describe the scent, but it is pleasant. But, when it starts to dry or blend in with your face, it almost seems like it starts to smell a bit fishy? It could be just me, but that was/is my experience with this.
I use this under my eyes, between my eyes, forehead, around my mouth (avoiding the chin area due to my chin breaking out sometimes) and on my neck and chest area. I am happy with the results so far, my skin seems so soft! This does not make me break out in any rashes or cause any discomfort when I use it around my eye area.

About Clientele's New Elastology Peptide Hydration Cream (taken off their site):
Clientele Labs formulated this advanced cream to do both – moisturize and gently exfoliate using botanical enzymes that speed cell renewal. Fresh, plump cells are coaxed to the skin surface, where they are bathed in a rich, nourishing complex of line smoothing botanicals and rejuvenating factors. Awaken to more beautiful skin. Clientele's exclusive patented Lotus reverses signs of aging, while Peptides decrease the appearance of wrinkles. Firms, refines skin texture, and improves vitality and clarity. Quickly absorbs into your skin. Non-greasy and light-weight formula.
Key ingredients:
Rigin a DHEA-like that helps skin act younger
Apple Skin polyphenol antioxidants increase skin's defenses against aging free radicals
Creatine energizes skin
Gogi Berry Extract contains complex phytonutrients and bioflavonoids
Mushroom Extract improves skins radiance and luminosity
Pumkin Enzymes – a natural exfoliator that increases cell renewal more gently than AHA's for radiant skin
Directions: Apply on clean skin or after serums. May be used day or night.

Buy It!
You can purchase this online at http://www.clientelebeauty.com/

I was sent product to review. These are my own honest opinions, thanks!