*I have permission to share this recipes and pictures. This post includes my affiliate links.
There is nothing like a yummy and delicious Christmas breakfast on Christmas day! I remember when I was young, my mom would make a breakfast casserole with cream cheese, french toast bake, cinnamon rolls, eggs benedict with cheese, sausage and more!
We have a huge family, so cooking Christmas breakfast was always a huge deal in my home growing up and we always had a lot of food that we would later eat as Christmas dinner because there would be so much left over!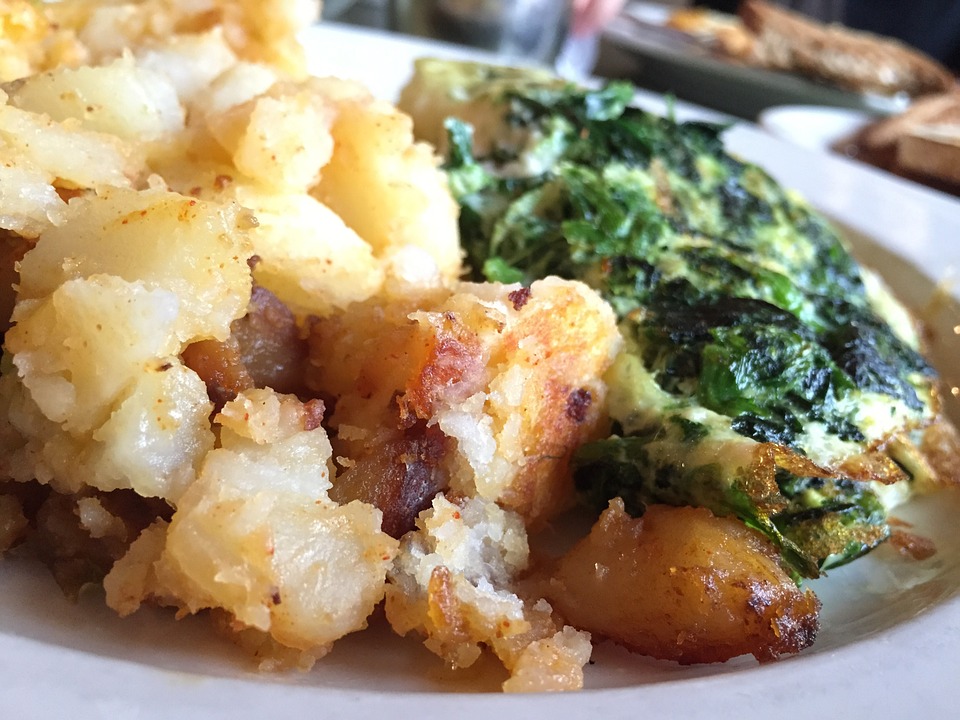 We always had our Christmas dinner on Christmas Eve, so Christmas was just the huge breakfast/brunch and dinner was always leftovers! It is no wonder I love making breakfast for dinner at least once a week!
My mom would slave over the stove all of Christmas Eve, baking delicious Christmas Cookies, a yummy Sweet Potato dish, homemade bread, and SO much more! She sure knows how to bake and cook that is for sure! And, she always uses her slow cooker to create the gravy and potatoes!! YUM!!!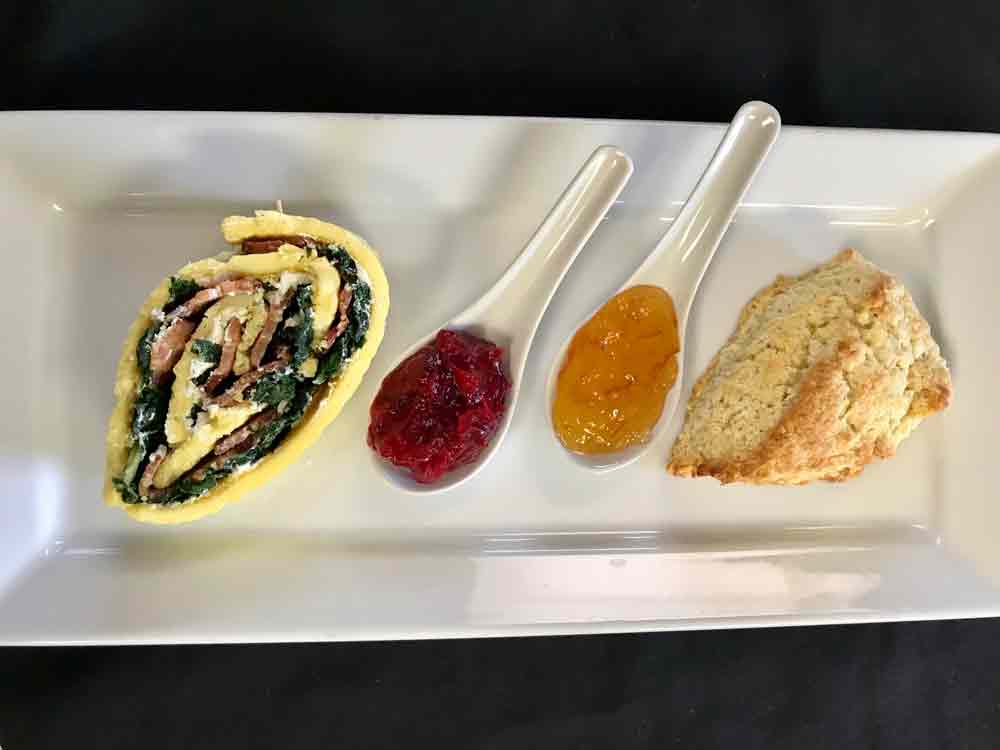 Today, I have a great Christmas Breakfast Recipe for you called 'Breakfast Yule Log' and boy does it look delish! All of my favorite foods are included! I would definitely add a scrumptious coffee cake to the menu. That would round this yummy Christmas Breakfast out really nicely!
Delicious Christmas Breakfast Recipe
Yule Log:
12 eggs – whisked
4 oz goat cheese
1 bunch kale
12 slices bacon – cooked
¼ c water
*Preheat oven to 375 degrees
*Line baking sheet (with sides) with parchment paper
*Lightly spray parchment with non-stick spray
*Pour eggs onto parchment and bake for approximately 12 minutes or until egg is fully cooked
*Destem kale and chop.
*Sautee chopped kale in a pan. Add water to the pan, stir occasionally until water is cooked off
*Remove "egg sheet" from the pan and place on a large cutting board
*Spread goat cheese to cover the eggs
*Layer bacon and kale over the cheese
*Roll eggs sheet into a log
*Cut slices of the log and serve with cranberry chutney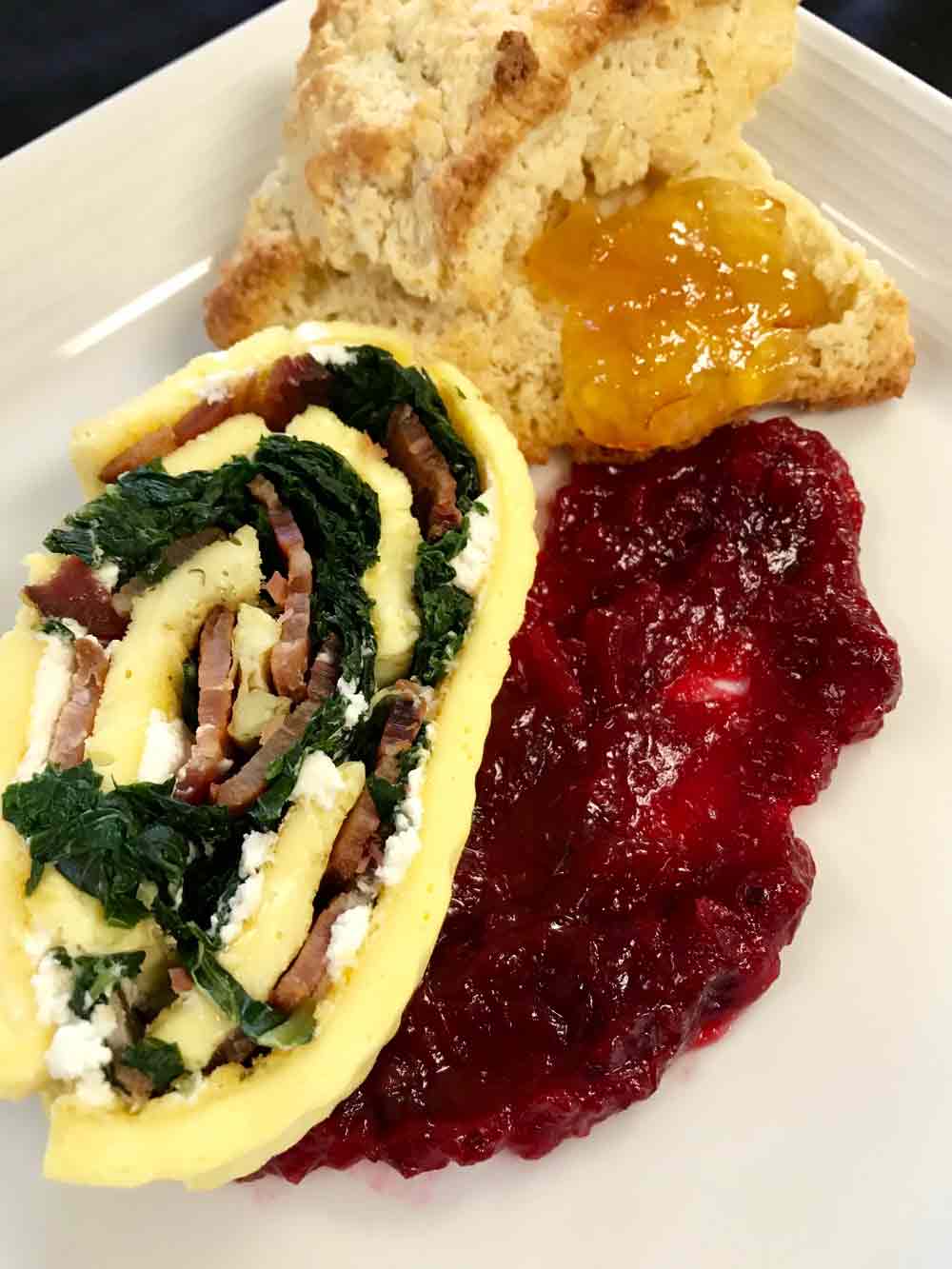 Cranberry Chutney:
12 oz bag fresh cranberries
½ c sugar
Juice of 2 oranges
Zest of 1 orange
Dash nutmeg
Dash cinnamon
*Combine ingredients in a saucepan and cook over low heat stirring occasionally until cranberries have broken down.
*Place cranberry mixture in a blender (or use an immersion blender) and blend for 15 seconds
Note: You can find details on this original recipe from The Hotel Saugatuck in Saugatuck, Michigan. Photo credits go to Farrell Leo. (I have permission to share).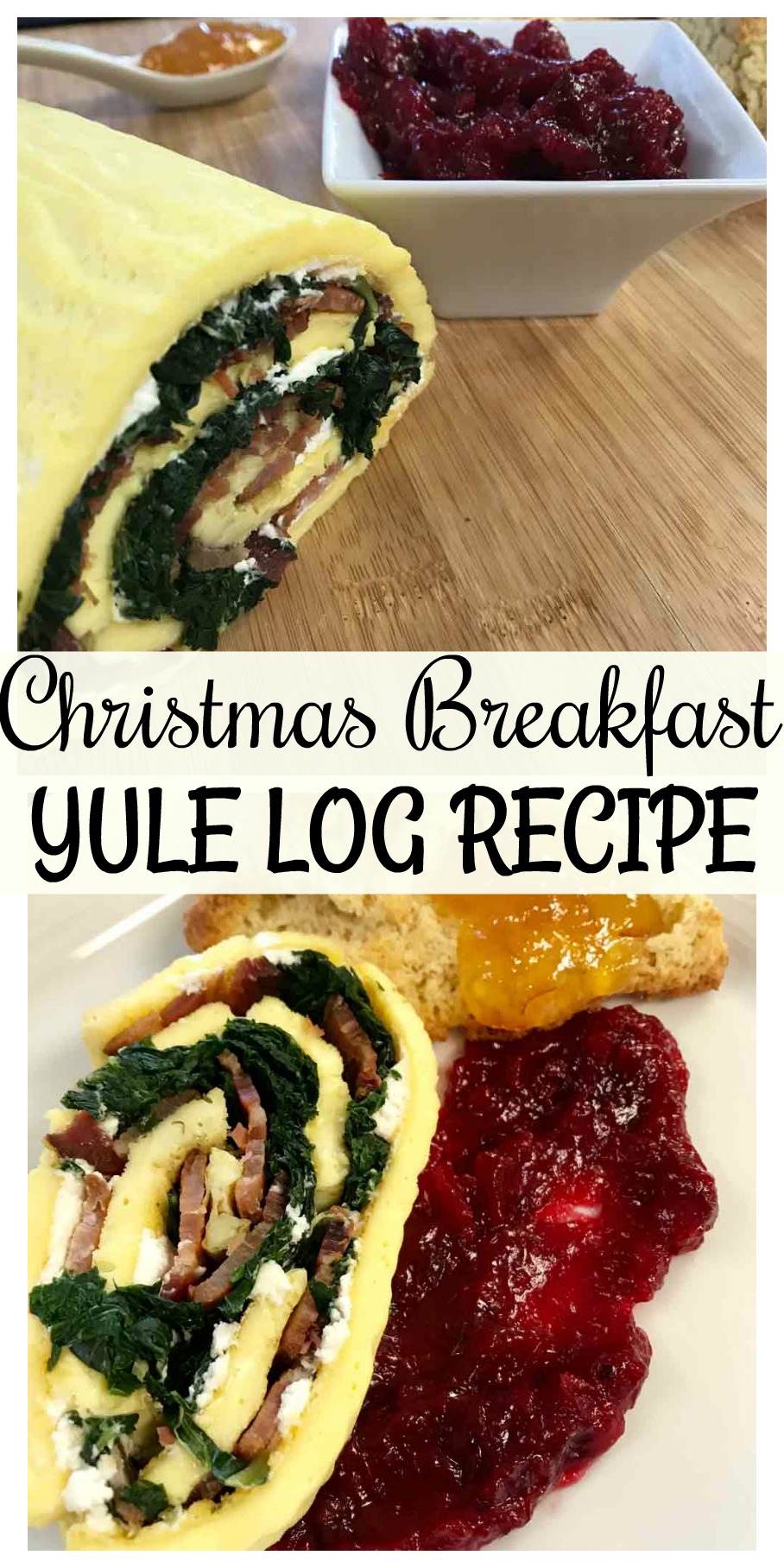 About The Hotel Saugatuck
The Hotel Saugatuck is an 18-room luxury bed and breakfast with stunning views of Lake Kalamazoo, offering modern amenities, mere blocks from the vintage reminiscent small-town of Saugatuck, Michigan, and minutes from Douglas.
Built in 1865, The Hotel Saugatuck, formerly the Twin Gables Inn, is the only original mill in the area still standing from the busy lumbering era. It is now comprised of a dozen rooms in the historic hotel and three duplex cottages, each with two guestrooms.
All rooms feature king sized beds, private bathrooms, Jason Hydrotherapy Tubs with Micro-silk Technology, in-room breakfast, in-room dessert, fireplaces, and individual climate control. Privacy and individual attention define The Hotel Saugatuck experience.