Did you know that DESPICABLE ME 3, starring the voice-acting talent of Steve Carell, Kristen Wiig, Miranda Cosgrove, Steve Coogan, Jenny Slate and Trey Parker, is now available on 4K Ultra HD™, Blu-ray™, DVD and On Demand today! Yay!
A product will be received. This post includes my affiliate links.
We can't wait to watch it when it arrives. I love Steve Carell, he is so funny, so I am sure this movie won't disappoint as it looks hilarious! Have you seen it yet?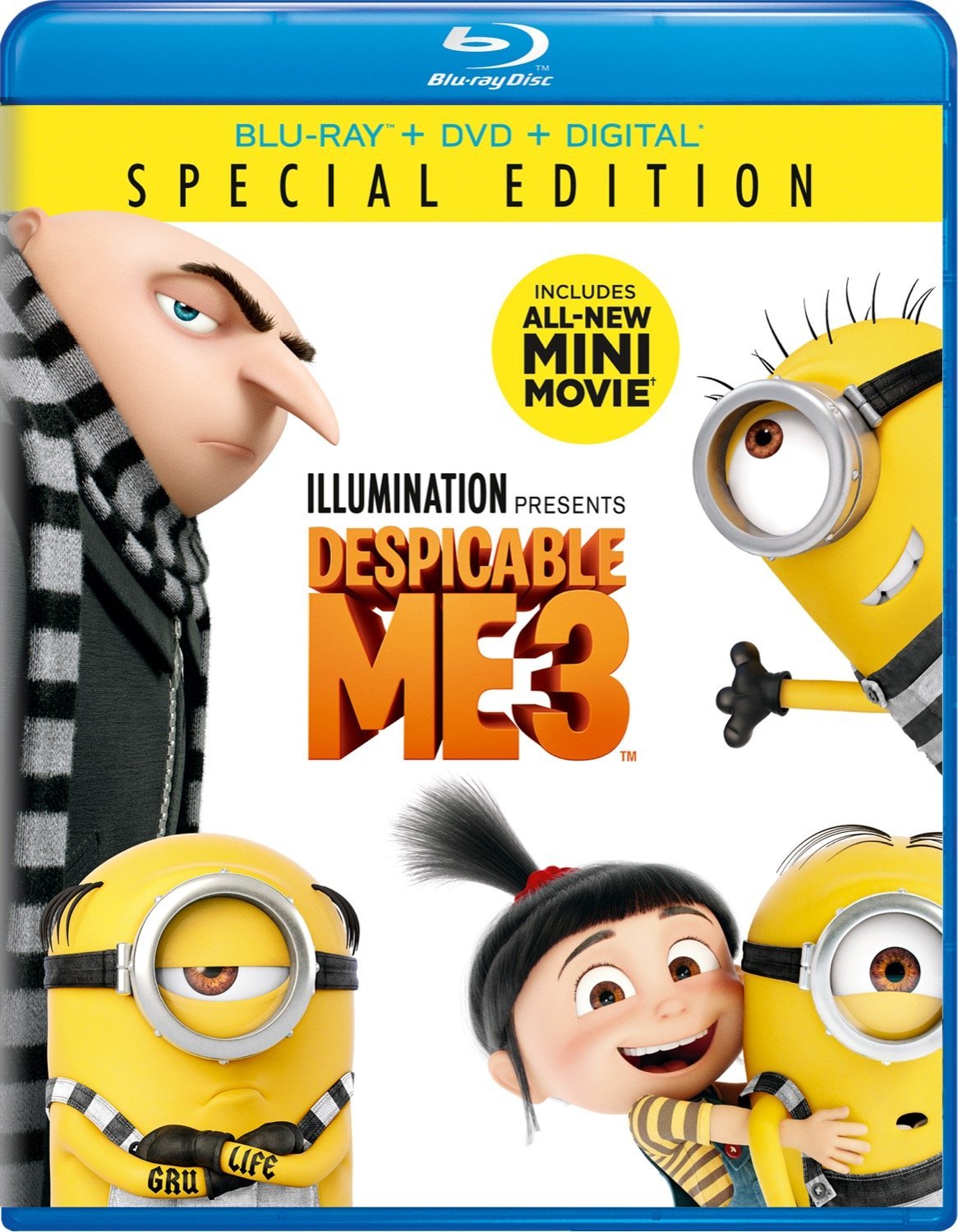 About Despicable Me 3
Illumination, the studio that brought you Sing, The Secret Life of Pets and the Despicable Me franchise, continues the adventures of Gru and his family in Despicable Me 3. After he is fired from the Anti-Villain League for failing to take down Balthazar Bratt (Trey Parker, "South Park,"Team America: World Police), the latest evil mastermind to threaten humanity, Gru finds himself in the midst of a major identity crisis. But when a mysterious stranger shows up to inform Gru that he has a long-lost twin brother — a brother who desperately wishes to follow in his twin's despicable footsteps — the former super-villain rediscovers just how good it feels to be bad.
BONUS FEATURES EXCLUSIVE TO 4K ULTRA HD, BLU-RAYTM, DVD & DIGITAL:
All-New Mini Movie — The Secret Life of Kyle
Minion Moments — Watch the Minions cause a hilarious mayhem with Gru
Deleted Scene — With intro by Dana Gaier, the voice of Edith
Character Profiles — The inside scoop on the most popular characters, from the actors who play them
The Making of Despicable Me 3 — A behind-the-scenes look at the making of the movie
Developing Dru — Behind the scenes character development of Dru
The AVL Files — Through the lens of the Anti-Villain League's hi-tech database, this ultra secret, interactive surveillance briefing showcases all of the agency's amazing creations and top agents
Freedonia Visitors Guide — Welcome to Freedonia! See all that the town has to offer with this interactive map. From its world-class cheese to its beautiful coastline, Freedonia has it all!
Despicable Me TV — Tune in for some fabulous fun with these Despicable Me 3 infomercials. Includes "Balthazar Bratt Action Figure," "Bad Boy Bod by Balthazar Bratt" and "Agnes' Super Cute, Incredibly Amazing Toy Sale."
"Doowit" Sing-Along — Sing along with Pharrell Williams as the Minions plot their escape from prison
"Yellow Light" Music Video — Official music video by Pharrell Williams
Minion Mugshots — The Minions add to the long list of celebrity mugshots in their very own "rogues gallery."
Wanted Posters — Have you seen these Minions wanted for various crimes?
Buy
You can purchase DESPICABLE ME 3 on Amazon.com .