I love Donate Fruit (formerly known as Naumes Fruit), and have done several reviews/giveaways for them. There are many reasons why I just love them, but one of the reasons is they are all about the GIVING!! Donate Fruit will donate a pound of fresh fruit for every pound of anything purchased from their delightful site!!

And, since Father's Day is nearly here, yep, it really is! I wanted to work with Donate Fruit again! I was happy to receive the wonderful Master of The Grill to review! Well, hubs got to review and enjoy it, but that is okay, I like to sit back and watch him grill! The Master of The Grill is so neat. It is a very thick and nice apron for the guys, and when you unroll it to put it on, the pockets of the apron are filled with necessities to grill! Like the grilling utensils, mitt and more!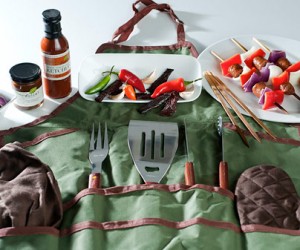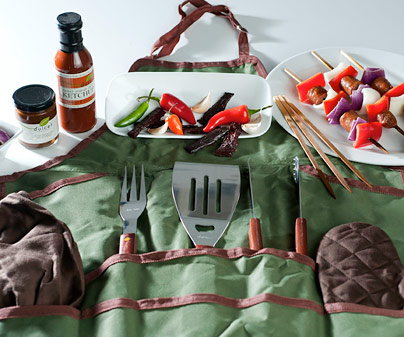 About "Master of The Grill" (taken from their tasty site):
A "must have" BBQ set for every master of the grill! This handy bbq tool tote unfolds into a heavy-duty apron, with pockets galore, and convenient cup/beverage holders. We've loaded a few pockets already with deluxe grilling tools, smoked buffalo for your hard work nibbling, bbq mitt, and a grill master chef's hat. Grill it up with Mango Ginger Skewers and use the Sweet Orange Chile mustard & ketchup to wow the crowd.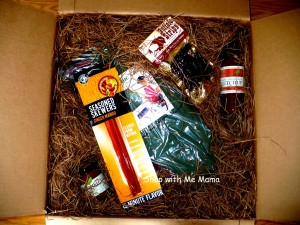 Contents Include:
Heavy duty canvas apron/tote
Deluxe Grilling Tools
BBQ mitt & Chef hat
7 oz Sweet Orange Chile Mustard
14 oz Sweet Orange Chile Ketchup
Hickory Smoked Buffalo Strips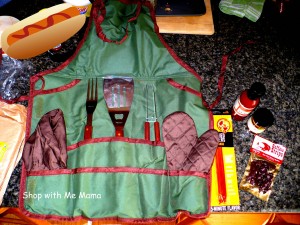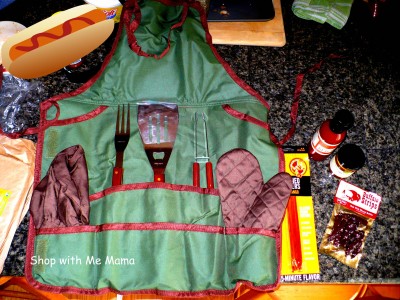 Oh ya, ALL that!! What Dad wouldn't want that on Father's Day?!
About Donate Fruit (taken from their site):
The Naumes family has been donating fresh fruit to the hungry for generations. With the increasing challenges in the country's economic climate, the Donate Fruit® cause was established in 2009, with hopes of increasing fruit donations and welcoming others to join in on the cause!
Donate Fruit® offers the Rogue Valley's Premium Orchard fruit and gourmet gifts, PLUS every purchase is matched with a pound for pound fresh fruit donation to food bank networks across America. We commit ourselves to offering our customers the highest quality of Premium fruit & gourmet gifts, top notch customer service, AND the opportunity to Give a Gift & Feed the Need™ every time you order with Donate Fruit®!
Every gift with Donate Fruit® is hand picked and hand packed in our signature gift boxes, which includes a message how this gift has activated a pound for pound fruit donation! Your Donate Fruit® gift sends the message that you care about the recipient and that you invest yourself in the cause to fight hunger.
Buy It!
You can purchase products from Donate Fruit, by visiting them online at http://www.donatefruit.com/
disclosure:
I was sent product to review. These are my own honest opinions, thanks!