*This post was Contributed by Jenna Smith
How to Dress a Child with Sensitive Skin
When your child has sensitive skin, the task of dressing them up can be a challenge. Clothing with synthetic materials, such as polyester and rayon, are known to cause skin irritation, and anything too tight can trigger allergic reactions in an overly sensitive child. It's mostly stretch fabric or baggy clothing in this situation – have you ever found stretch pants that are actually stylish?
As more parents demand skin-friendly clothing for their kids, more brands will begin carrying such products. The good news is you don't have to wait for the local Gymboree to introduce a skin sensitive line; we set out to discover clothing options for children with sensory issues and skin sensitivity, you'll love our finds!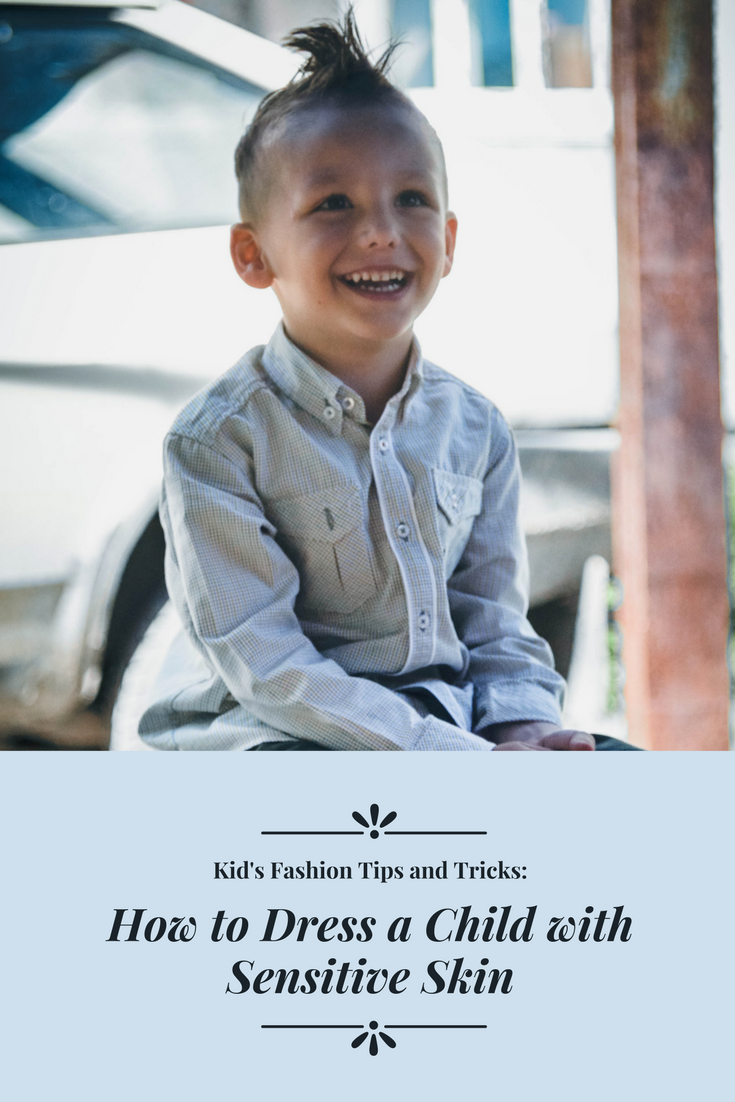 1. Seamless Sensitivity Products
Many brands are offering compression clothing for kids that is completely elastic and free of seams. Also, modern compression clothing is being made with high-tech fibers that are known for wicking moisture away, which helps in controlling odor and providing relaxed coolness. Comfortable options include socks and undies that are super soft and form-fitting, hugging little feet and bottoms. Parents with young girls may also be able to find bralettes with breathable material, zero padding, and soft edges.
2. Tagless Clothing
Seams aren't the only thing to worry about when shopping new clothes for a skin-sensitive child. If you're searching for a sparkly shirt or a new holiday sweater, make sure to keep an eye out for outfits that have fabric and size details mentioned on the fabric itself rather than featured on an uncomfortable internal tag. Avoid any tags and bling to keep friction at bay. Also, look out for any metallic embellishments (several outfits are made out of nickel, which can result in itchy and bumpy skin).
3. 100% Organic Cotton
For kids who suffer from eczema, 100% organic cotton should be the order of the day. There are several manufacturers who sell a variety of organic cotton pajamas that enables any sensitive or damaged skin to heal while promoting a good night's sleep. There are footed pajama pants as well as scratch mitten pajama tops available in this material. Incredibly, organic cotton pajamas provide a lot of relief to children who are prone to continuous scratching because of their skin condition. Look for options that are latex-free, as it also helps in the case of latex allergy. 100% spandex free underwear is also available for kids who have eczema or a similar skin condition near the groin area.
4. Looser Fitted Clothing
Another major reason for skin irritation is excessive perspiration. Get kids to wear looser fitted clothes in warmer weather; they enable air circulation near the skin and do a great job at removing heat and moisture. The recommended fabrics, apart from cotton, include viscose, wool, and linen. Wearing one of these near your skin will enable perspiration to absorb and escape through the external clothing. Lyca was previously thought to work for tights and socks but it may cause problems for kids with sensitive skin. Lastly, avoid fabrics with the label "water repellant"– they have been treated chemically.
Stressing about whether a new item will bring discomfort to your kid takes all the fun out of shopping. With the above knowledge, however, you can ensure that your child wears stylish clothing that makes him/her look and feel great.