I was sent product to review. All opinions are mine, thanks!
Eyes Cream Shades: Quality Sunglasses For Kids Of All Ages!
Everyone loves ice cream, right? Some probably a bit more than others, but I am sure it is safe to say everyone loves the stuff! And, I am sure everyone loves bubble gum, no? I think a lot of people try and stay away from the guilty pleasure of bubble gum, but they still like & appreciate the concept of bubble gum, I know we do 🙂
What on earth does bubble gum and ice cream have to do with this post? Well, adorable sunglasses from Eyes Cream Shades of course! Eyes Cream Shades has come to be a leader in providing quality sunwear for kids of all ages, with frames that are durable, as well as comfortable; and all lenses are polycarbonate and provide 100% UVA&UVB protection.  All frames are in ice- cream hued colors, hence the names: fudge, licorice, mocha, etc.. are boy are they too cute!
The Eyes Cream Shades has a really fun and bubbly (had to say it!) bubble gum collection, and they are adorable. The bubble gum colors are:  bubble gum grape, bubble gum pink, as well as the most popular bubble gum lemon. Love the colors!
I had to pick the adorable deliciously diva licorice ice for my daughter to review. They arrived soo quickly and just in time for our one day of sunny weather here in the NW!!! Woot!
These are definitely little diva sunglasses, LOL. They look like MY sunglasses and I love that! She wears them so well too. My daughters nose is sooooo tiny, that finding any sunglasses to fit on her tiny nose is VERY hard. But, these diva sunglasses seem to stay on her well. They also feel tight and hug her face good too, so no slipping and sliding around, that really annoys her! These are made well and are great for any girly girl you may have in your life.  The "Licorice Ice" style sunglasses feature a gradient black to clear frame and polycarbonate smoke lenses.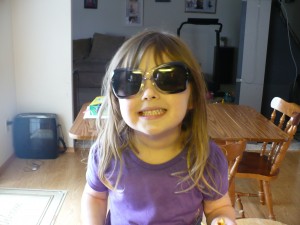 Standard Eyes Cream Shades Features
Polycarbonate Lenses (Thinner and lighter than regular plastic lenses and shatter resistant).
100% UVA and UVB protection against harmful ultraviolet sunlight.
Photo Taken From Eyes Cream Shades Site
 Stars have their kids wearing Eyes Cream Shades!
The Eyes Cream Shades brand is a favorite among celebrity moms (i.e. Tori Spelling's son, Liam; Courtney Cox's daughter, Coco; Julie Bowen's kids) and celebrity dads( i.e. John Travolta's kids, Ella and Ben; Matthew McConaughy's son, Levi; Ian Zierling's daughter, Mia) who sport their little ones in the Eyes Cream Shades products. The brand has also been featured in major motion pictures, as well as on prime time television shows.
Buy
You can purchase a pair of Eyes Cream Shades (just LOVE that name!) online at http://www.eyescreamshades.com/ and they retail for $39.95 (a bit spendy, but super cute!)