F-Secure Freedome: Protect Your Online Privacy
I remember when I first started using the internet, I was so scared! I was scared that I would be hacked and I felt really vulnerable. Now that I have been using the internet for quite a while now, I feel more comfortable but I still feel vulnerable at times and I should! There are so many bad things out there and that makes me scared. Anything could happen, right?
I really wanted protection against harmful sites, hackers, bad apps, unsecured hot spots, etc. So, I am trying out a new powerful online privacy and security app. It is called F-Secure Freedome. I installed this app on Monday and have been playing around with it. I am liking what I see, so far.
Many if not most of us do SO much online, it is just the way it is now. We bank online, pay bills online, shop online and all of the important credit card information is used. We want to believe our information will stay safe, but there is ALWAYS that 'if' and 'when' something bad will happen and your important information becomes someone else's to take. Scary stuff. Very scary!
I also know that popular websites are tracking our information, they are tracking us. I guess that is the cost of using the internet, our privacy is what we give in order to use the internet, right? Well, it does not have to be that way. You can protect yourself.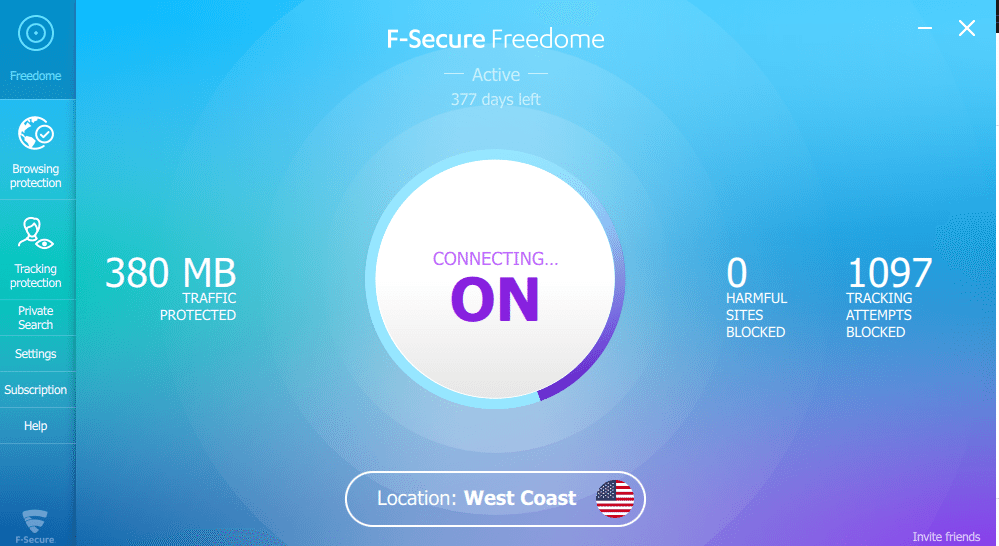 With Freedome, you can protect yourself. This privacy and security app allows you to take a deep breath and be free.
There are so many wonderful features
Private & protected. Hackers can't steal your stuff and annoying advertisers can't track you.
Wi-Fi Security: Connect to any hotspot, public or private, and surf carefree without exposing your traffic
Remove geo-blocking: Access geo-restricted content by changing your virtual location.
Elegant simplicity: Control your online privacy and security with the push of a button
Installing this security app was simple to do on my laptop. Soon I had it running and I already felt safer. Almost right away, it will show you how many tracking attempts have been blocked (that shocked me seeing those numbers!), traffic protected and harmful sites that were blocked. This app really opened up my eyes to just how vulnerable I was on the internet, without Freedome. Yikes!
What Platforms Support Freedome?
Windows 7 or later
OS X 10.9 or later
Android 4.0.3 or later
iOS 7 or later
Kindle Fire OS
I have noticed that when Freedome VPN is 'On' when I visit Pinterest or Youtube (Twitter too, but they will just say you promised to let Twitter use your cookies..), I will have to turn 'Off' Freedome. If you don't turn off Freedome and go to a website, you will not see YouTube videos if they are present on that site. I just found that out. So just turn off Freedome. It is simple, to turn off and on your Freedome app. Just open the app/icon on your screen and push the 'Off' button! When you want to turn it back on, simply do the same thing.
Get Your Online Freedome!
Buy Freedome Now And Protect Your Privacy! Starting From $35.99.
Want 3 Months for FREE?
Sure you do! Just use this code: cttpc3
Are You Going to Use Your Coupon Code For A Free 3 Month Trial?