*This is a partnered post. Opinions are my own. This post includes my affiliate link.
Who doesn't like to go on fun adventures with friends? I know when I was little, I sure did (and still do!). My little kids love going on fun-filled adventures every day! But, with friends, it is just better!
Now my kids and yours can go on a memorable adventure with Bailey and Friends! How? By reading a new children's book that my kids and I fell in love with. It is called "Golden Boy Bailey" and is Illustrated and Written by Erin Frew. It was published February 18, 2016. This cute book will certainly keep you entertained!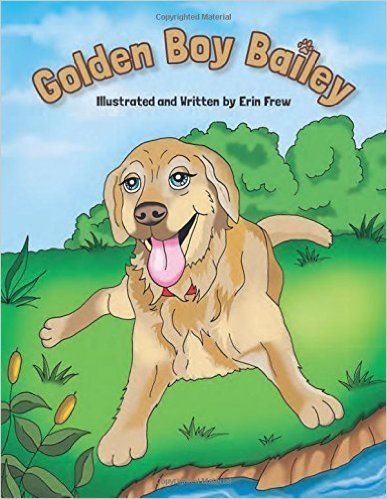 I read this to my kids the other night, before bedtime. Talk about an adorable, playful and adventurous book. It is not only full of adventures, but it also talks about real life things too and how life and friends mean everything. All you have to do is get out of bed!
Bailey is a Golden Retriever and he does not want to get out of bed, even when his friend Sable tells him too! Finally, Bailey gets out of bed and he and his friend Sable go outside to start a fun-filled adventure!
Once outside, it was a gorgeous day and Bailey was so happy that Sable told him to come outside and play! They started going on their adventure and they ran into some other friends along the way! Those friends joined Bailey and Sable and together, they had a fabulous day!
They decided to go to a place called the 'Blue Pool' which they had never been to before. Their friend Logan was a bit afraid to visit the Blue Pool! But they all decided to go anyways. Off they went!
Once at the Blue Pool, all the dogs jumped into the pool, all of them but Sable. Sable was busy with something else! Suddenly they dogs heard a big splash and saw poor Sable in the water! They grabbed Sable and pulled him to the shore.
You can read more about these cute dogs and their adventures, by reading Golden Boy Bailey! I don't want to ruin it by telling you everything! It is certainly an adventure filled book that will keep your kids on the edge of their seats, until the very end! It is suspenseful at the end, but you will see how it ends!
The pictures are fun and full of expressions from the dogs. I love the pictures of the dogs adventures and how the pictures capture it all. I had to show my kids the pictures as I was reading because they loved the pictures so much.
I highly recommend this cute, adventurous book. My kids really adore it and I know your kids will too!
Check Out The Cute Trailer, Here:
Buy
You can purchase Golden Boy Bailey online at http://www.amazon.com/ or https://www.goodreads.com/. It retails for $4.99 on Kindle and $16.99 for paperback.