*Disney and Walmart partnered with bloggers such as me for their program. As part of this program, I received compensation for my time. They did not tell me what to purchase or what to say about any product mentioned in these posts. Disney and Walmart believes that consumers and bloggers are free to form their own opinions and share them in their own words. Disney and Walmart policies align with WOMMA Ethics Code, FTC guidelines and social media engagement recommendations.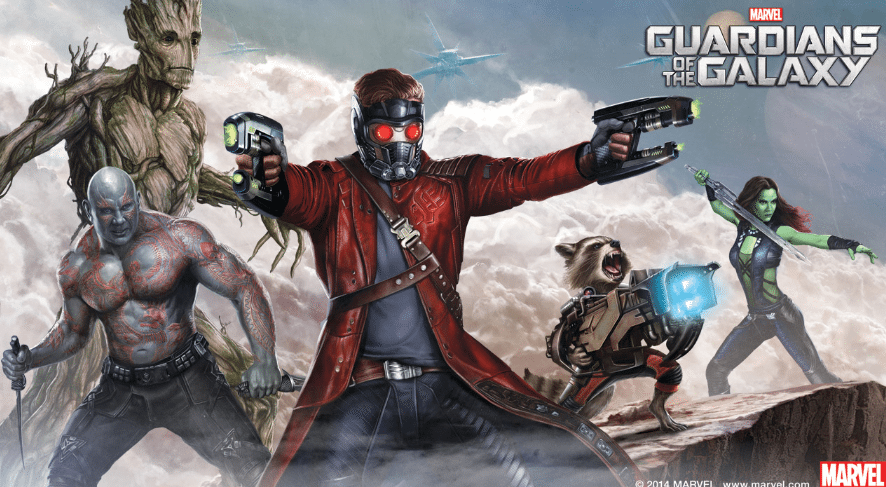 I can't wait to see Guardians of the Galaxy with my kids. It looks like such a great movie! We are all excited to see this one. It came out on August 1st!
This movie is about an adventurer named Peter Quill, who finds himself the object of a bounty hunt after stealing a very mysterious orb which is coveted by Ronan who is a powerful villain with ambitions that are threatening the entire universe! To stop Ronan, Quill is forced into a truce with a quartet of misfits (Rocket, Groot and Drax). When Quillen discovers the power of this orb and the dangers it possesses to the cosmos, he does his best to rally his rivals for a desperate stand, all with the galaxy's fate in the balance!! Sounds so in-depth, adventurous, action packed and intriguing, doesn't it?!?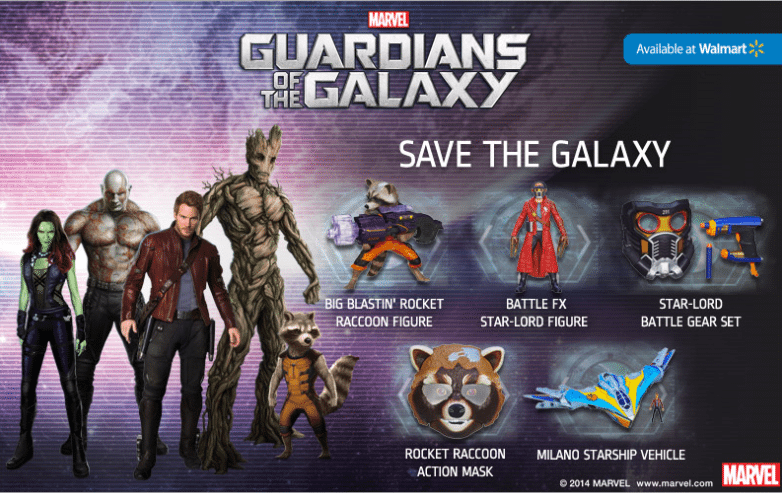 Also, at Walmart, they have all the Guardians of the Galaxy toys!!! I was SO excited to hear about this! They toys are pretty cool looking! These toys are selling out FAST. I know that they will be super hot Christmas gifts this year! The figurines come with cool accessories and the masks are very cool looking! I know my boy will want the Star-Lord Battle Mask and Blaster Set!
About The Characters (bios):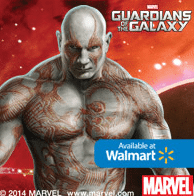 Drax The Destroyer: 
Drax is fueled by a personal vendetta against those that cost him his family. Drax has room in his life for little else besides revenge. After making a tentative alliance with the Guardians of the Galaxy, the untamed Drax must learn to put the needs of the universe before his own.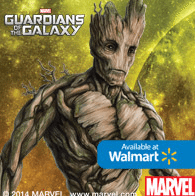 Groot:
The tree-like Groot hails from a world designated only as "X", which is populated by sentient plants.Now as the fate of the cosmos hangs in the balance, Groot must join the Guardians of the Galaxy for an adventure that will test the limits of even his monstrous strength.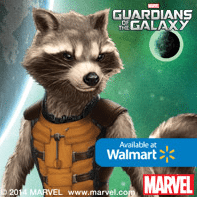 Rocket Raccoon:
Despite his diminutive stature and raccoon-like appearance, the scrappy mercenary known as Rocket possesses a remarkable mastery of munitions and battle tactics. But when an ominous threat leaves the entire universe at risk, Rocket must bring his mechanical genius and ingenuity to bear as a member of the Guardians of the Galaxy!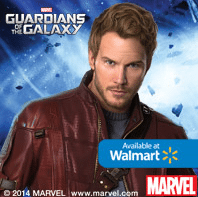 Star-Lord:
Born on Earth but drawn to the stars, Pete Quill became the interstellar adventurer known as Star-Lord. Equipped with his high-tech blasters, a dependable starship and a mix-tape of music from home, the headstrong Star-Lord must rally an unlikely team of interstellar misfits, Guardians of the Galaxy, for an all-or-nothing attempt to protect the cosmos!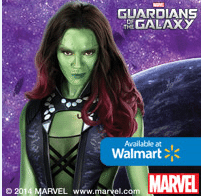 Gamora:
The last surviving member of the peaceful Zehoberi species, Gamora was transformed into an unparalleled warrior through rigorous training and physiological augmentation. Gamora now seeks to redeem her past crimes as a member of the Guardians of the Galaxy, and waits for a opportuniity to bring vengeance to those who have manipulated her.
Walmart.com is the place to get all of your Guardians of the Galaxy's Toys!
Now that you know a bit more about the characters in the movie, you can head on over to Walmart and check out the cool Guardians of the Galaxy toys and pick some up for you kids!
Giveaway!!!
Enter for a chance to win one of ten $25 Walmart Gift Cards!!!! See widget below, to enter!
The Guardians Of The Galaxy At Walmart $25 Gift Card Sweepstakes