*Having Fun In The Sun With Canyon Beachwear! The product was received
Since having little kids, I no longer have that hot body I once had, sigh… No matter what I do, my body is misbehaving!! I want to get in shape again and firm up EVERYWHERE, but that takes time and motivation!
So, for now, I shall cover up my problem areas with cute clothing 😉 Sure, it is the easy way out, but heck I DID just have a baby not that long ago…
Having Fun In The Sun With Canyon Beachwear!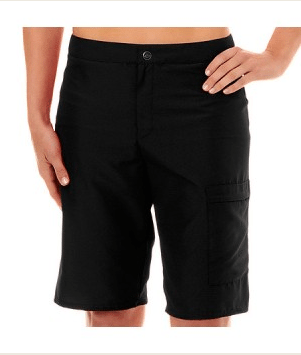 Since it is summer and summertime means going outside and playing in the sun and water, I needed some cute shorts to go with my swimsuits. I was able to review some cute shorts from Canyon Beachwear. I chose the super cute Lynnina Boardshort with an inner brief. I love the length and I love that they are black, because black hides everything 🙂
They fit me perfectly, and I love how they look and feel on my body. They are the perfect length, coming to just above my knees. They are also higher fitted so when I bend over you don't see any unsightly bulges or anything else! Whoosh…
These board shorts have an 11″ inseam and a unique inner-brief, so no need to wear a bikini bottom underneath. Zipper fly and snap closure, zippered pocket, and contoured waistband for flattering fit. Love them!
Canyon Beachwear has some really nice and fashionable swimsuits, cover-ups, accessories and more for all that summertime, beach time fun or vacation you have planned!
Buy
You can purchase the adorable board shorts I reviewed (or other cute items) from Canyon Beachwear, by visiting them online at http://www.canyonbeachwear.com. The board shorts retail for $71.00. You get Free shipping on online orders over $100 (ground shipping, US Orders Only).