This blog post is all about how to install French doors in your home. You can transform your home's interior with the classic look of French doors. You will transform any room beautifully by installing wooden interior French doors. Once used to add a touch of elegance to wealthy homes in France, anyone can now attain that same sense of beauty and privacy by installing these dividers between living spaces which allow for up to 80% glass inserts– letting plenty of natural light flow through. Whether you're looking at country cottages or small city apartments, french doors are an easy way to refresh any room and bring life into it!
Revamp the look of your home and explore new design possibilities with a set of French doors. Whether you choose to install them yourself or get help, our tips will make sure they are comfortably incorporated into any space!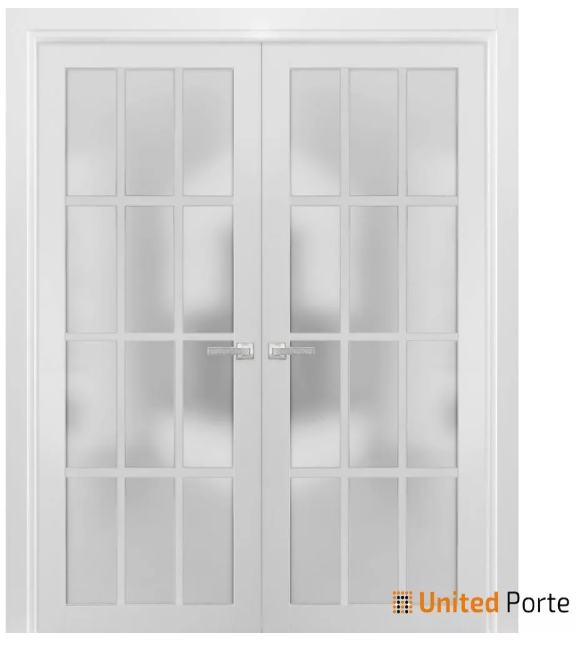 How To Install French Doors: A French Doors Installation Guide
What tools do you need for installation?
Installing interior french doors may seem daunting, but you can make the process easier with the right set of tools. Gather all necessary materials beforehand to ensure a smooth installation – hammer, drill and saw are just some of them. Find the tools you will need to install french doors, below.
protective goggles for your eyes

door hardware (handles, latches, and knobs)

pre-hung doors

roulette

power drill

wooden spacers

long level

gavel

rubber mallet

circular saw

paddle bit

scrap

chisel

flat screwdriver

carpenter's square

torpedo level

flush-cutting saw

screws

nails
Step-By-Step Instructions To Install French Doors
We will tell you how to install french doors into an existing opening. To do this, you will need to do the following steps:
Preparing the hole. Determine the parameters of the hole in which you plan to install the doors. Next, it is required to remove the drywall around the hole. Applying a small amount of sealant is necessary, then picking it up with a crowbar. After removing the trim, measure the width of the space.

Level Check. Remove interior jambs and head (remove nails if necessary). Make sure that the jambs are level with the wall. To do this, French doors are installed in the opening. There should not be any obstacles when installing the doors.

Use special shims under the side jambs until the head jamb is level. Then, measure the levelness with a level.

Connecting to the frame. Using finishing nails, hammer the frame onto the studs. In the process, check that the door opens and closes without obstacles.

Trim. Use trim nails to make the doors blend nicely with the room space. First, carefully trim the protrusions of the spacers. Next comes the installation of the trim on the other side.
If you've filled the entire space, you've done a great job!
After installing french doors, is there any unused space left? It is possible to install a transom for the upper part. It would require:
Measure the doorway's opening to ensure the dimensions are correct and the necessary amount of work.

Calculate how many window openings need to be installed and how many partitions will be needed. For example, you will need two dividers to install windows with three panels. Assembly of the window unit will require nails and glue.

Use molding to install the window. Next, use glue to secure the frame. Then install the glass in the window opening by nailing it in place.

Every seam and nail hole is sealed with wood putty. Choose a natural color or shade that matches the color of the doors.

Order glass from a specialty store or cut it yourself (make sure you can do it). Use tempered, faceted glass. Apply silicone sealant to the flat side of the frame, pressing the glass tightly.

An additional layer of finish will be required for a perfect look. Finally, carefully nail the new piece to the frame so as not to damage the glass.
In the end, screw the door hardware and handles and lock the doors. If desired, install brackets to keep the French doors from swinging when closing. Now you know all about how to install french doors step by step.
Common Mistakes Made During French Door Installation
As is the case with any door installation project, precision and accuracy are key for optimum functionality. If you're not sure about your ability to do a successful job on your own, we recommend enlisting help from an experienced friend or professional in order to avoid costly mistakes down the line.
Additionally, it's important that adjoining surfaces be fitted accurately since improperly aligned frames can lead to the warping of parts as well as fragility when opening or closing the door. Taking accurate measurements beforehand will ensure long-term satisfaction with its performance!
Final words
Shopping for interior doors can cause a bit of uncertainty – different models, and various designs to choose from. French doors provide an elegant solution that adds warmth and charm without sacrificing natural light in the room. Discover all the advantages they offer as well as helpful tips on buying interior french doors below!
exterior French doors are ideal for access to balconies, gardens, and porches

model harmoniously connects adjacent rooms, increasing the space

there are single, sliding, and double-sliding models

the high price is entirely consistent with the quality, stylish appearance

it is possible to use magnetic, retractable screens with a French door

it is suggested to buy a product with a three-point opening system, as this will increase safety

this item provides the room with natural light
The exterior doors will be insulated with low-emission or double glass. In addition, it is suggested to install a protective film to protect against weathering.
Instructions on how to install french doors in new construction will not be a problem. However, if you are installing an item in an old house, ensure that the opening and the product parameters match.
French doors are popular with consumers. They let in natural light, thereby expanding the space of the room. After reading our article, you can install french doors like an expert!
I hope you enjoyed my article about How To Install French Doors. I hope you found it useful and helps you with your home improvement project of installing a french door! Do you have anything to add to this article? If you do, please leave me a comment below. Thank you!