Don't you hate it when you are driving down the street and your child drops something and starts whining and crying for you to pick it up? You then can't STAND the whining and crying anymore so you pull over and grab it to give back to your child. I KNOW you have experienced this before, every parent, grandparent has!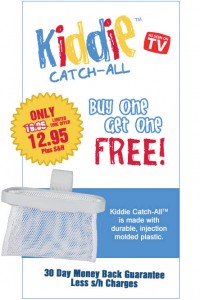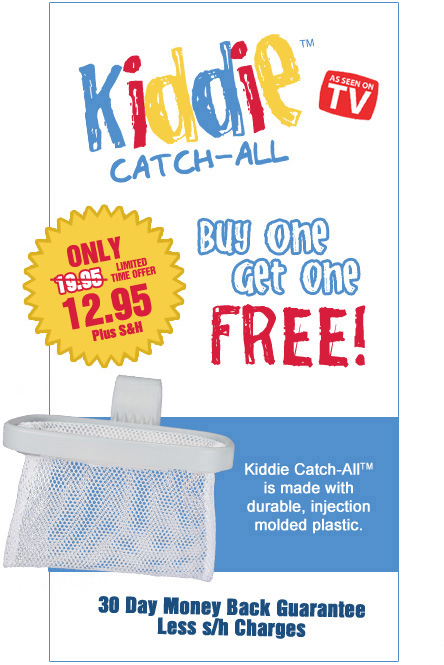 Kiddie Catch-All is the perfect accessory for your car, truck or mini-van! You can fill it with books, toys, snacks or really anything your child plays with and your child will have it all at their finger tips! Never worry about picking things up off the floor while driving again. Keep your car organized and family safe with the Kiddie Catch-All!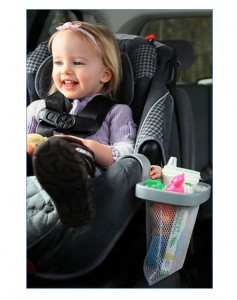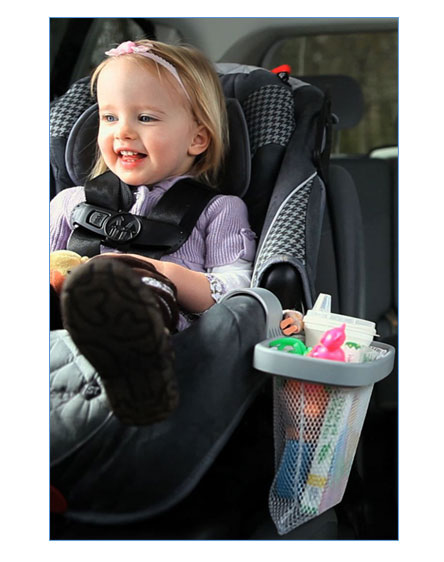 And right now, you can buy one and get one for FREE!! Woohoo! Every parent needs one of these in their vehicle, trust me! We use them in our truck, one for each child, and it has made a big difference in them whining and crying for their things when I am driving. That is the MAIN thing that always drove me NUTS when I was driving. I mean, they do still drop their toys, no way around that, but at least they have other toys at their finger tips to grab and play with and the toy that did drop is soon forgotten, thank God!

A Bit About The Kiddie Catch-All:
*Kids cannot get their fingers caught in the holes, the holes are too tiny
*The net stretches to fit in many toys and books and stuff!
*Bag Size: 9″x7″
*The bag is made of nylon
*You can wash the BAG only, in your washing machine
*Color of bags available is WHITE
2010/2011 model FITS:
Britax Boulevard
Britax Frontier
Britax Marathon (older model)
Britax Marathon Classic (attach beneath arm rest slip cover)
Chicco
Costco High Back Booster
Costco High Rise Booster
Costco High Rise No Back Booster
Costco Scenera Convertible
Costco Scenera 40 RF
Eddie Bauer Deluxe High Back Booster
Evenflo Booster
Evenflo Big Kid Deluxe Booster
Evenflo Big Kid DLX
Evenflo Big Kid Amp backless booster
Evenflo Maestro Booster Highlight
Evenflo Symphony 65
Evenflo Tribute 5
Evenflo Titan Elite Convertible
Evenflo Titan Elite Fuller Convertible
Evenflo Tribute V Broughton
Evenflo Triumph 65 LX
Evenflo Triumph 65 Balwin Convertible
Graco No Back Booster
Graco Backless Booster
Graco Comfort Sport
Graco Highback Turbo Booster
Graco Turbo Safeseat Step 3
Graco Turbo Booster Elite
Graco Turbo Booster
Safety 1st Boost Air Protect Booster
Safety 1st Onside Air Convertible
Safety 1st Onside Air Whitmore Convertible
Safety 1st Alpha Omega Elite
Safety 1st Complete Air 65 Convertible
Safety 1st Summit Noir harness Booster
Does NOT fit these 2010/2011 models:
Britax Marathon 70
Costco DISNEY No Back Booster
Evenflo Big Kid Colonnade Belt Positioning Booster
Evenflo Big Kid Booster
Evenflo Big Kid LX
Evenflo Chase DLX Plantation Harness Booster
Evenflo Chase LX
Graco Nautilus 3-in-1 Car Seat
Graco My Ride 65
Nautilus Convertible car seat
Pronto Belt Positioning Booster
Scenera Convertible Car seat
Sunshine Kids Radian 65
Is the Kiddie Catch-All™ BPA free?
YES!

Buy It!
You can buy the Kiddie Catch-All online at https://kiddiecatchall.com/ and when you buy a Kiddie Catch-All, you will get one for free PLUS a fun free bonus cd with fun songs!!
Disclosure:
I received product to review. These are my own honest opinions of this product. This post includes my affiliate link.