*Sponsored post by Mirum. All opinions are my own

Having a newborn in the home is a whole new experience. Even if you have other kids, every newborn is different! They all have different personalities, ways they do things and the way they eat. Make The Most Of Feeding Time With Your New Baby! Feeding time doesn't have to be stressful even though in the beginning it is for some!
With each of my three babies, I had to supplement at the hospital. They took a tiny little tube that had the formula in it and I would put that tube next to my nipple and then latch my baby on and they would get my breastmilk, but also get some formula. That way, when my milk did come in, my baby was already familiar with breastfeeding and there would be no interruptions.
Whether mom breastfeeds, bottle feeds, or supplements with formula, she is making the best choice for her baby. Mom really does know what's best for her little one! No judging here, ever!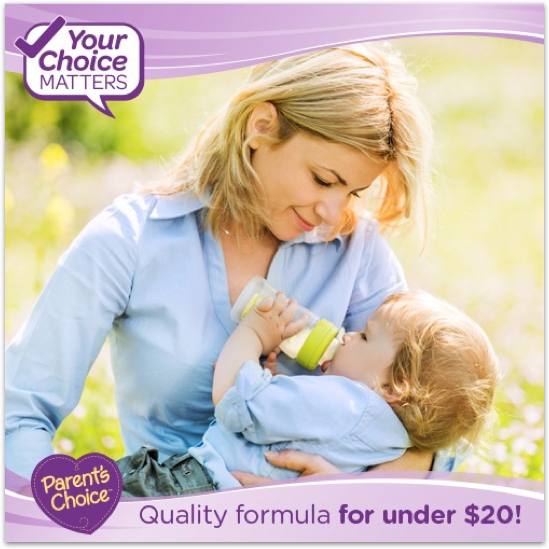 Parent's Choice® baby and toddler products are available exclusively at Walmart. Did you know that in addition to saving up to $600 a year over alternative formulas, shoppers who choose Parent's Choice® discover an infant formula that is:
*Nutritionally comparable to more expensive national brand infant formulas, including Enfamil®, Similac®, and ︎Gerber®
*Compliant with FDA nutritional standards and the recommendations of the AAP – the American Academy of Pediatrics
*Clinically proven to support growth and development
*Easy to digest and has been well tolerated by millions of babies
*Clinically proven to be as well tolerated by infants as national brand formulas
*Meets the highest-quality FDA nutritional ︎standards, just like Enfamil, Similac, and Gerber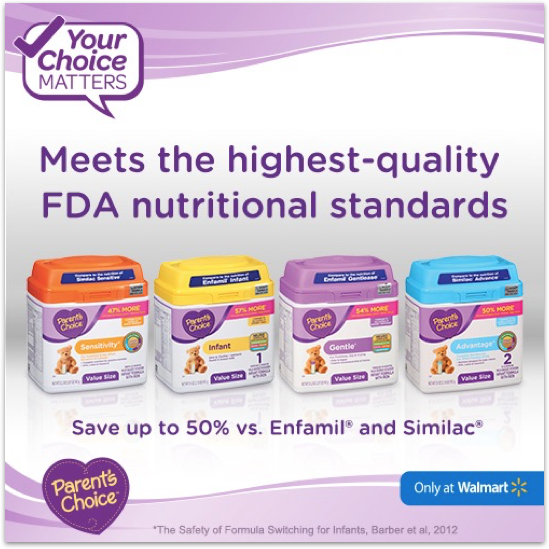 It was great to learn that Parent's Choice® Infant Formula has been the leading choice for feeding babies since 1998. Parent's Choice® is not just about formula though, it extends beyond that and includes: Baby and Toddler Foods like Yogurt Bites, Cereals, Cereal Bars, Little Puffs® (my 4-year-old still loves these!), Little Fruits®, Little MunchersTM, and Little WheelsTM︎, baby and toddler formula for older infants. So, they have a huge selection of products for your little ones.
The different formula they have are: 
Parent's Choice® Premium Powder Infant Formula. Value Size 35oz­ Makes 65, 4 oz. bottles and is Clinically proven to support growth and development.
Parent's Choice® Advantage Tub Powder Stage 2 Formula. Value Size 35oz and is Suitable for babies 6-­12 months.
Parent's Choice ® Sensitivity Canned Powder Infant Formula. Available in Value Size 33.2oz. Makes 59, 4oz bottles. Good For fussiness & gas.
Parent's Choice ® Gentle Infant Formula with Iron. Available in Value Size 33.2oz. ­ Makes 60, 4 oz. bottles. For fussiness, gas, and crying.
I remember when I became a new mommy, I received some great advice and some unwanted advice. Friends and family are quick to offer up their opinions on feeding methods, sleep schedules and everything in between! It can be so overwhelming! While we all appreciate the well-intentioned advice, sometimes a new mama simply needs the affirmation that her choice matters and she is doing a great job!
Buy
You can purchase any of the Parent's Choice®  products at Walmart.com or in-store at Walmart.
The Parent's Choice Formula Feeding Time Summer 2017 Sweepstakes
Enter for a chance to win over $800 in prizes from June 15th – July 31st! Enter below, good luck!
The Parent's Choice Formula Feeding Time Summer 2017 Sweepstakes