Lighting is the aspect that brings the room together. From the walls to the floors to the cabinets and accessories, lighting is the unifying component. Not only does it serve decorative purposes, but it is also functional. Moreover, lighting impacts our mood. Think about it- if you enter a room with warm color temperatures, you feel at ease. But when you are in one with cooler temperatures, your senses heighten, and you can even become anxious.
Modern Interior Design Ideas To Brighten Up Rooms With LED
So, when installing lighting in your home, you need to think about its impact on design, function, and mood. Let us cover how you can hit all three targets with LED lights:
Why Should You Choose LED Lighting for Your Home?
You probably already know that LED lights are highly energy-efficient and can reduce your utility costs. But did you know that they replicate daylight? On average, a LEPRO LED boasts a color rendering index between 80 and 90 which is pretty much what you would get in daylight. This type of light is proven to make you more productive and happier. Moreover, this results in a healthier attitude.
Additionally, using LEDs enables you to have more control over the light. Most lights are dimmable, and you can alter the intensity as needed. If you want to be more productive, you amp the lights, and you turn down the intensity for cozy nights.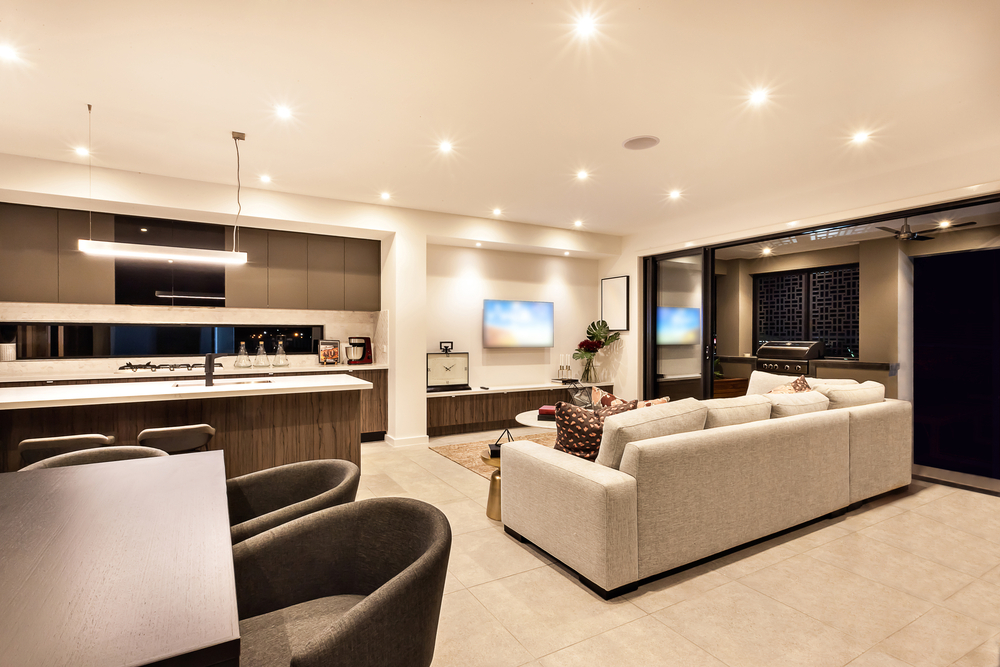 So, How Can You Use LED Lighting in Your Home?
Lighting comes in three forms:
Ambient Lighting: This general lighting increases visibility in the space. Rather than focusing on a specific part of the room, it illuminates the entire space, making it easy to move inside the room.

Accent Lighting: Using decorative lights like

https://www.lepro.com/led-strip-lights

increases the visual interest in a room. For example, installing LED strip lights across a shelf can draw eyes to the shelf.

Task Lighting: If you want to concentrate on a given task, you can rely on task lights to draw attention to the specific task at hand. For example, if you want to work on an essay, you can introduce a lamp to your work desk and tap away.
Ideas on Using LED Lighting
Incorporating lighting in your home should come easy because most of the work comes down to creativity. However, you also need to consider the purpose. For example, you cannot rely on general or ambient lighting for task lighting. Once you get the hang of this, the rest will come naturally. But we have some ideas to get you started:
Hallways
Entryways require to be well-lit to ensure that everyone passing through them does not stumble. In this case, you can work with ambient lighting because people will hardly need a task or accent lighting in these rooms. Also, ensure that the light switches are easily visible and accessible.
However, if you have art pieces, now would be the time to install some accent lights. Here is an example. Suppose you want to highlight the wall's texture; you can use track lights with a wall-washing effect. Given that hallway lights are almost always on, you may want to go with LEDs to save money on operational costs.
Stairs
These are yet other spaces that require to be well lit to provide safety to everyone using them. Again, LEDs are great for this purpose, thanks to their uniform lighting. Even so, you should rely on a bit of overlay to ensure that the light remains intense. Try spacing the lights by about four feet.
What lights work for stairs? Pretty much anything! Some people install LED light strips below the steps for visual appeal. Others use wall lights and wash lights, while others go with the usual ambient lighting. Of course, your decision will come down to how big the room is.
Garages & Workspaces
These rooms feature many activities and require adequate light to ensure that people do not bump into each other or machines. So, using downlights in such rooms would only make things worse by casting shadows. Instead, it would help if you went with task lighting combined with ambient lighting. For example, worktables can feature task lights, and the ceiling can have ambient lighting.
Bathrooms
These havens deserve amazing light. If you are like most people, you spend at least half an hour in this room every day. So, safety, visual interest, and function will take the forefront. Plus, you will want to avoid creating any shadows that could pave the way for horrible accidents.
What is the best choice of lighting for bathrooms? Recessed lighting! Not only does it take up less space, but it also creates visual interest. Besides, it stays out of the way, which is paramount in bathrooms. Also, consider including other light sources for bigger bathrooms.
Kitchens
Now, this is the room that sees most activities in any home, hence its position as the heart of any home. Is it the same case in your home? Whether you spend ten fast minutes in this space or hours on end, you will want to make sure that your hub looks amazing.
It is the one place you can combine accent, task, and ambient lighting without creating overkill. For example, you can add recessed lighting over low traffic areas, pendant lights over the kitchen island, and under-cabinet light strips for task lighting. Do not hesitate to bring in the chandelier! Now is a good time to go big.
Dining Rooms and Living Rooms
Many people go all out with their dining areas and invest in accessories that highlight the beauty and coziness of these spaces. It would be a good idea to install a pendant over the dining table or go subtle and bring in some pot lights. Given the relaxing atmosphere in dining rooms, keep your color temperatures warm. You can even invest in dimmable lights to help you create an even cozier atmosphere as the night gets older.
If you have décor in the space, use accent lights to show off the pieces. Or you could create some visual interest by installing LED light strips on the cabinets and walls. However, be sure not to use too many lights that take away from the calm atmosphere.
Always pay attention to the color temperatures. Keep in mind that warmer temperatures impart relaxation while cooler tones enhance productivity and can invoke intense feelings. Have fun!