This is a sponsored post. I received a promotional item as a thank you for participating. This post includes my affiliate link.
 I am sure you have all heard about the brand, Mattel. They're a familiar brand in our home and a worldwide leader in the design, manufacturing, and marketing of toys and family products. They have created a private online community of about 300 Moms of children 3-10 years old.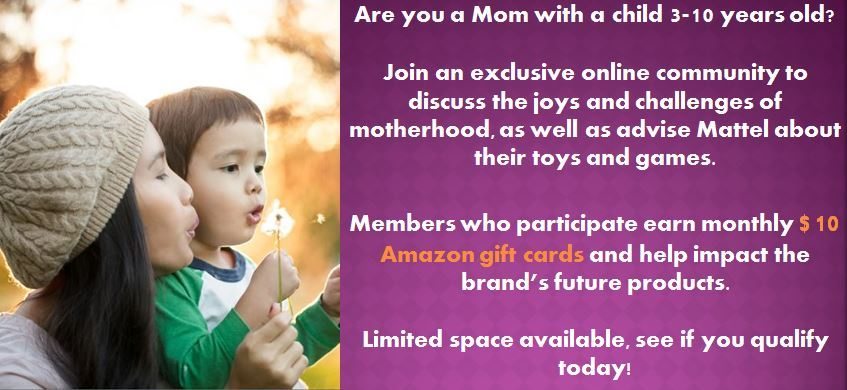 Mattel is relying on these Moms to help them gain a greater understanding of the lifestyle and needs of their consumers as it relates back to the world of play, and is opening up this invitation to you!
As a member, you'll be part of an exclusive group that provides Mattel with feedback and perspective on toys, challenges you face as a mom, and other topics of mutual interest of the group.
To thank you for your impact on the brand, you'll receive a $5 Amazon gift code for joining and an additional $10 Amazon gift code each month for participating! How fun is that?
 Moms of Children 3-10 years old Check This Out! If you are interested in joining, then see if you qualify here: http://bit.ly/1WeGSte. Feel free to share this with all of your friends and family too!
Let me know if you qualified, in the comments below!