*Product was received. Opinions are mine. This post contains my personal affiliate link.

My Animal World i-Mat
My baby crawls and is wanting to walk too! I need to keep this little guy busy or he will not tolerate it! When my baby does play, I like him to play with things that he can learn from (you can never start too early with teaching!).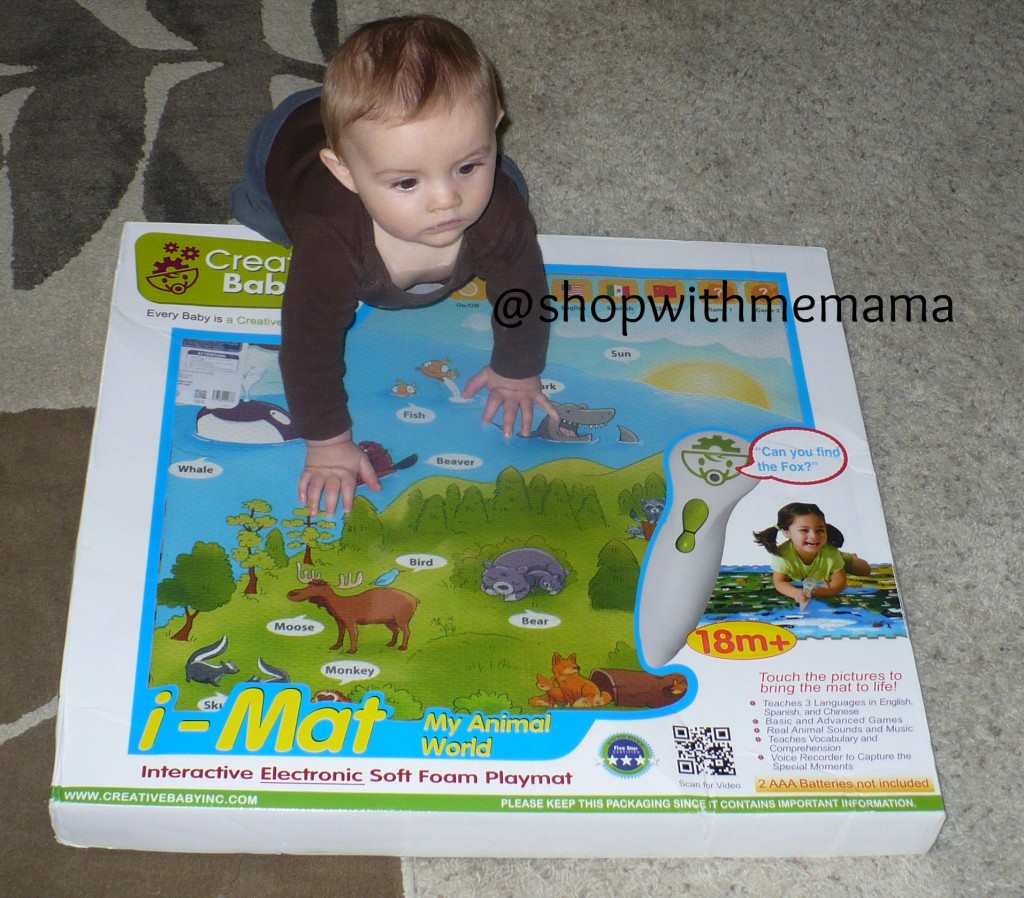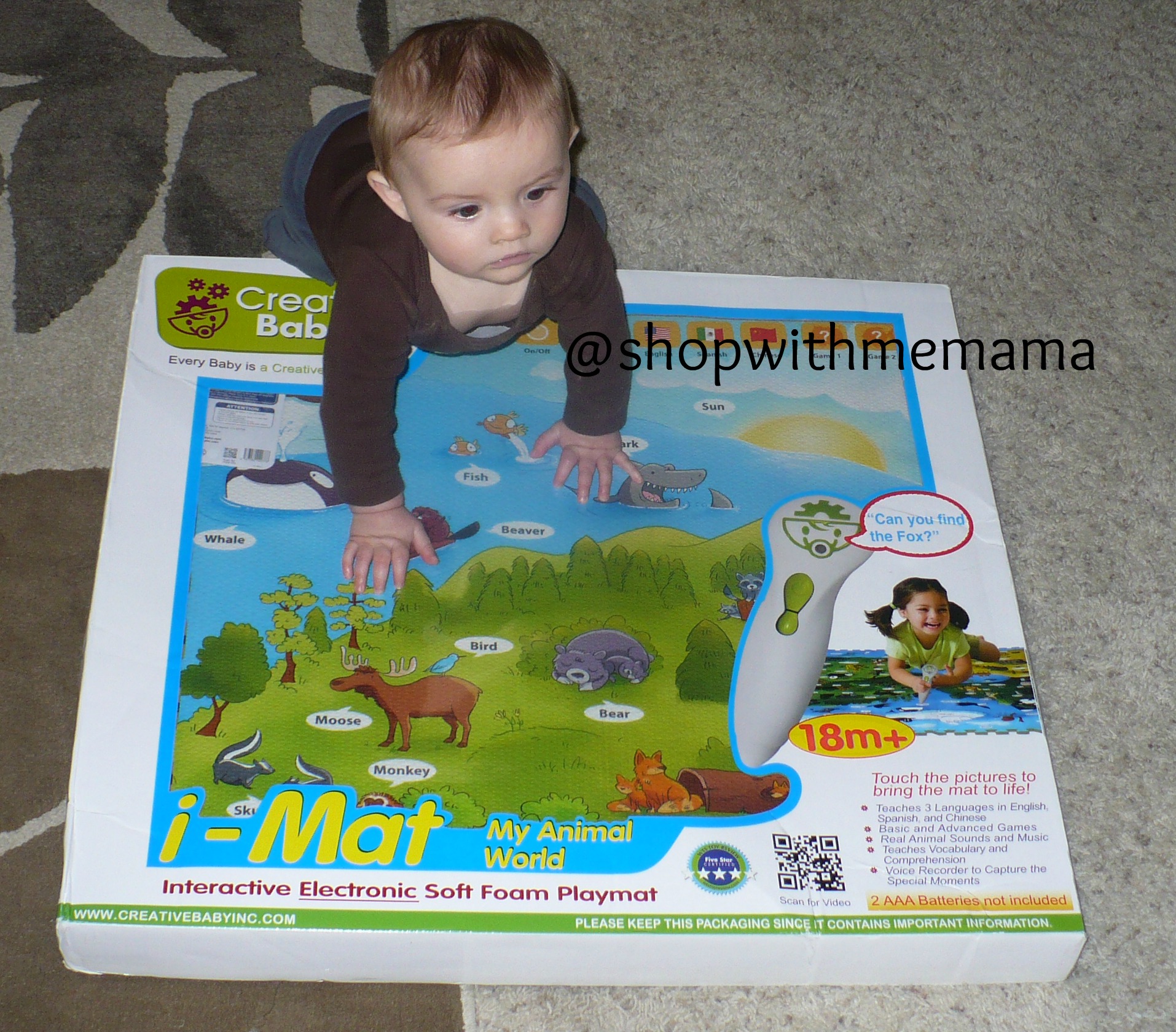 I recently received the My Animal World i-Mat to check out. This is a very cool interactive, foam play mat for your little ones! Creative Baby Inc., developers of products to excite, challenge and simply delight tots, introduced in August, the i-Mat: My Animal World on its website. Read what we have to say about it, below!!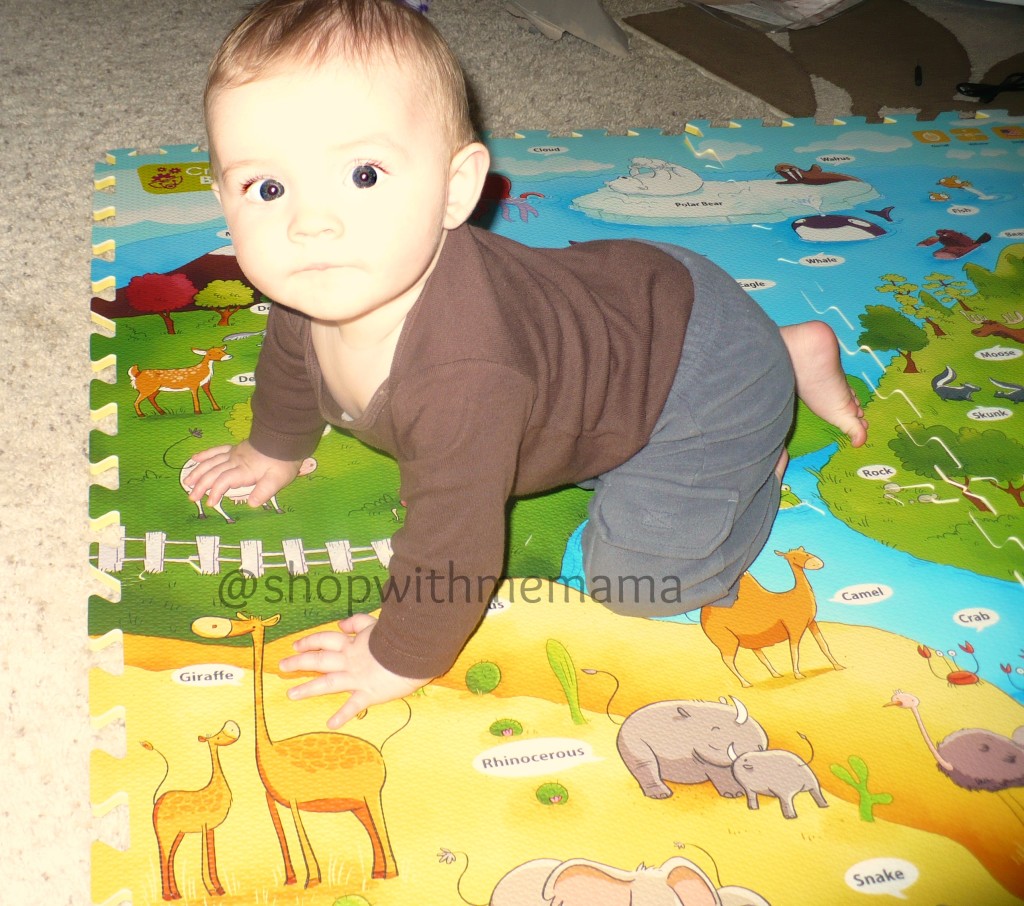 This is a foam mat that has four puzzle like pieces that you simply put together. It stays pretty well together too, considering I have taken it from room to room without it falling apart. So that is nice, but if it did fall apart, it is simple and kind of fun to put back together. My 5-year-old little girl likes putting it together!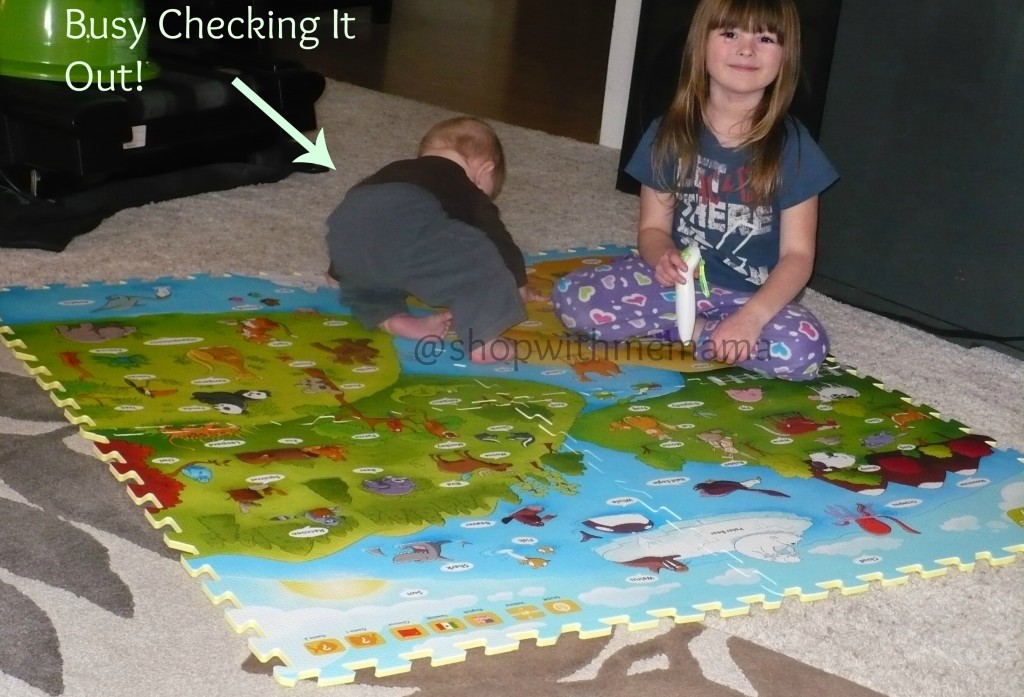 The interactive mat comes with a 'voice pen' that interacts with the foam mat. All you do is point on the "word bubble" and it will instantly reward you with an animal sound, a word, music or a foreign language translation! It is very cool! It also has two games you can play. My daughter loves playing them both! It asks you if you can find such and such animal by their name, or by saying "can you find the animal that makes milk?" OR "can you find the animals that live on a farm?"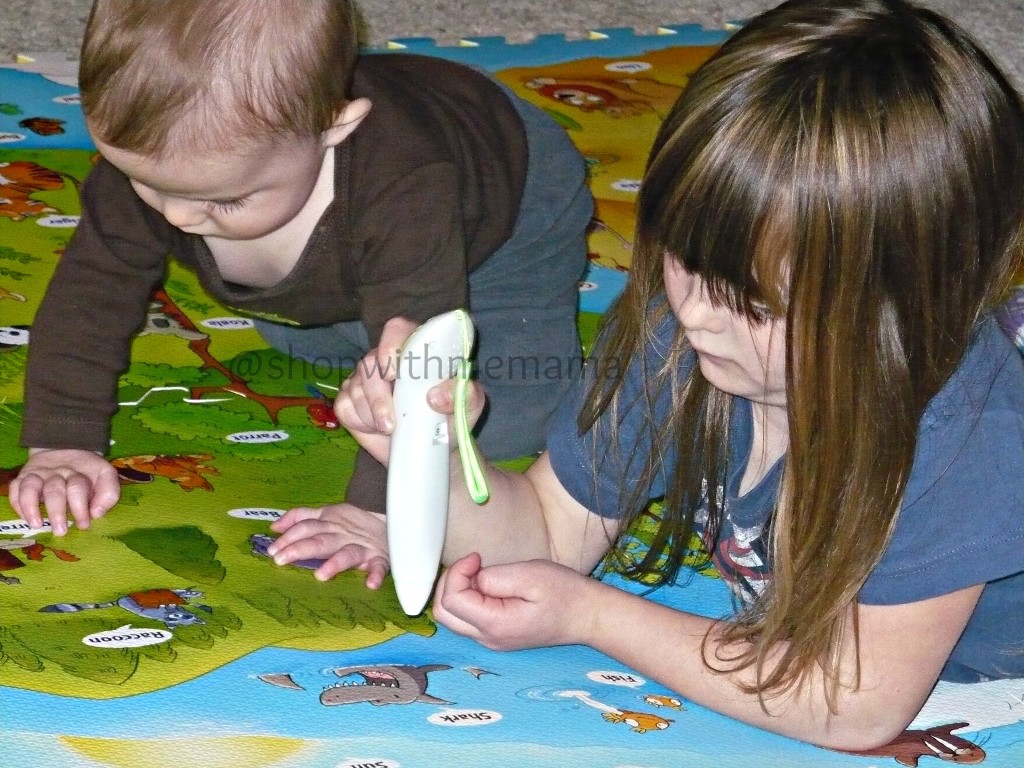 New babies and toddlers can enjoy the mat, without the pen of course, and roll around on it and turn on their little tummies to look at the bold colored animals on the mat! It is a soft mat (the mat is phthalate-, lead- and heavy metal-free) and it wipes clean very easily!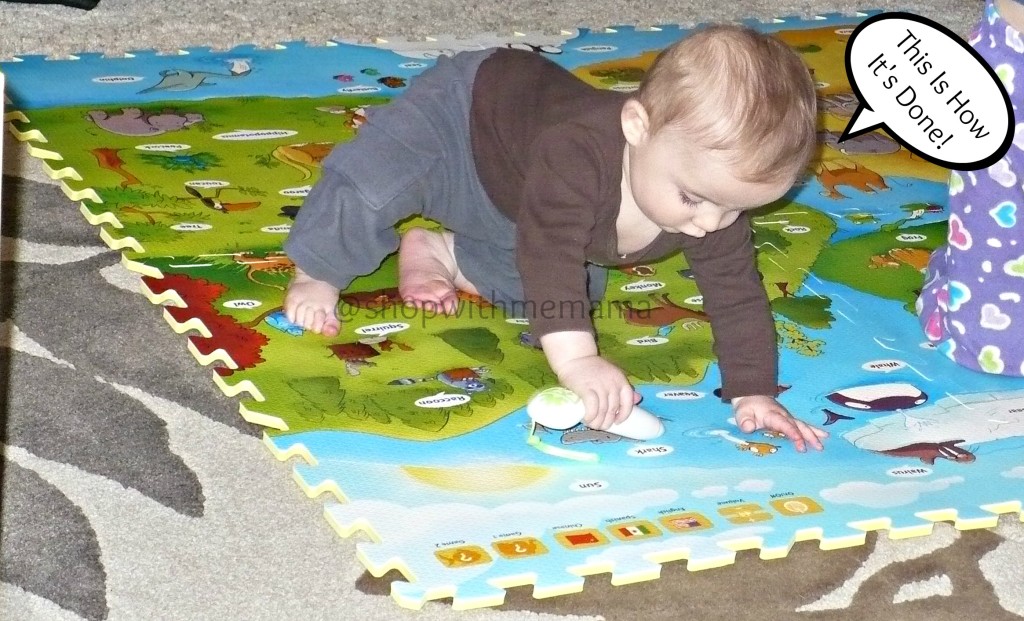 My daughter took control of the voice pen and my little baby crawled around on the mat as she pointed at the animals and the animals made sounds! My little baby was so intrigued it was so cute to watch! My daughter spent a lot of time pointing at each and every animal to get their name and sound that they make.
Check Out Our Video!
I almost say that this mat is magical, because I just could not figure out  how on earth it worked! It was like magic! It is a plain old foam mat (or so I thought!) and with the touch of the voice pen, it all comes to life! It is really neat not only for kids, but for adults too. It is fun to watch and listen to!
The secret though, is in the 2 GB memory of the Voice Pen!!! The mat and voice pen are sold as a set. What is really neat too, is that in the Fall of 2013 (hey that is NOW!!), two more themed adventures, i-Mat My Alphabet and i-Mat Under The Sea will be coming out! I can foresee these two being under the Christmas tree this year!!!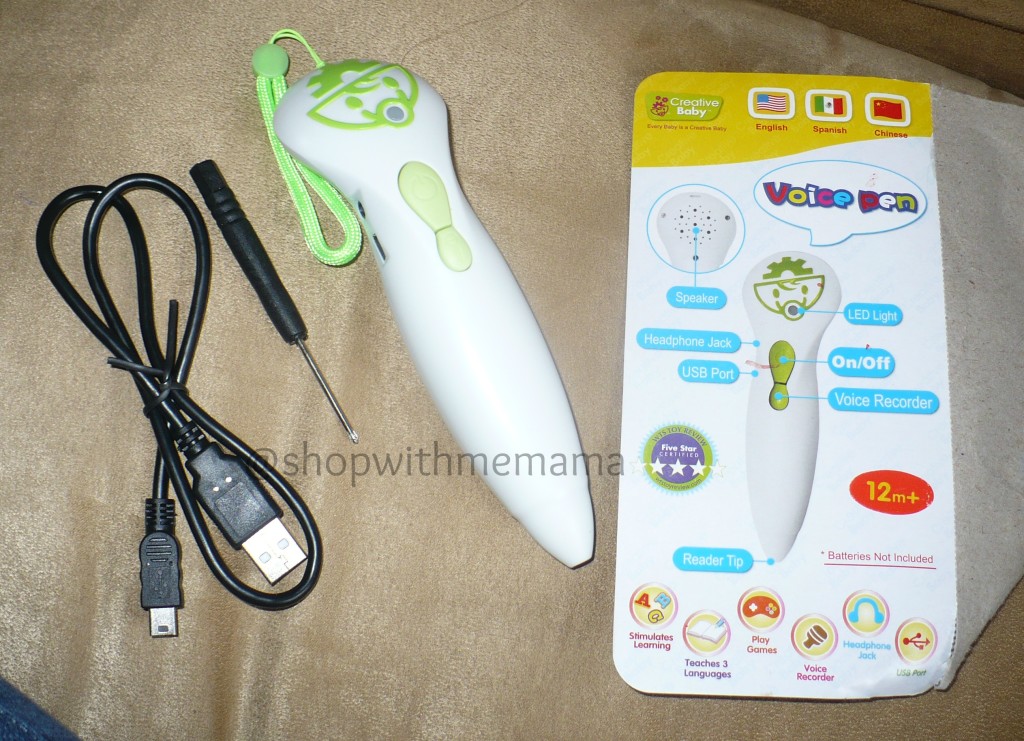 And, as the new pads are introduced, you can connect the Voice Pen to any computer with internet access (with the included USB cable) and download the new sound file from Creative Baby's website to the i-Mat Voice Pen!! Then you will be on your way to more i-Mat adventures with your little ones! The new pads will be priced from $24.99 to $29.99, so they are affordable!!
Don't worry if you or your child feel like they are too big for this i-Mat. There is 3 languages that can be learned–English, Spanish and Chinese, all by simply touching the voice pen to the image! I think this keeps it interesting! For kids ages 3 to 6 years, there is an advanced program for the Voice Pen. They can use the interactive talking flash cards, posters, wall decals, stickers, books and much more! So much fun to be had!
Buy
The  i-Mat Set (Pad & Voice Pen) My Animal World, retails for $79.99. You can purchase it online at Amazon.com or http://creativebabyinc.com/. You can also buy the Voice Pen separately if you wish. Psst.. they have free shipping right now for a limited time!!!