*Product was received. Opinions are my own. This post includes my affiliate links.

Do you remember Teddy Ruxpin? Not sure if I even spelled that name correctly, but I sure remember him! My brother got him for a gift on his birthday and never put him down. He was always playing and singing along with his Teddy Ruxpin. Since then, I have never really seen any toys that could do what Teddy Ruxpin did.. that is until I saw My Friend Cayla The Interactive Doll!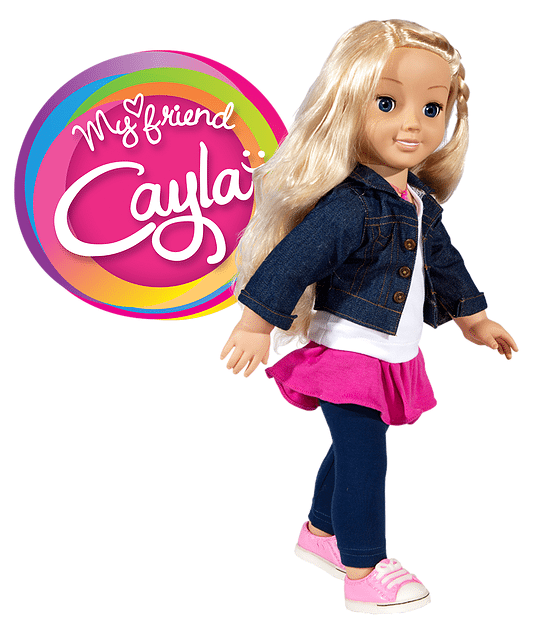 My Friend Cayla is an interactive doll that can do so much more than any other doll! Why? Because she can talk to you, answer any questions you may have and play games with you. Ya, she is pretty cool!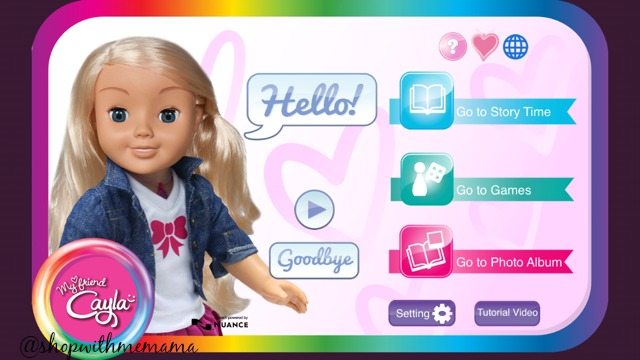 My daughter, who is 7, received this beautiful doll to review. The doll came packaged nicely in a box and she came with two accessories; a mirror and a brush! She has long, thick blond hair and it is fun to brush and braid! My daughter loves her long hair.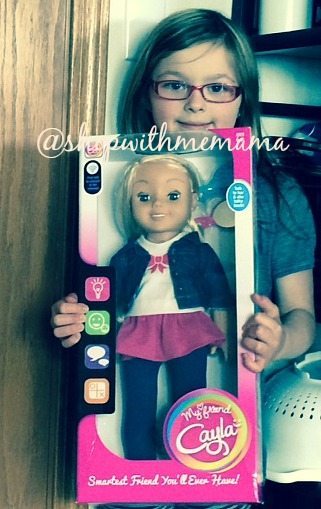 My Friend Cayla
 is also very sturdy! She is a strong girl and can easily stand on her own two feet without much effort. She is dressed nicely and her features are delicate and girly! We also love her long eye lashes! So pretty!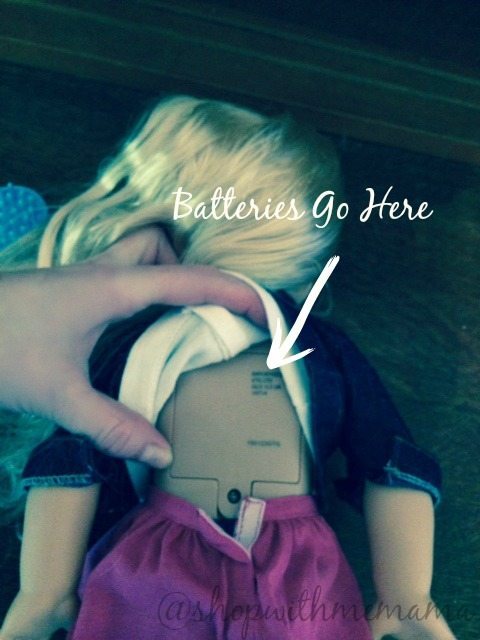 After seeing her for the first time, my daughter fell in love with her and could not wait to get her connected to my iPhone with the My Friend Cayla app and start talking with her! So, we installed the batteries in her back (she takes 3 AA batteries).
Do I need a smart device to play with her? 

Yes.  In order to play with Cayla's complete play capabilities it's recommended that you have Bluetooth compatibility.  A smart device with either IOS or Android function will unlock Cayla's full play potential.   A phone or tablet will work with Cayla and be able to unlock her amazing knowledge of the world.
Finding the app took a bit, but I finally found it. After I did find it I installed it to my iPhone and it would not work the first time. I uninstalled it and installed it again (installation on my phone took about an hour or so). The second time around it still would not work. I would click on it and it would just x out again. So, I contacted the company and they told me that usually when people have the issue, it is because their iPhone is not up-to-date. I went to check and sure enough, my phone was not updated! So, I updated my phone which failed to up date the first time of course, but the second time my phone successfully updated and then I reinstalled the My Friend Cayla app. And…. it worked, yay!!!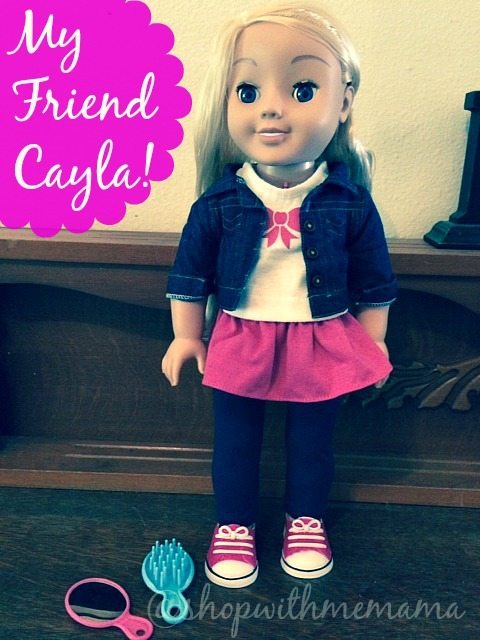 We turned the switch on (it is under the battery compartment on her back) and tried to connect her to our wi-fi. But, it would not 'recognize her' for some reason. I tried and tried to no avail. I then contacted the company and they suggested to change out the batteries even though the batteries I did install were supposed to be new (I say 'supposed to be' because they were sent to me with the doll). So, my hubby went out and bought batteries and he installed them. We turned on the switch and Cayla came to life, FINALLY!!!!! We were all pretty excited at that time! Yay!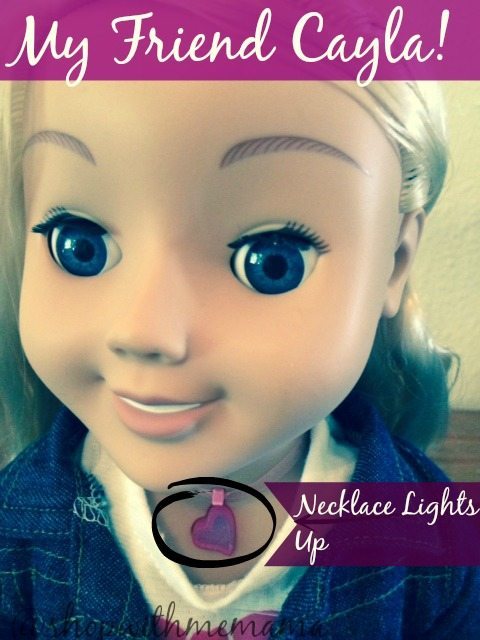 She made like a little 'magical sound' real quick to let us know she is with us 🙂 We then connected her to our wi-fi and then went to her app and played around with it and started talking with her. To start talking with her, we just clicked on the arrow (play) button on the app screen. You can have her be a chatter box or you can have her talk less, that is up to you. We had her be a chatter box 🙂
You can put your settings. There is a place where you can type in her name. She had trouble saying my daughter's name so we just had her call my daughter by her nickname "Boo". LOL. That was easy for Cayla to say! You know when you can start asking Cayla a question, because the jewel on Cayla's necklace will light up. If it has not lit up yet, don't talk because she is  not listening to you yet.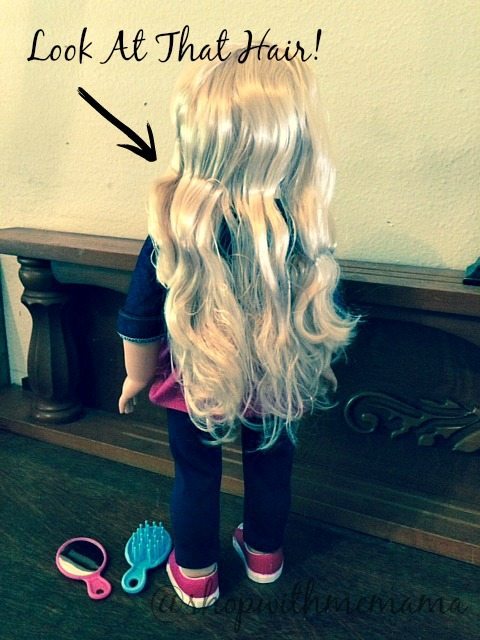 My daughter asked My Friend Cayla
 a lot of questions. One of them was a multiplication question and Cayla knew the answer right away! She is one smart cookie! You can also make her louder or lower her voice, so that was nice. We had her on all the way loud and it just did not seem loud enough for me. Maybe it was because I have three LOUD kids and I am not used to hearing quieter voices.
There were lots of questions that Cayla did not answer, but we are still so new with her. We are having fun with her and trying to 'get to know' her better. As we do, she becomes more and more interesting and fun! Like a real friend for my daughter!
When you talk to Cayla, you have to make sure you are not too far away from her (1-2 feet) . Her speaker and where she hears you is on her tummy. So make sure you are close to her when speaking to her. Also, no need to be paranoid if Cayla is told to say a bad word. She will NOT obey and say it, I know this because I tried when my kids were not around 😉 Cayla is a good girl 🙂
Like I said, we are still getting to know Cayla. So we have been watching her videos and checking out the FAQ's section on her page.
My Friend Cayla
 is truly a very unique and fun toy for any little girl!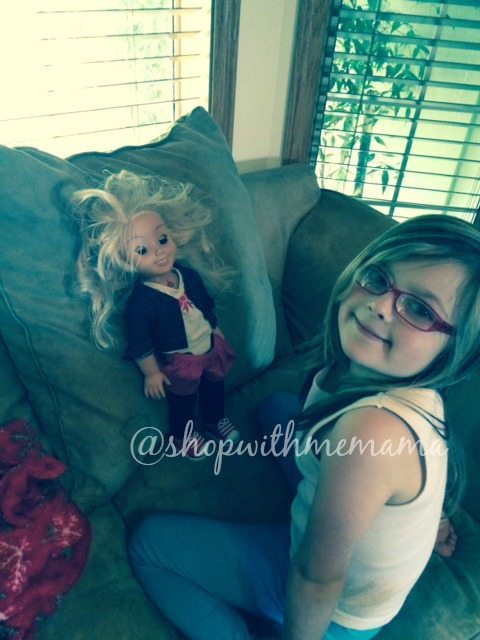 Who Is Cayla???
My Friend Cayla is not just a doll, she's a real friend!  Using cloud-based voice recognition with safe internet connectivity, your child can talk with Cayla and she'll understand and reply in real-time to millions of things!
Off line, My Friend Cayla plays games, shares her photo library and offers hours and hours of storytelling without the internet. She's the smartest friend you will ever have!
What Do You Think Of My Friend Cayla?