*This is a partnered post. Opinions are my own.
Oduga: Toys that Grow with Babies
Wouldn't it be nice to have one toy for your baby, that would change with them as they grow? Eliminating tons of unnecessary toys cluttering up your home? Now you do! Oduga is an adaptable, developmental and sustainable baby toy that grows with your little one!
Oduga is a product design and retail firm of a new line of modular baby toys that grow with kids from 0 to 3 years old and addresses specific needs of your baby at each stage, generating a sense of belonging and transformation!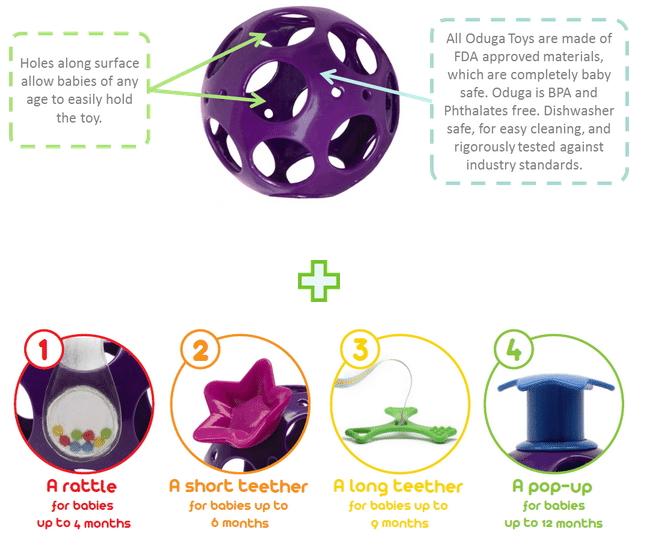 Parents know that play helps kids to develop their imaginations and creativity. It is through playing that allows kids to create and explore their world. As they master their world, playing helps kids develop confidence and the resiliency they will need to face future challenges.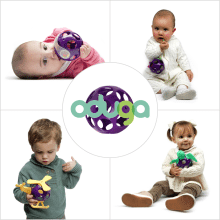 So, What Are Oduga Toys?
I really thought this toy was interesting. It starts out as a ball with holes in it. The holes allow babies to hold on to it with ease and later allows you to 'add on' to the Oduga Ball, turning this toy into another toy, as your baby grows. This is dishwasher safe (something every parent loves to hear!) and Oduga Toys are made of polypropylene, an FDA approved material that is completely safe for the babies.
The company's initial product is one core toy with four add-ons that can be put together as the baby grows. Each addition creates the perception of a "new" toy for the baby, encouraging the development of motor, cognitive, or emotional skills for each 3-month interval, catering to the specific needs of the baby and giving the baby just what they need at each stage. (please see image below):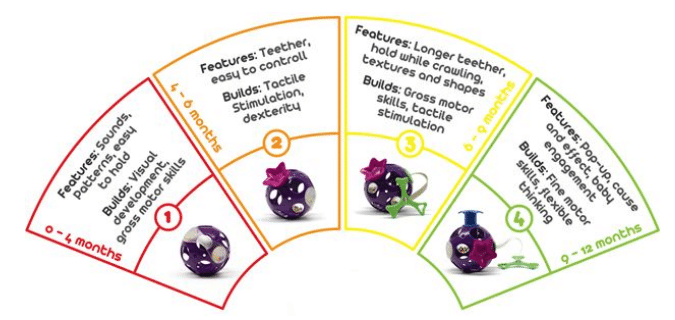 When your baby gets a bit more older, the Oduga Ball can turn into different animals, which will continue to engage your baby up to 2 years old. At this stage, the core modules can be removed from the ball and your baby will be able to play on their own by adding or removing the different parts of the animals! You can even add more than one module so that your baby can mix and match animal parts and shapes. This will help develop their dexterity and creativity!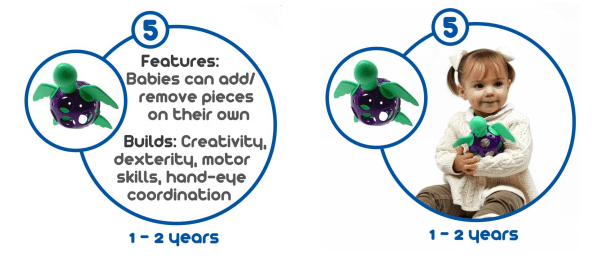 Then, at the age of 2 (or around there), when your baby can start controlling movable parts on toys, the Oduga Ball can be turned into different things such as a helicopter (allowing baby to interact & engage actively with the toy) or your baby can still use the modules from previous stages, to create fun, abstract shapes!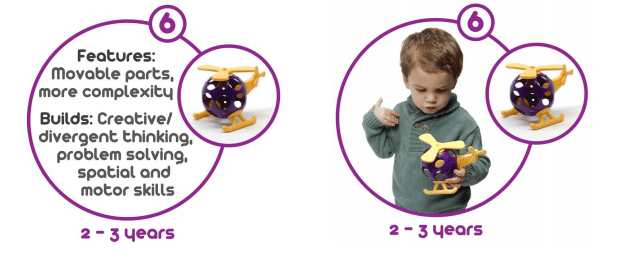 Now, the existing Oduga designs are only the beginning!! They intend to have an entire new category of baby toys, that extend beyond 3 years of age. Like advanced toys containing gears, circuits and even simple engines! That would be so neat! They want to create a toy that teaches children the importance of reusing (instead of disposing), their toys. I think that Oduga will help make a difference in the world!
Help!
Right now, Oduga has a Indiegogo campaign going on and they need your help getting the word out about this wonderful toy! Whether you can donate $1,$10, $25 OR just help spread the word (like I am doing!), they would really appreciate it! If you do decide to donate, there are some sweet perks! You might want to check those out on their campaign page!
In the past 6 days, they have raised 1/2 of what they need, to fund this toy! I think that is great because that tells you that their toy is really something parents/caregivers WANT to see! So, please share or donate to help them get to their campaign goal!!
Connect with Oduga on Facebook and Twitter!! You can also check out their new website: http://www.oduga.com/
What Do You  Think About Oduga? Will You Donate Or Help Spread The Word?