*This post is brought to you by SmartFeed. Opinions are my own.

Parents Unite for SmartFeed!
Do you worry about what your kids are watching on TV or looking at on the internet? Do you feel overwhelmed by all of the content that your children could potentially be exposed to on all the different media outlets? As a mom of three children, I find it extremely complicated to filter out all of the media and make sure they are getting the best and most positive media for each of their age groups.
Children are exposed to hours of unsupervised media each day, including extremely violent and sexual content. It is very important that we are filtering out this negative media and providing our children with positive and inspiring content! Parents find it overwhelming with the variety of places to access media content. How can you keep track of it all?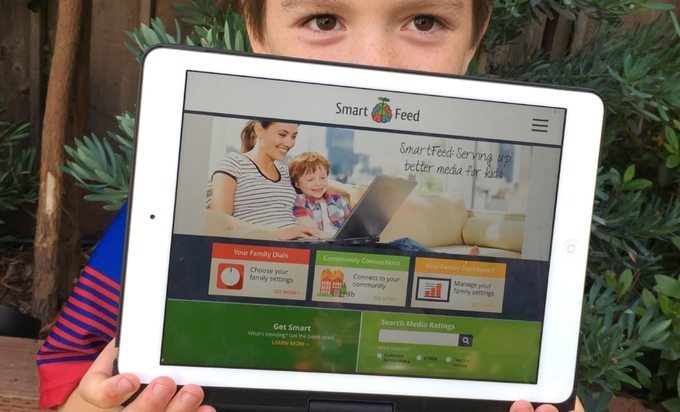 Last week I was letting our three kids have some TV time, and none of them could agree on what to watch! I had one on the TV in the living room, one on a tablet and the other watching a program on my computer! If you have children, I know you can probably relate! It's very difficult and time consuming to monitor each child and make sure the programs they are watching are suitable!
That's why I was excited when I found out about SmartFeed, a media filtering tool, a database with reviewed and approved content and also a community where you can connect and share with other parents!
As a subscriber of SmartFeed you'd be able to curate digital media and customize content by child, situation, ratings sources, content format and device type. You'll be able to filter content on Netflix, YouTube and other apps, as well as movies, online games and books; all set to fit with your family values.
The tool finds content matching your criteria and delivers it in a family packet of recommended media, filtered by age, gender,values, interests, school curriculum, family dynamics and more! You will also have the option of connecting with other like­minded parents to discover recommended content. You can check out how it works, here.
Future releases will include direct content delivery to all your devices and subscriptions, usage management & monitoring, a parent toolkit to manage your kids' ongoing digital media usage and SmartFeed member discounts on trending content.
This amazing idea was developed by Linsly Donnelly, a mom of three in California. She knows how I feel! She was tired of trying to filter all her kids media and having arguments with them about what they could watch. She is trying to put this smart idea into action and develop SmartFeed 1.0, but she needs help from other parents.
Let's Get This Project Funded!
Her project is 54% funded on Kickstarter, but she needs our help to fully fund this project and make it a reality! If you donate to their campaign, you'll qualify for a large discount on a subscription! Let's help the SmartFeed team bring this amazing product to market! SmartFeed would truly be a godsend for parents (and children) everywhere!
If you are still looking for more information about SmartFeed, before you add your donation, you can visit their YouTube page and check out some videos.
Get Social
You can connect with SmartFeed on Twitter, Facebook and Instagram!
What do you think of SmartFeed? Would you use it for your children?