I know we all need a bit of pampering sometime, am I right? After a hard day with the kids or at the office or both, we need some comforting too! What better way to do yourself some good then to take a nice warm/hot bath with some bath goodies for just YOU!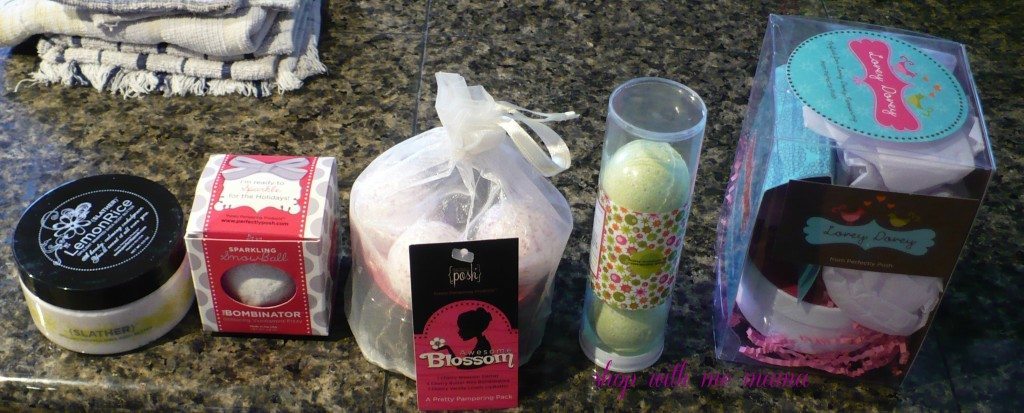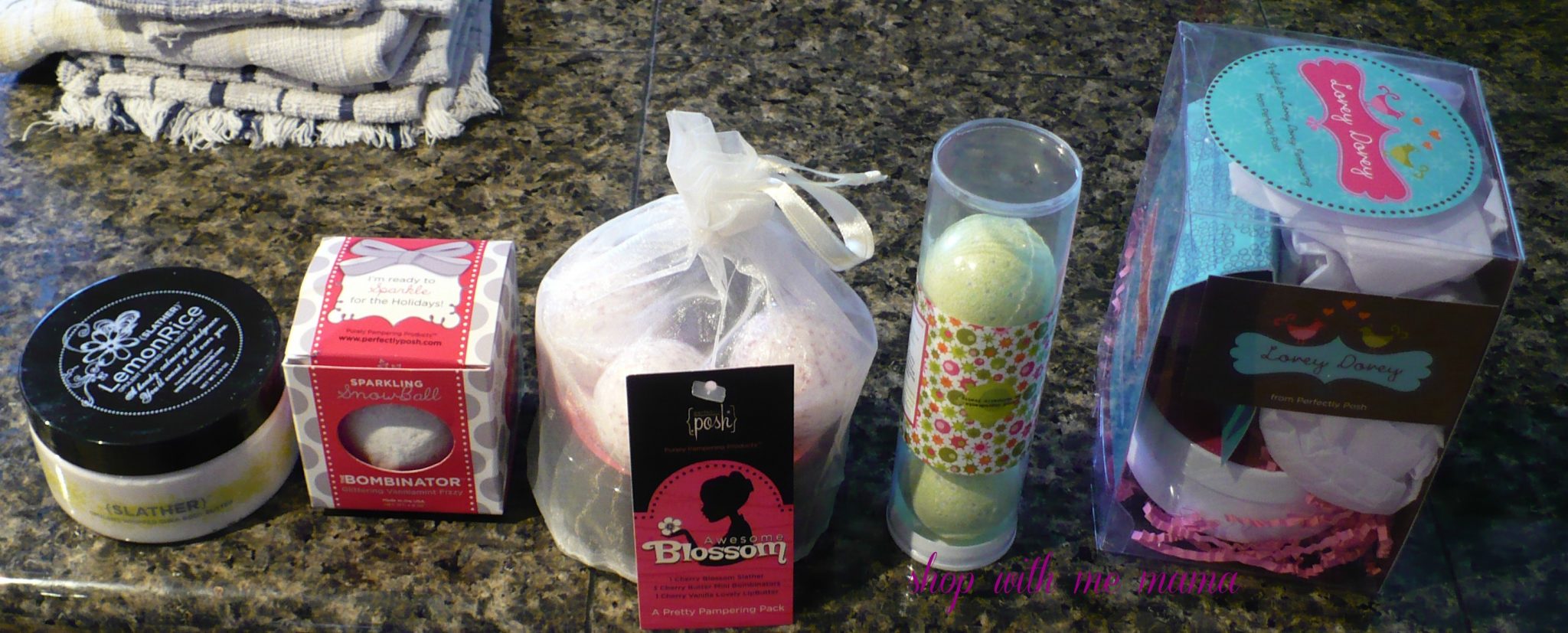 Perfectly Posh has some awesome spa grade products that are made in the US and do not contain harmful toxins. They have a large array of wonderful pampering products and I had a very hard time choosing what I wanted to review. Me and beauty/pampering products go hand in hand 😉
I FINALLY chose the following to review:
Awesome Blossom
LipShot Gloss — Raspberry Bang-Bang
Glittering Snowball Bombinator
Slather Body Butter — Lemon Rice
Lovey Dovey Collection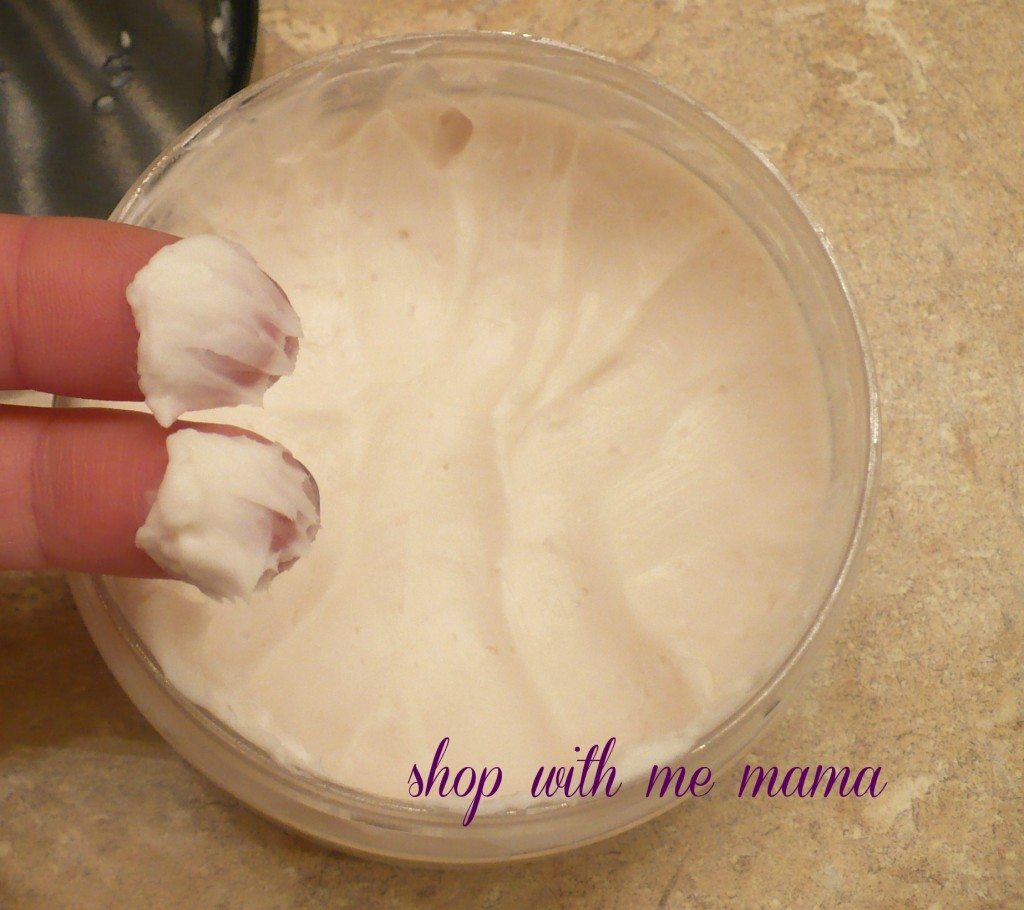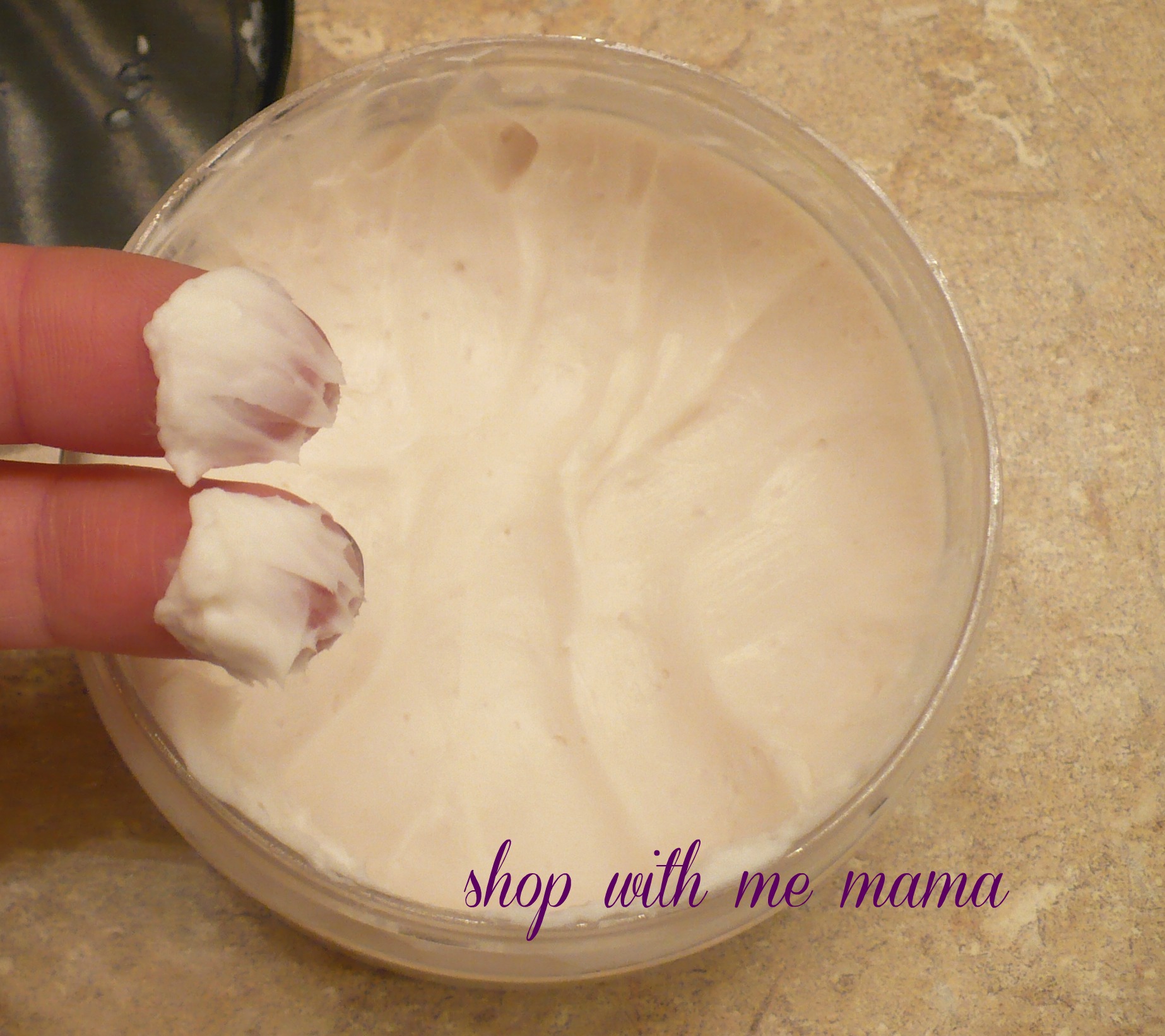 When it all arrived, it arrived just adorably packaged, loved that! Inside were beautifully contained pampering products. Love the containers everything comes in and inside those containers are some wonderful products to make me feel so pampered!
Awesome Blossom is too cute and smells way too good! It comes with the Cherry Blossom Slather, 3 Cherry Butter Mini Bombinators and 1 Cherry Vanilla Lovely LipButter. What a fun and neat little package. Everything you need to feel soft and smell good! The slather makes your skin feel so drenched and hydrated, love this. The mini bombinators and fun for me and the kids. They are so fizzy and make the water turn a different color kind of.  They do go fast though, but leave your bath water smelling very nice!!! The lipbutter leaves my lips super conditioned. My daughter did, however, steal this one from me, sigh..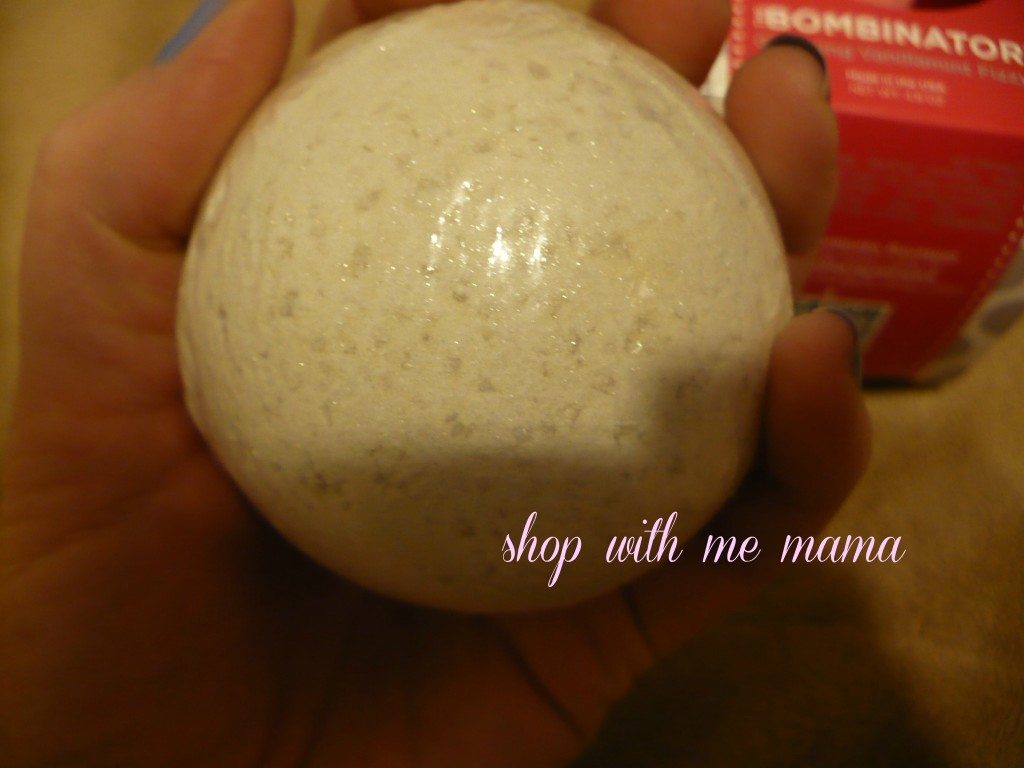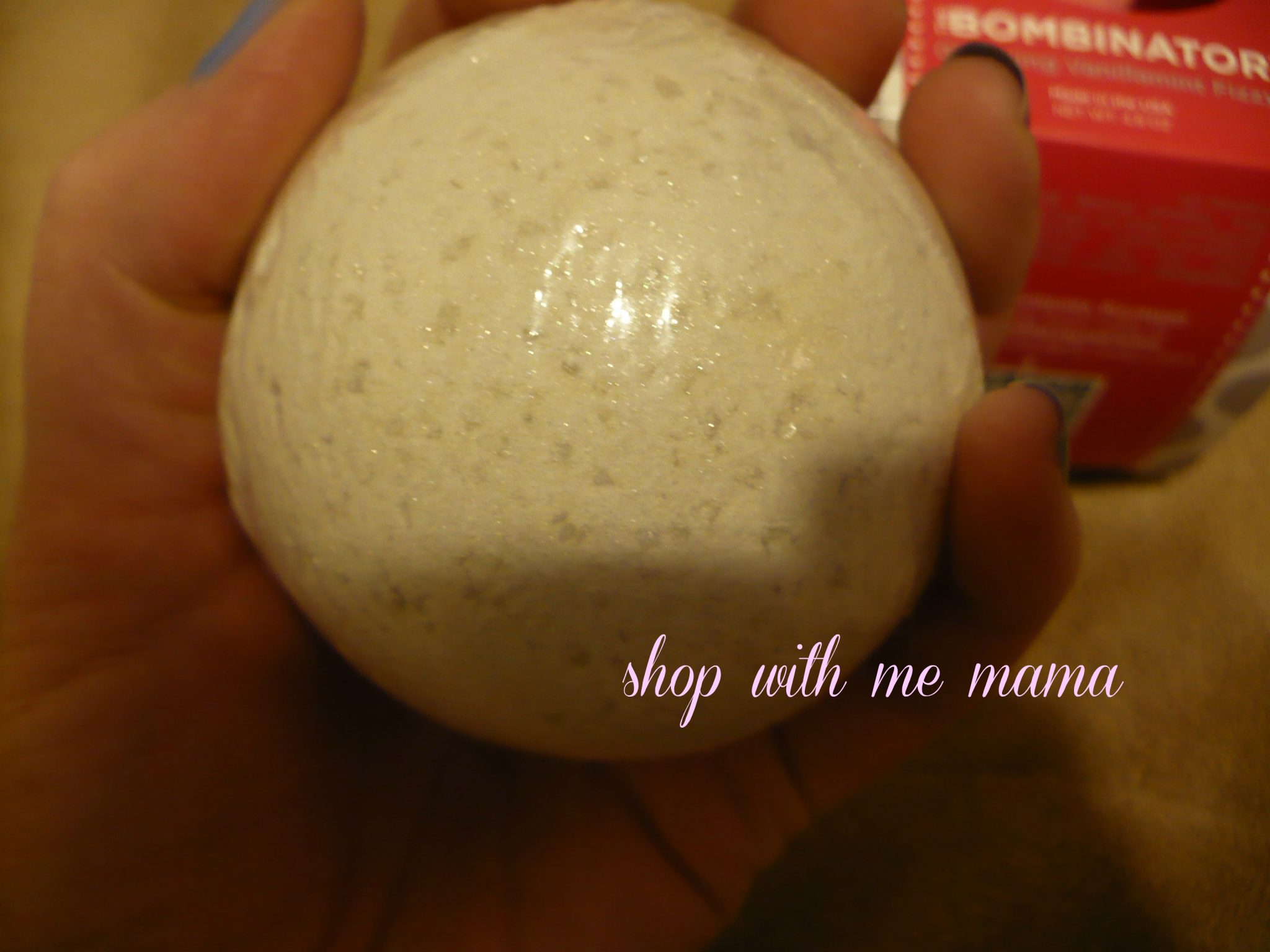 The LipShot Gloss in Raspberry Bang-Bang, is one of my favorite glosses now. It comes in a tube and is glossy, smells nice and is very sheer with just a tiny hint of color on my lips. Perfect for summer time! It is not sticky to me and I do have to reapply after drinking or eating.
The Glittering Snowball Bombinator, I have not used  yet. But this thing is gorgeous!! It is big and sparkly and I can't wait to use it in a bath. I think this would be a perfect Christmas gift for some one on your list this year. I think I will actually add this one to my Holiday Gift Guide this year, because it is so pretty and practical for an overtired mama!!!
The Lovey Dovey Collection has some great sweetheart things in it, think Valentines Day for next year!!! It comes all together in a plastic box that contains adorable heart Confetti Soap, Sparkling Soap, Pink Soap and Pink Vanilla Massage Mud, and a Bubble Love Bombinator!! So much fun for me and the kids 🙂 Smells delish too!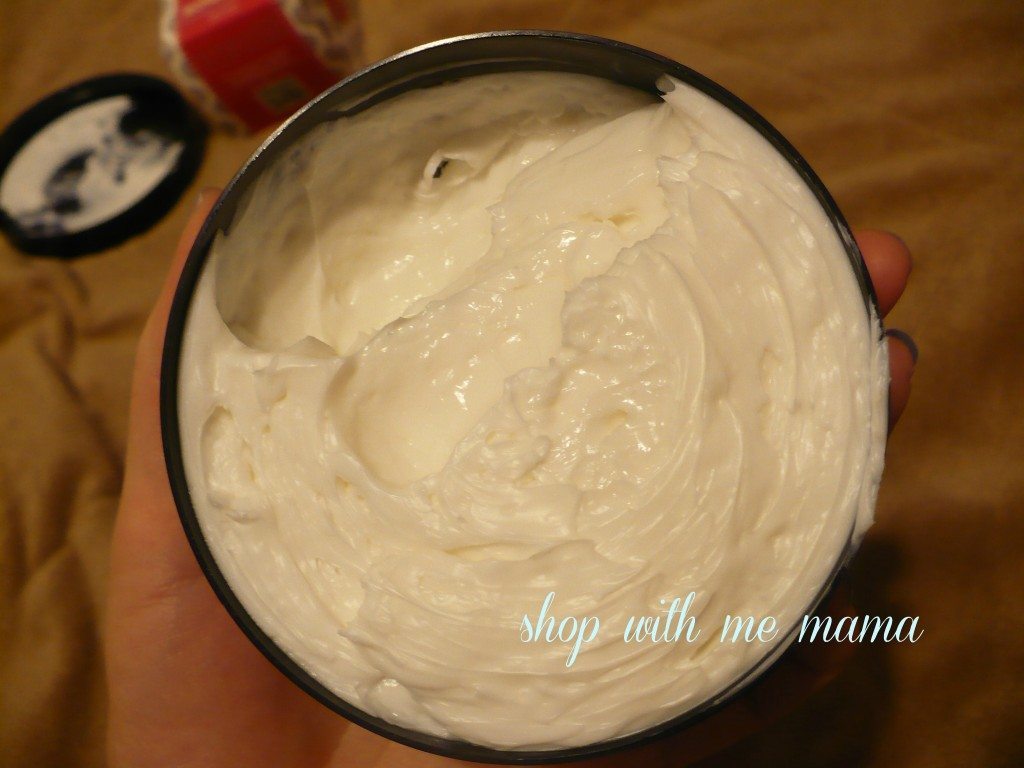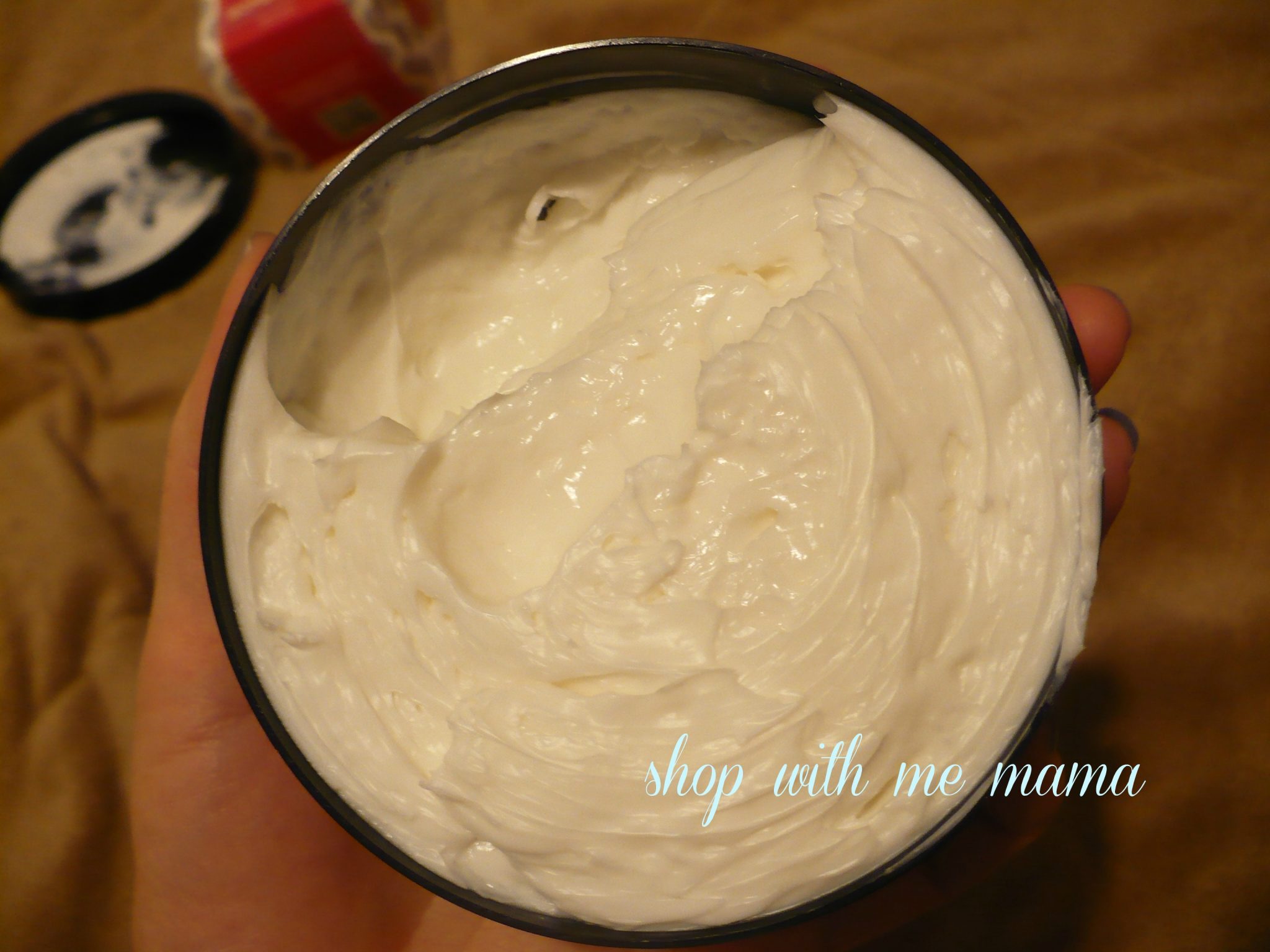 Lastly is the delicious and ever so hydrating Slather Body Butter  in Lemon Rice. A faint smell of lemon fills the air when you open this container. It is a nice sized container and I see this lasting a while for me. It is really really thick and is perfect for parched skin. I use this all over my body but especially on my elbows, knees, ankles and feet. Talk about very soft feet and elbows, etc, after using this for a day or two. LOVE. Skin may tend to get a bit greasy, but it does absorb nicely into your skin, just give it a few. I use this at bed time.
Now since Perfectly Posh JUST made its debue on October 1, 2011, you may not have heard of this company. But, let me tell you, I am so happy I got to know this company because I just love it now. I love all the products they have and how they package everything too. Simply adorable! The prices are very reasonable too.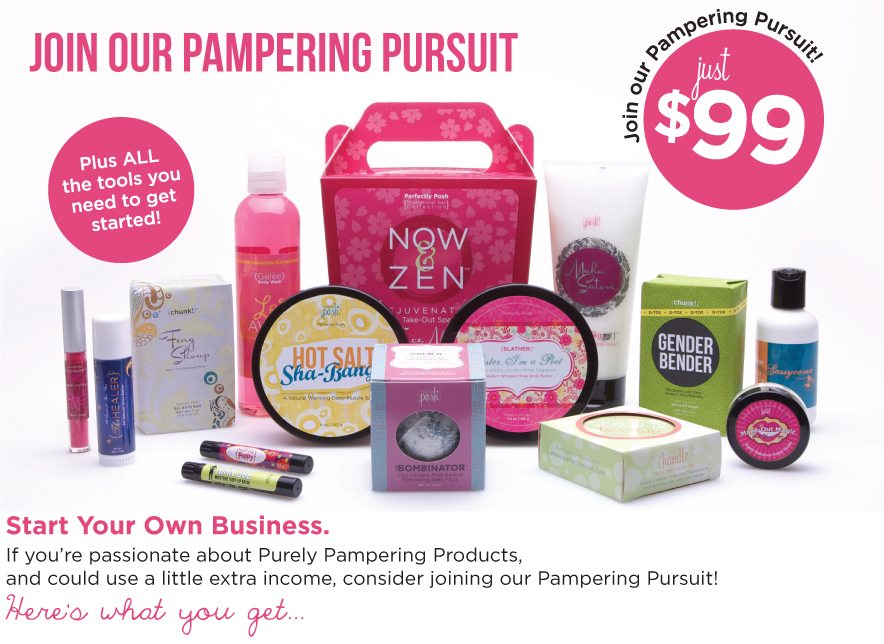 Want To Earn Extra Money Or Host a Party??
If you're looking for a unique business opportunity, consider just $99 plus tax and shipping gets you everything you need to start your own Perfectly Posh business. Learn more about our company here. OR if you just want to host a party then you can do that too. I am thinking of doing this closer to the holidays! With this new company, I am sure MANY would be interested in its products!
 Buy
Right now you can purchase 5 Perfectly Posh products and get the 6th one FREE! (excluding the LipShot Lip Balms). Visit them online at http://www.perfectlyposh.us/kblair/
Disclosure:
I received product for this post. All opinions are my own, thanks!