We love our Radio Flyer EZ Fold Stroll 'N Trike! All bet you had a little red wagon, growing up. I did! And man that little wagon went EVERYWHERE with me and my siblings! Not to mention down HUGE hills too! Oh dear, we all had a few tumbles out of that wagon too! Lots of bumps and bruises, but man it was fun!
Now that I am a bit older (not much, but a bit…) I love seeing my kids play outdoors with products/toys I once used and loved. No, that little red wagon is longgggg gone, but it will forever be in my heart and mind…
*This post contains my personal affiliate link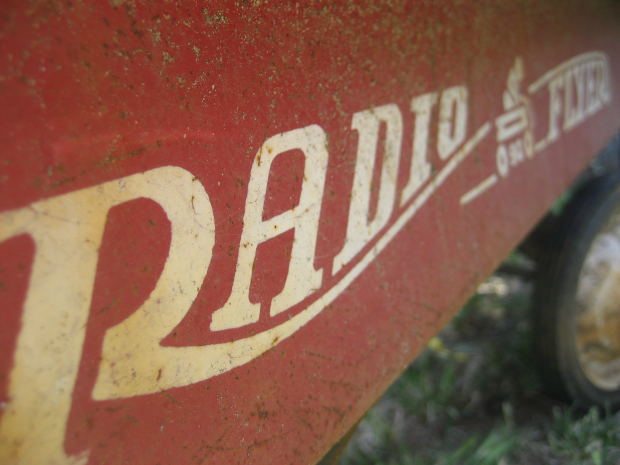 Radio Flyer EZ Fold Stroll 'N Trike
But, my kids love their outdoor toys and now that I have a tiny little one, he is starting to enjoy his toys more and more too! I cannot leave him out! No way!

He sees brother and sister having SO Much fun together (for the most part, sigh) and he wants in on it too! So, I was happy to be able to get a review item for him to check out! We were sent the really cute and practical Radio Flyer EZ Fold Stroll 'N Trike!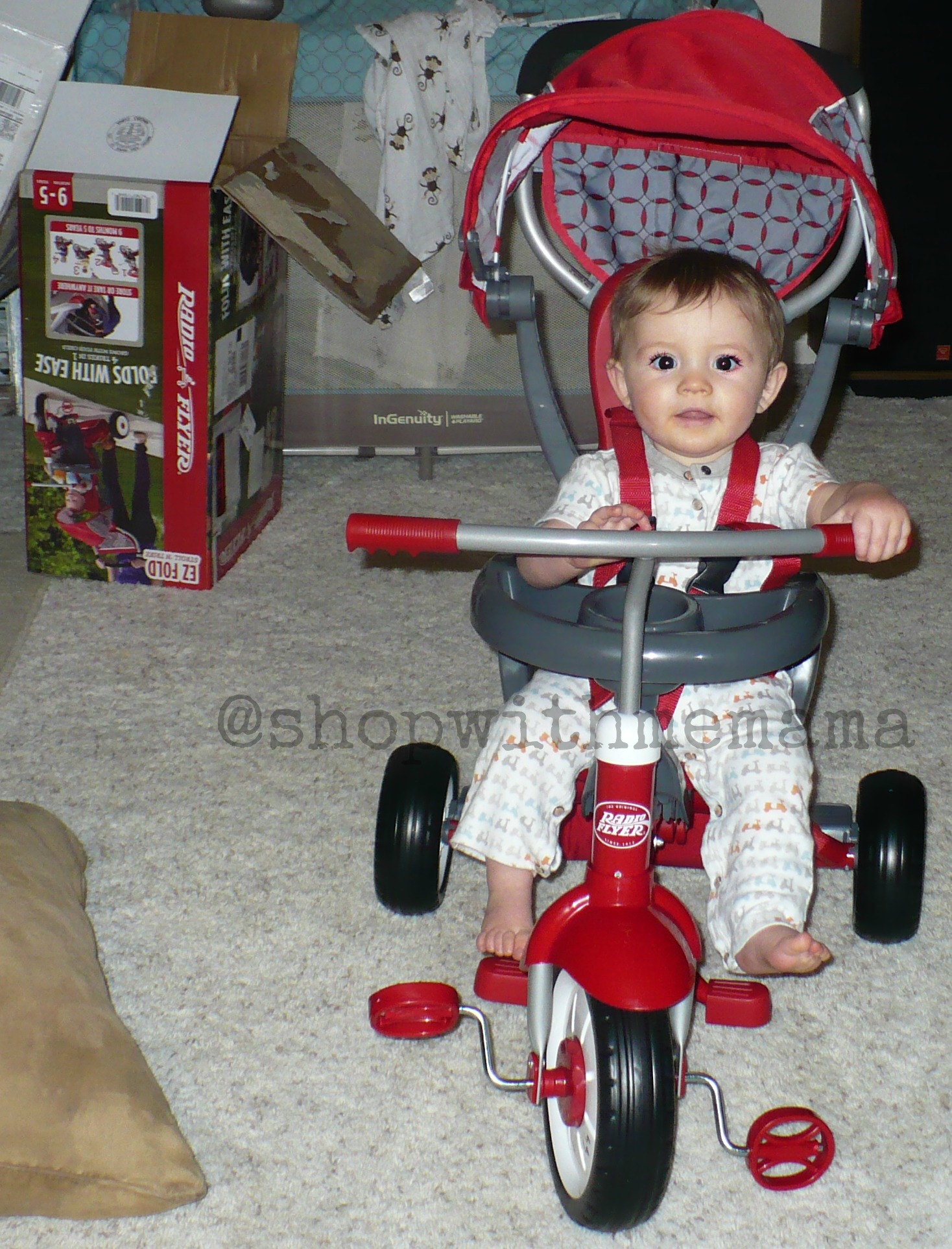 It did require assembly, which after a day of nagging, my hubby finally put it together. Once assembled my older kids were fighting like cats and dogs on who gets to race through my living room on it first, UGH. I had to explain to them that this was NOT for them, but for the baby.
They are so used to everything being for them, that this was a hard pill to swallow. After much frustration and tears, they finally accepted that this was for the baby and NOT them…
The Radio Flyer EZ Fold Stroll 'N Trike has a removable tray so that IF I allowed my 5-year-old on it (hey, it does go up to 5 years!), then all I do is simply take off the wrap-around tray (it even has a cup holder!) and she can fit nicely on this trike. It is easy to take the tray on and off. When the tray is on, you just slide your child into the trike and use the safety harness ( secure 3 point harness) to keep him safe and sound.
There are two areas to put their little feet if they can reach it (my baby cannot yet). And you can push your child very easily with the adjustable push handle in the back. You can steer with ease too! I love the little sunshade, which is removable, to shade baby from the weather. This also has a handy foot brake. No runaway trikes here! Yay!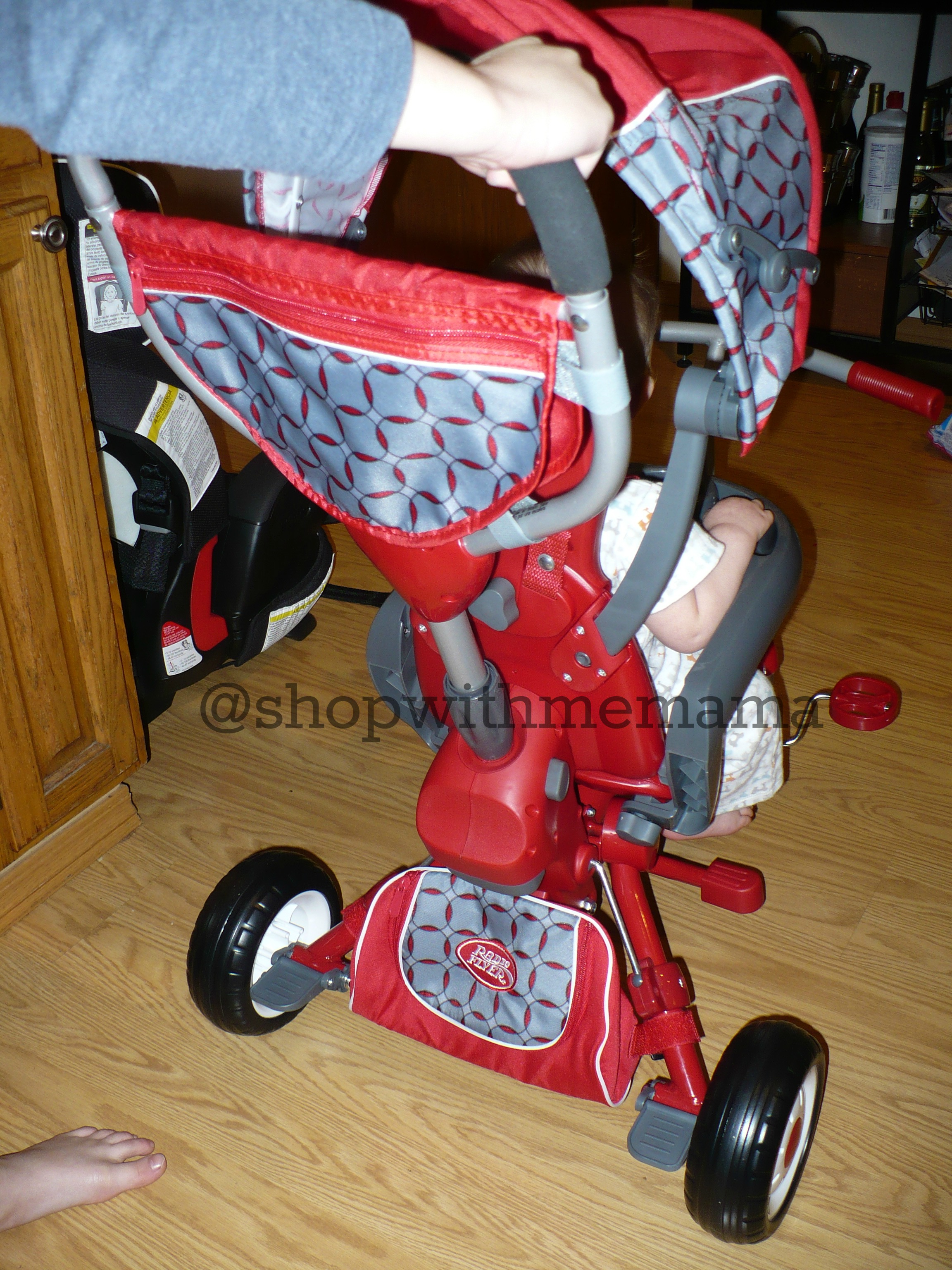 The Radio Flyer EZ Fold Stroll 'N Trike also has a few pockets to store important things like my iPhone, lip gloss, pacifiers, toys, iPod, or whatever your heart desires, really. This trike comes in pink or red.
The trike is designed to fold in one easy step so you can store or take it anywhere. This 4 in 1 trike is the ultimate grow-with-me trike offering the most features and most fun for kids 9 months to 5 years! So yes, my daughter can enjoy it too… My son, not-so-much.
Buy
You can purchase the Radio Flyer EZ Fold Stroll 'N Trike online on Amazon.com.