I recently came across a really neat app and thought it was neat enough to share with you all. It is a mobile safety app called React Mobile. Read my React Mobile Safety App Review, below.

This is an app for Androids and iPhones. I downloaded this app last week and have been playing around with it ever since. This app allows you to call for help with the touch of a button.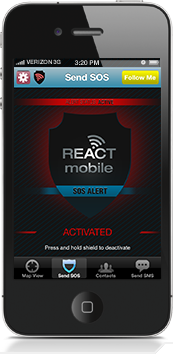 Let's say you are out and about by yourself and you sense someone is following you or making you really uncomfortable. You get on your phone and with a single touch, quickly activate the SOS system to send an alert to your friends, family AND the authorities.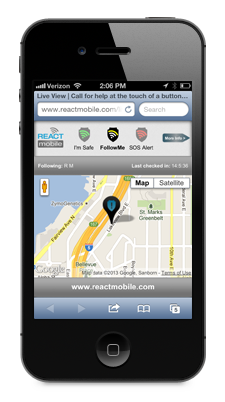 After you do the SOS system alert, your GPS location will be sent as a direct alert to your network of emergency contacts (that you set up when you download the app). It will send your trusted contacts a link to your real-time location with the Mobile React 'Follow Me feature.
You can report emergencies and criminal activity with Mobile React's geo-stamped group messaging capability. So, you can rest assured, you can be safe, when you are out and about, alone! I really think this is a great app. The React Mobile Safety App is so good to have downloaded on your smart device.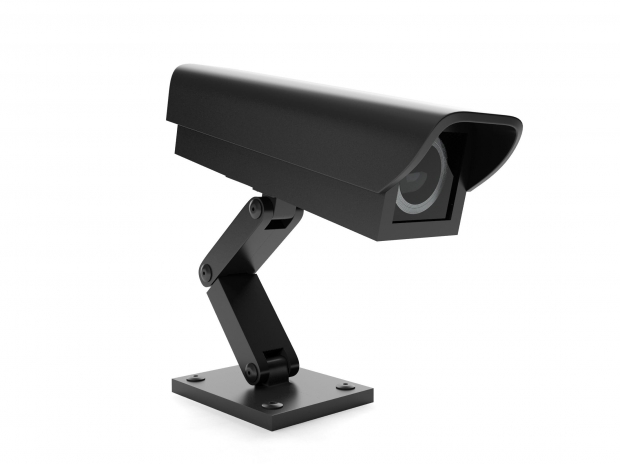 Also, if there is lost coverage, this app will still keep your last location, so the authorities, family, and friends can find you. With so many people going missing every single day, this app could save so many lives, save children from being abducted and save many families' heartaches and pain.
If you are a jogger or runner, or simply like to walk early in the morning or later at night, then this is a must-have app to have. You can feel safer with this app, that is for sure.

For your children, who have an Android or iPhone this is a great app to download for them. It is free and very much worth it. As a parent myself, when my kids are of age to have a phone, I will definitely want an app like this, downloaded on their phones. A piece of mind is what every parent wants/needs.
REACT MOBILE™ IS AVAILABLE

ON MOST POPULAR PHONE PLATFORMS
This is also a must-have safety app for elderly people, realtors, and college-bound students. Anytime you are alone or do something by yourself, it is always nice to be prepared for the worst. When you are prepared for the worst, you will be more confident! It is nice to know that this app has your back! So, pretty much everyone will benefit from this safety app. Be on the lookout for the new safety app, React Mobile Family! Can't wait to download that one 🙂

More Information About React Mobile
React Mobile helps you turn your smartphone into a powerful lifeline. The app has a "Follow Me" feature, that lets your self-selected contacts track your whereabouts in real-time whenever you're concerned for your safety. Perfect for running or walking alone early in the morning or late at night, keeping track of kids, or meeting a client for the first time, simply touch the "I'm Safe" button to let your contacts know when you've arrived at your destination safely.
In an emergency, press the SOS shield on the app to send out a panic alert containing a link to your GPS location to select emergency contacts via text message and email, which can optionally be posted to Facebook and Twitter.
Once the SOS alert is activated, you're automatically prompted to dial 911. For users outside of North America, the app allows you to choose which country you live in (or are traveling to) from the settings tab and when an SOS alert is triggered, you will be prompted to dial the appropriate emergency authority depending on your geographic location (ex: in the UK the app will prompt a user to dial 112/999, not 911).
The Story
React Mobile Co-Founder, Robb Monkman, was inspired to create the mobile safety application after being held at gunpoint during a home invasion while in college several years ago. Wanting to do more for on and off-campus safety he created a tool that could be used to silently and discreetly alert a wide network, including the authorities, of an emergency and its location. After testing several beta products in various markets for over a year, the React Mobile safety app was finally launched in March 2013.
React Mobile™ is conscious of staying at the front end of technology and trends, so our product is easy to access and easy to use. Utilize the React Mobile™ App on both iOS and Android OS mobile phones.
What Do You Think?
Do you think that this is an app for you and your family? Will you be downloading it for free? You can go here to download it for free.