I review a lot of wonderful beauty products. From time to time I come across some really great ones that I am now, no longer able to do without. I was sent three beauty products from Queen Odelia. The products I received were the silky smooth Facial Serum, Day Cream Protective Shield, and Foot Cream in Fantasy. I have Redefined Your Beauty Routine With These Three Products!
Redefine Your Beauty Routine With These Three Products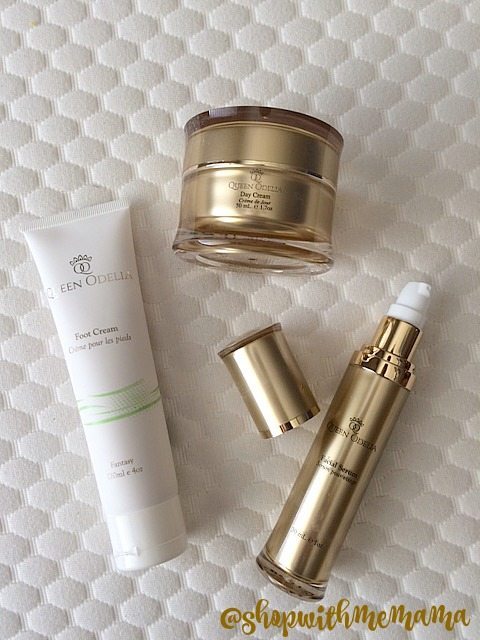 First, I will talk about the Silky Smooth Facial Serum. Not only do I like the pump it has, but I also love the scent of this. So softly scented, smells so nice. The serum is gel-like but when you put it on your face and smooth it in, it is more watery and absorbs quickly. This facial serum leaves my face soft and smelling fresh.
The highly concentrated active ingredients in this serum, help target the causes of premature aging. I love that it provides my skin with important nutrients and moisture that gives my skin a more youthful appearance. The Facial Serum Retails for $60.00.
After using the facial serum and allowing it to absorb into my skin, I then will put the Day Cream on. I tend to use this day cream at night too (shh!). This cream is between thick and thin, so a medium consistency. It, also, smells great and goes on my skin smoothly, and absorbs nicely leaving my skin soft, dewy, and pretty smelling.
This day cream was created for the purpose of shielding the skin on your face from damaging particles in the air, extreme elemental changes and to bring out the best in your skin. This cream was developed with hand-picked, natural resources combined to create the perfect blend of nutrients and antioxidants. These work together to maximize luminosity and help minimize any signs of premature aging. The Day Cream Retails for $52.00.
Last but not least is the luxurious Foot Cream. Again, like the other products above, this cream smells amazing. It is thick and moisturizes my callused feet really nicely. I like how soft my feet feel, after using this and how nice my feet smell too! I even use this on my hands because it moisturizes so well. Now I can wear my flip-flops and not be embarrassed!
The foot cream contains rich, natural oils like Prickly Pear Seed Oil and Aloe Vera, Queen Odelia's moisturizing foot cream was created to soften tough calluses and invigorate your feet. The Foot Cream retails for $18.00.
Buy
To find out more about Queen Odelia and the products, please visit them online at https://queenodelia.com.