*Product received. Opinions are my own. This post includes my affiliate links.
Fall is probably my most favorite season. I know many of you don't like the colder, darker, longer days, but I do! Fall means comfy fires, candles lit, warm blankets, cuddles, and movies! I love being comfy in my home with my little family.
Another way I love to relax is being in our yard and laying in our hammock. We can Relax In The Grand Trunk Junior Hammock This Fall! My hubby had it put up in as little as 5 minutes, no lie. It is the easiest hammock we have ever set up.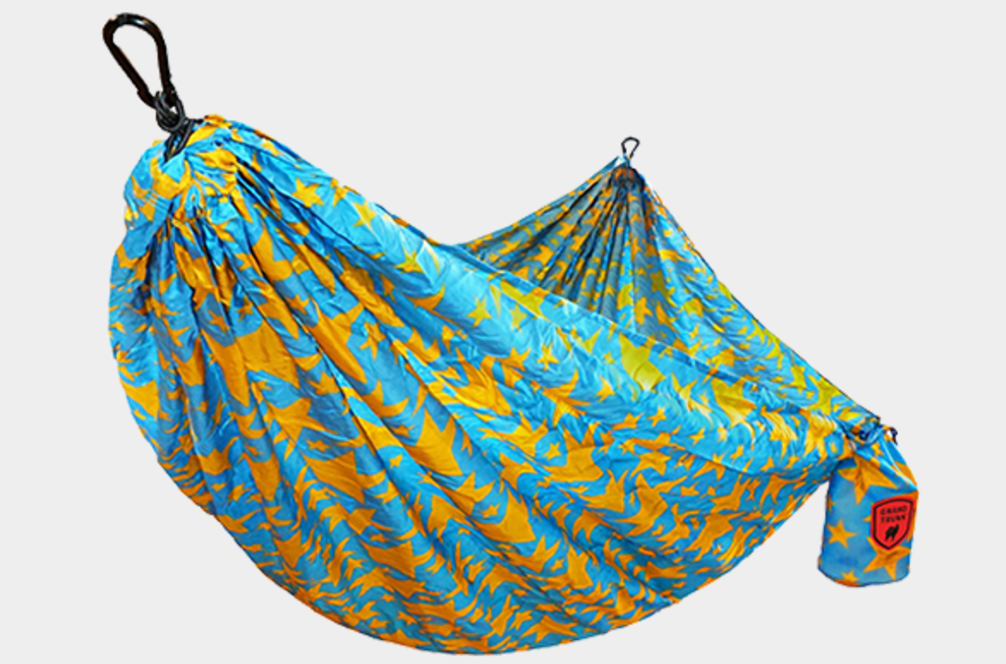 Our property does not have many trees on it. We live in a valley with hardly any trees, so I was happy that my hubby was able to even hang this hammock on the two trees on our property. They are smaller trees, but using the strong straps that were sent with my hammock, we were able to put this hammock up securely in no time! And, my hubby was even able to relax in it!
Relax In The Grand Trunk Junior Hammock This Fall!
The cold weather officially hit us a few days ago. Actually, the first day of fall, it snowed! We had a white first day of fall, it was crazy! But, today is SO beautiful outside and the sky is blue! So being outside relaxing on our hammock was a must. I only wish this was here during the summertime! So, next spring/summer this baby is going up and I will be doing some relaxing 🙂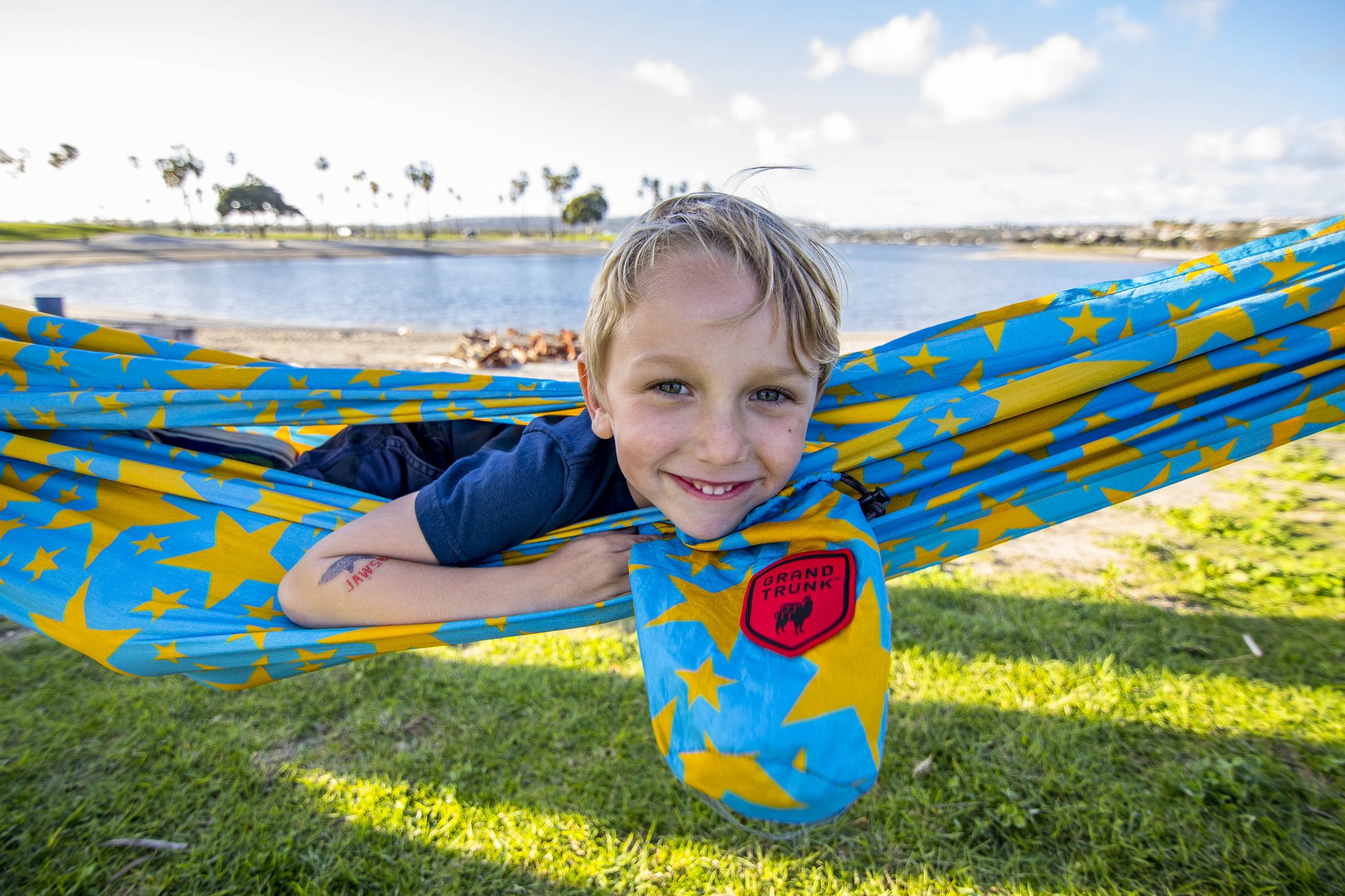 We will also be bringing the Grand Trunk Junior Hammock on our camping trips! Wouldn't that be fun and nice to hang out in? Can't wait!
The Grand Trunk Junior Hammock comes in 3 different patterns: Safari, Elephunks, and Rising Stars (that is the pattern we received). All are great patterns! And, if you add the trunk straps (which come in several different colors), you will get 20% off!
About The Grand Trunk Junior Hammock
This pint-sized hammock boasts a cool kid-friendly design that provides both style and comfort for your young spirit. This is the perfect hammock for young explorer to take to a park, camping or even hanging in the backyard. As their bodies grow, as much as their love for adventure, this hammock will easily hold your teenager. This hammock is for people between 45 lbs and 150 lbs (recommended on their site!). My hubby is 195 lbs and he was able to lay in the hammock easily. BUT, probably not recommended and ALWAYS use adult supervision!
Features
100% Parachute Nylon
Nautical-Grade Carabiners
Lifetime Warranty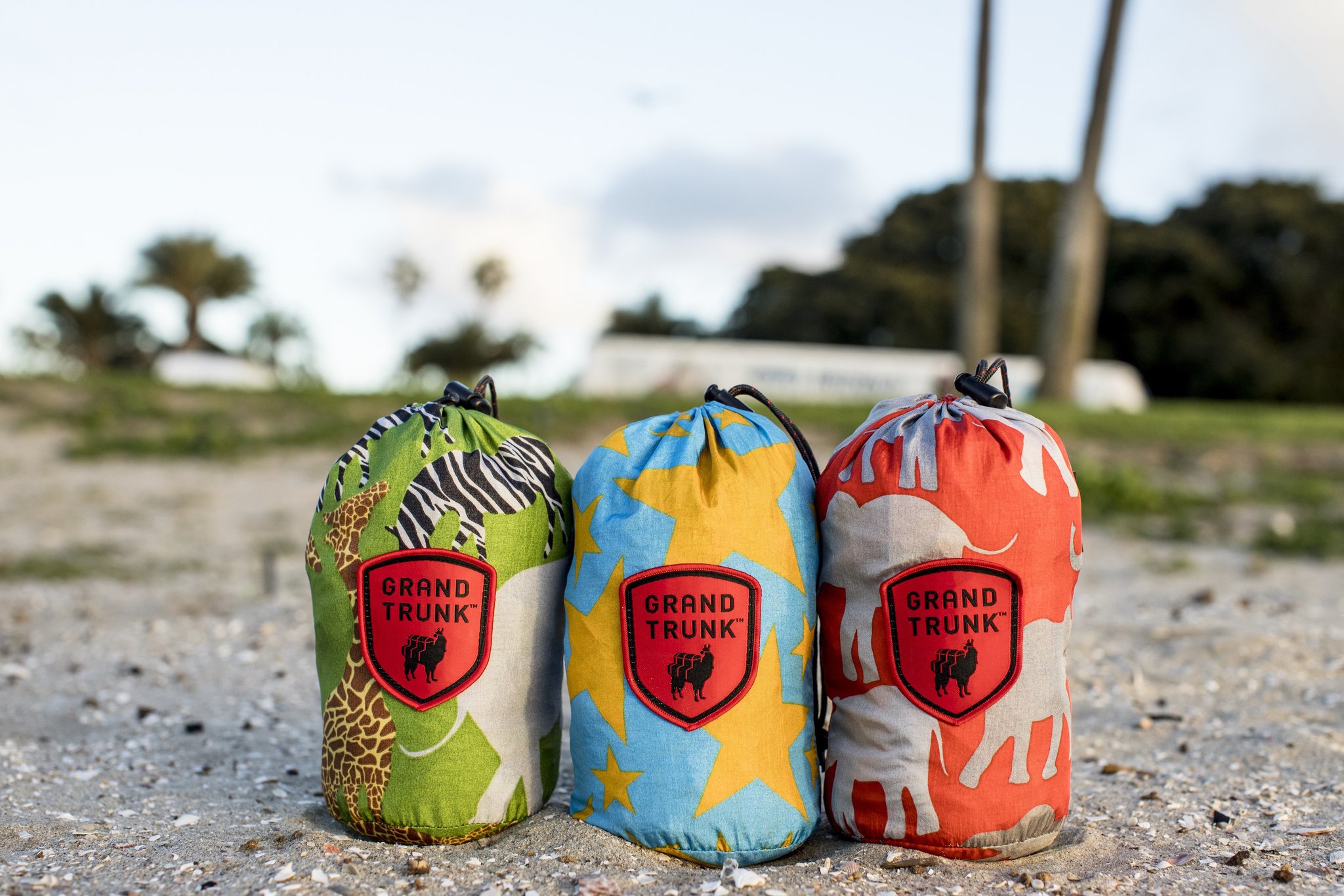 These fun Grand Trunk Junior Hammocks come in a little bag so you can transport it easily!
Buy
You can purchase the Grand Trunk Junior Hammock online at https://www.grandtrunk.com/ or on Amazon.com. They retail for $44.99.
Get Social!
Connect with Grand Trunk on Instagram, Twitter, Facebook, and Pinterest!
Win
One person is going to win a Grand Trunk Junior Hammock! Yay!
Rules
Contest is open to US 18+. Giveaway will end on October 15, 2017 at 11:59 PM MT. Winner will have 48 hours to confirm their win, after I email them, or a new winner will be chosen. I am not responsible for lost or stolen mail.