I am NOT a spring chicken anymore, unfortunately.. I have given up on having anymore children as that is NOT happening, so me feeling old is really getting to me… My skin is showing some signs of aging and I guess I just have to deal.
The RoC Max Wrinkle Resurfacing System came in the mail for me to review. I found it very interesting that it is supposed to smooth wrinkles up to 4 times better than a leading dermatologist procedure! And, it boosts your skins radiance, this is something I NEED.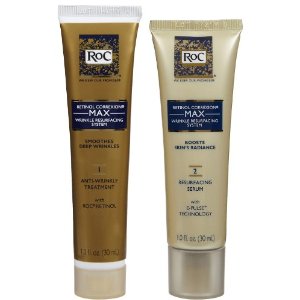 I gave it a try. I have been using it for 3 weeks steady now and I use it at night. This system comes with the Anti-Wrinkle Treatment with RoC Retinol and Resurfacing Serum. First you cleanse your face and then you apply the Anti-Wrinkle Treatment to your entire face and neck or where you want to look less wrinkled. You might feel a slight tingling, this shows the product is working. I did not feel the tingling though. The Anti-Wrinkle Treatment is like a medium thick lotion consistency and you just massage it into your skin, where needed. It absorbs nicely and once absorbed you can then apply the Resurfacing Serum.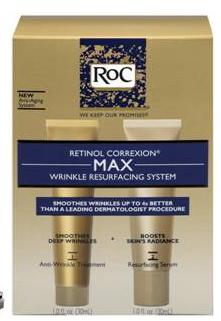 The Serum is like velvet on your skin. It is gray in color and smooths on soooo nicely. It makes my skin sooo soft. It kind of reminds me of the primers you use before you use your foundation. Very silky and velvety soft. My lines appear to be less noticeable after I put the serum on. After using this for 3 weeks I don't really see a difference in my fine lines, but my skin does appear to be  more healthier. I had no bad reactions to this and will continue to use it until it is gone.
 Buy
You can purchase this system online at Amazon.com

Disclosure:
I received product to review. These are my own honest opinions. The above Amazon.com is my personal affiliate link, thanks!