*This is a partnered post. Opinions and story are my own.
Romantic Castle Tours in Scotland: Family Vacations at their finest!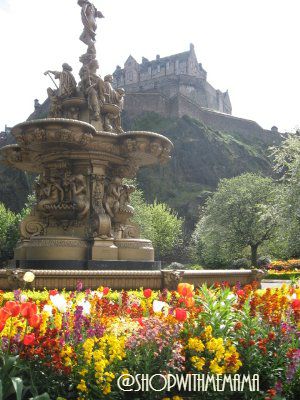 Planning a visit to Scotland? Here are a few travel suggestions that will take you to some of the most beautiful and romantic castles in the country!
1. Fly into Edinburgh and visit Edinburgh Castle. Take a walk up the Royal Mile, listen to some bagpipes and sample a dram at the Whiskey Museum. Visit the fountain in Princes Street Gardens so you can take some beautiful pictures with the castle in the background.
2. Rent a car at Waverly Train Station and drive to North Berwick, a charming little village only 45 minutes from Edinburgh. After visiting North Berwick, drive another 5 km to Tantallon Castle, a beautiful semi­ruin that looks out to the Firth of Forth. You can climb up inside the remaining turrets and the views are breathtaking. If you don't want to drive, you can take a bus from Edinburgh that will drop you at North Berwick and right outside the castle.
3. If you want to visit one of the most beautiful and romantic castles in the UK, you'll have to drive four hours northwest to Kyle to visit Eilean Donan. You can also join a tour group leaving from Edinburgh.
4. If you can't make it to Eilean Donan, then Kilchurn Castle is also very romantic and only a little over two hours from Edinburgh in Argyll and Bute.
Have you ever visited a castle? I want to visit one so bad…Maybe one day..