CONGRATS TO
Beth Klocinski Stevens #695!!
*Product was received. Opinions are m ine. 

I love celebrating the holidays with my babies and hubs! Nothing like having great traditions too! I receieved a book to review called 'Santa's Magic Key' and it is going to be a new tradition in our home, to read this every year! We love it that much!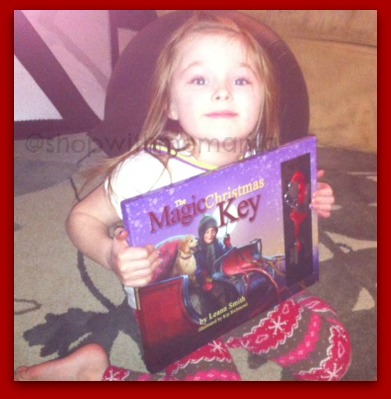 Santa's Magic Key comes in a nice box. It is displayed nicely and next to the book is a HUGE key! And, it is not just ANY key, it is SANTA'S magic key!!! My kids eyes popped open soo big when they laid eyes on that key! It really is a magical key! The Magic Key and book are sold separately or together. Santa's Magic Key is 5 ½" long, is hand cast and made of pewter and retails for $25.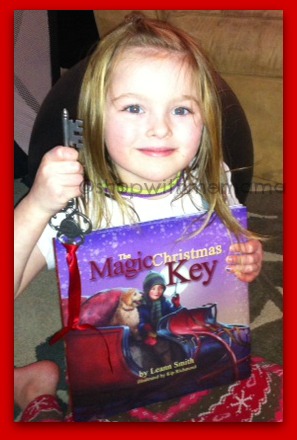 The book is about a little boy who's uncle gives him Santa's Magic Key. The boy shows the key to his family and they all make wishes with it. The little boy feels very uneasy about that for he was supposed to hold onto that key and protect it! He hands the key on the door knob outside (so that Santa can get in the house!) and goes to bed. When he falls asleep at night, he soon wakes to find all of the things his family wished for, real! And they are not good things at all! The little boy has to tell his  uncle and Santa about this. Santa then takes the boy home and puts him to bed. When he wakes up again, everything is back to normal and everyone is happy and unwrapping presents. The little boy is sad until his uncle points at a branch inside the Christmas tree. Low and behold, Santa left the magic key afterall, nestled in the tree boughs.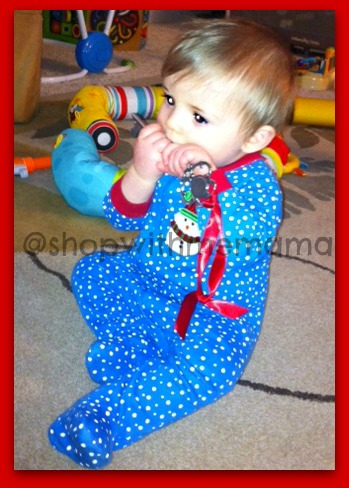 This is a heartfelt story and the pictures are amazing in it. The story line is so sweet and my kids loved this book. They both took turns holding onto Santa's Magic Key as I read this to them! I could see the excitment in their eyes! It was so sweet!
So, this Christmas Eve, we will be hanging Santa's Magic Key on our door, so that Santa can use it to enter our home! The kids are excited to start this fun tradition and so am I!
Full Description:
THE MUST-HAVE GIFT OF THE YEAR! Beautifully written and illustrated, the book and key are meant to both excite a child's wonder, but also create a family tradition that parents, grandparents, and all family members will cherish. Santa's Magic Key is meant to be placed on the front door on Christmas Eve, to ensure Santa's arrival. In the morning, it will be found on the tree, confirming Santa made it inside, despite any obstacle. The book, written by our hometown friend, Leann Smith, and Illustrated by Kip Richmond, is a story that inspires the soul. Andy believes in Christmas, and encouraged by his grandfather, begins a marvelous adventure that starts with the gift of Santa's Magic Key. His papa asks Andy to keep the key safe. But Andy, in spite of good intentions, allows the Magic Key to get into the hands of others. The fun loving chaos that ensues requires Andy to be honest and brave, leading him to Santa Claus himself. Andy learns that indeed, All Things Are Possible When You Believe. This 1st edition 10″ x 10″ hardcover book and beautiful pewter key are showcased in a beautiful keepsake box. This Christmas season, read the story of Andy, and learn about Santa's Magic Key, then start the tradition with your family!
Buy
You can purchase this book online at http://www.wendellaugust.com, select specialty shops, or select Bed Bath and Beyond locations nationwide. It retails for $39.99 and is worth every penny!
Win
One person is going to win Santa's Magic Key!!!!! The book AND the key of course!
How?
Easy! Just use the Rafflecopter form below! GL!
Contest is open to US 18+ will end on December 12, 2013 at 12:00 am PST. One person will win Santa's Magic Key Book and Key! (see above!)! Winner will have 48 hours to confirm their win or a new person will be chosen, good luck!