*Sponsored post. Opinions are my own. This post includes my refer a friend link.
I am so happy that gas has gone down. There was a time we were paying almost $5 a gallon, that was CRAZY! Now gas is decently priced here in Washington State and we will need it to be at a good price because we are moving all the way to Idaho next week! We will be renting two BIG moving trucks too and they take up a lot of gas, yikes! Now I can save 25 cents per gallon on gas with first fill up using my Fuel Rewards Card!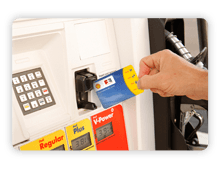 We are so excited to move to Idaho, but my goodness, what a move that is going to be. Not only do we have a TON of stuff to move, but my little kids have to say goodbye to their BFF's and school that they adored so much. I feel horrible but thankful we are able to move and provide better for my family.
We are all really excited and nervous, but we know things will be so good! We will be renting two (or maybe more!) moving trucks for this big move. We were nervous about the cost of these moving trucks (about $500-1000 each!) and the trip itself. Thankfully we will be okay on the fuel thanks to my Fuel Rewards card.
How Can You Save At The Pump?
From now until June 5, you can sign up for the Fuel Rewards Program and save 25 cents per gallon on their first fill up. An additional 3 cents per gallon will be taken off your fuel balance after each fill-up from there on out!
One Fuel Rewards member paid a total of 19 cents for 20 gallons worth of fuel, and even if they just saved the guaranteed 3 cents per gallon, that's still almost a dollar off per tank! Imagine that! Time for a family road trip I say!!!
Join Fuel Rewards!
It is free and simple to join Fuel Rewards. Took me mere minutes to sign up and get situated. You can read more about Shell's Fuel Rewards Here! To join Fuel Rewards and start saving money, please visit them online at https://www.fuelrewards.com!
Get Social!
Connect with Fuel Rewards on Twitter, Facebook, Instagram, Pinterest and YouTube!
How Much Is Gas Where You Live?