I love beauty creams! I have a lot of this in my cupboards, but always am on the lookout for more great creams to try out! I recently had the chance to try out these and think it is a pretty good facial cream.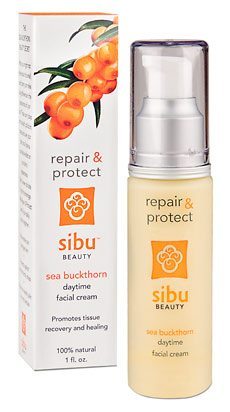 For one, I really love the container it comes in. It is just pretty to me 🙂 I also love that it is paraben-FREE and Cruelty-FREE and uses no dairy, wheat, gluten, sodium, yeast or preservatives. My face really likes this facial cream too. My skin drinks this up very quickly and leaves my skin soft feeling. It is non-greasy on my face and it never made me break-out. It also has a citrus-y scent,  kind of reminds me of a creamsicle 🙂 Yum!
It comes in a 1 0z. pump bottle and you really don't need a whole lot when you use it. So, you won't be going through this quickly unless you put some on your neck and chest area too (I do this!). This nutrient-infused facial cream and is ideal for daily use (I use it morning and night right now).
About The Cream:
The sea buckthorn facial cream, with omega 7 fatty acids, helps boost collagen production and creates the perfect barrier to moisturize, rejuvenate, repair and protect. This light, non-greasy cream is ideal for daily use and offers a pleasing, light citrus scent. It is paraben-free and cruelty-free, and contains NO dairy, yeast, wheat, gluten, sodium or preservatives.
Promotes tissue recovery and healing
Rejuvenates sun damaged skin
Protects against environmental stress
Preserves health skin tone and texture
Boosts collagen production
For all skin types
1 fl. oz.
Buy
Disclosure:
I was sent product to review. All opinions of this product are my very own, thanks!