Winter brings on the flu season, and it really sucks. Any way at all, to help me and my family to prevent any virus or flu bugs from getting to us, I will welcome! Washing your hands is a key part in preventing any illnesses. It is so easy to do, but many of us just don't wash for long enough!
Softsoap Liquid Handsoap now has a APHA Hand Washing Timer!!! The timer is so easy to put onto your Softsoap pump. It is made from silicone, so it easily slips over the pump of your liquid soap dispenser. When it is on, your children (and YOU!) just press down on it to dispense the soap and right away a song starts playing. As long as that song plays, you rub your hands together and wash them. When the song is over, rinse the soap off your hands and your good to go! This helps your children and you, to wash your hands for the appropriate amount of time needed to wash off and kill those bad germs. My kids love this device and think it is so neat. They have a race with each other, by saying, as soon as the song goes off, who can wash the soap off their hands fastest! So cute and fun!
*NOTE: Yes, my daughter is on the counter, but I am RIGHT there with my children. Just did not want any bad, mean comments..*
The soap smells so clean, this is my favorite scent. We, as you can see from the pictures, received the ever so loved Spongebob Square Pants! So that was a big hit too! The timer does come off sometimes though, and I have to put it on again, other than that, this is a great idea!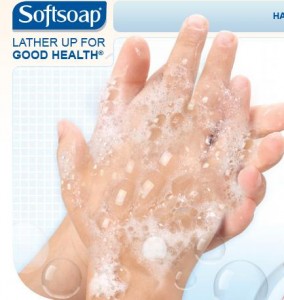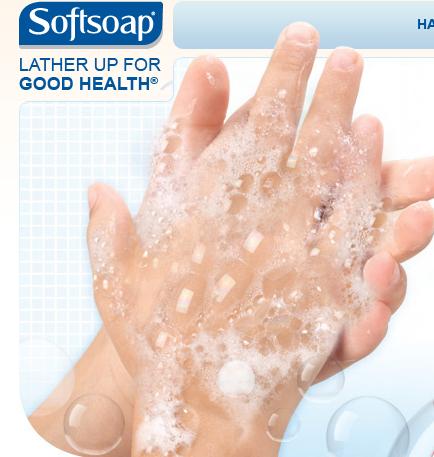 Great Hand Washing Tips:
Start early.

Research shows that children as young as three can grasp
the importance and techniques of proper hand washing.
Make hand washing fun!

Play games and sing songs while lathering up. Give kids a monogrammed towel for drying. You can find more good ideas in the Resources area of this page.
Skip the bar.

Liquid soaps are easier for little ones to use. Let children choose their own soap with a favorite character or scent. Softsoap® brand offers foaming formulas made just for kids.
Lead by example.

Children imitate what they see, so wash your own hands regularly and model good behavior. Early hand washing education may lead to better hygiene as adults.
A Bit About Softsoap:
Softsoap brand has teamed up with the American Public Health Association (APHA) to create unique "Get Ready" hand washing timers that easily attach directly to Softsoap brand soap pumps.  When pressed, the timers play a fun song to help children stay engaged for a full 20 seconds to properly wash away germs. Pair these fun hand washing timers with the Softsoap Foam Works Spongebob and Dora the Explorer Hand Soaps, and children are sure to be excited to spend at least 20 seconds washing their hands!
Buy It!
You can purchase the Softsoap Liquid Handsoap with the APHA Hand Washing Timer at your local grocery store.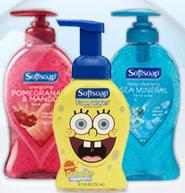 Disclosure:
I was sent product to review. These are my own honest opinions of this product, thanks!