*This post includes my Amazon affiliate links
We love SpongeBob SquarePants! He cracks me up. This is one of the only cartoons that I can honestly say, I love watching. Seriously funny.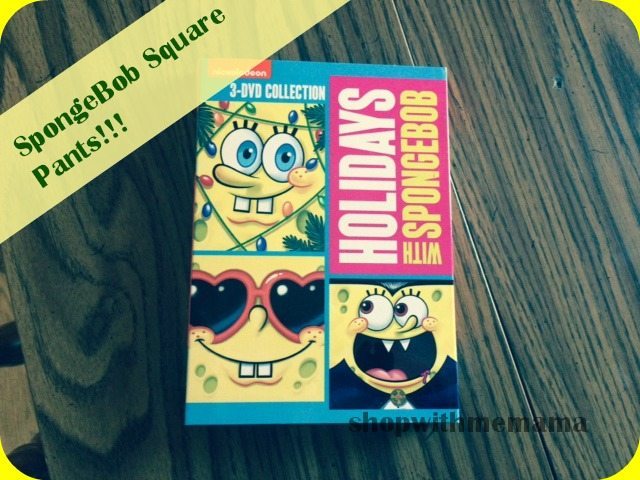 Spongebob Squarepants: Holidays With Spongebob
, which is available on DVD on September 9 and we received an advanced copy to check it out. Of course, we have watched it numerous times since receiving it last week! I can't get enough of old sponge-o!
Episodes include:
SPONGEBOB SQUAREPANTS HALLOWEEN:
Scaredy Pants
Imitation Krabs
Frankendoodle
I Was a Teenage Gary
Squidward the Unfriendly Ghost
The Secret Box
Band Geeks
Welcome to the Chum Bucket
My Pretty Seahorse
Idiot Box
Bonus Features:
Music Video: "Scaredy Pants"
Sneak Peak: SpongeBob SquarePants Videogame
SPONGEBOB SQUAREPANTS CHRISTMAS:
Christmas Who?
Procrastination
Snowball Effect
Survival of the Idiots
Mermaid Man and Barnacle Boy IV
Chocolate with Nuts
As Seen on TV
Pizza Delivery
Squeaky Boots
Bonus Features:
Audio Commentary: "Christmas Who?"
Storyboard: "Christmas Who?"
TO LOVE A PATTY:
To Love a Patty
A Flea in Her Dome
Mermaid Man vs. SpongeBob
Le Big Switch
The Donut of Shame
BlackJack
Blackened Sponge
Bonus Features:
Original Animatic: "To Love a Patty"
Karaoke Music Video
So, as you can see, there is a lot going on with this DVD! So much to watch! Of course we have seen most all of these episodes, but it is so nice to have them all in one place!
Buy
You can purchase this online at Amazon.com!
Win!
One lucky person is going to win the SpongeBob SquarePants: Holidays With SpongeBob DVD! WOOT!
How?
Easy! Just use the RC form below! GL!