First of all, I am super excited to let you all know that I am a Sprint Ambassador (again!!) and I will be sharing all of my fun experiences testing out various Sprint devices and service options over the course of the next year! Did I say I was excited?! Woohoo!

We have always loved Sprint and I am so happy to be able to share my love for Sprint, with you all! I am sure you have all seen the silly commercials for Sprint Framily Plan, right? If not, it is a great plan for you and up to 10 friends, family members (or even those silly co-workers!), can be a part of a Framily group with unlimited talk, text and 1GB of data each, while on the Sprint network! I think this plan is wonderful!
Click To See Larger

Let Me Explain Further…
Each person on the Framily Plan will receive a separate bill with no annual service contracts or early termination fees, all for as little as $25 a month per line when you have 7 – 10 members in the Framily group! So, no receiving uncle John's phone bill or that silly co-worker who sits in the corner and chews her nails, you just get YOUR bill and they get theirs, separately! So now you can choose who you want on your Framily Plan! It is simple, really!
Who Do I Want On My Framily Plan?
Oh boy the people I can think of! But, I would most definitely have Me (of course!), my hubby, Mother-in-Law, son, Mom, Dad and sister. That would be a great group of Framily Members! Ha! Right now, I have three people on my phone plan, but obviously that will be changing!!

We also pay a pretty penny for using that phone plan. We pay a lot of money each month for us three and it is weighing us down and stressing us out. With the Sprint Framily Plan, it is as low as $25 a month, per line, and that is much more reasonable!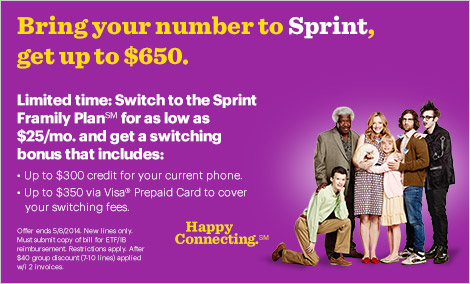 For A Limited Time Only!
I also have more great news for you all! For a limited time only, if you bring your number to Sprint and sign up for the Sprint Framily Plan, you can receive up to $300 in credit for your current phone AND a Visa Prepaid Card worth up to $350 to cover your switching fees! This offer, of course, is available EXCLUSIVELY at Sprint stores and online at www.sprint.com. Offer is good from April 4-May 8th!
I really encourage you all to check out Sprint Framily Plan and sign up for this awesome offer is gone!