*I received this in my email and wanted to share these yummy Taco Recipe Ideas for Summer with you all. I have permission to share them! Enjoy! This post includes my affiliate links.
Who doesn't LOVE Taco Recipe Ideas for Summer!? I love tacos and so does my whole family. Every time I make tacos, there is nothing left over. Everything gets eaten, quickly!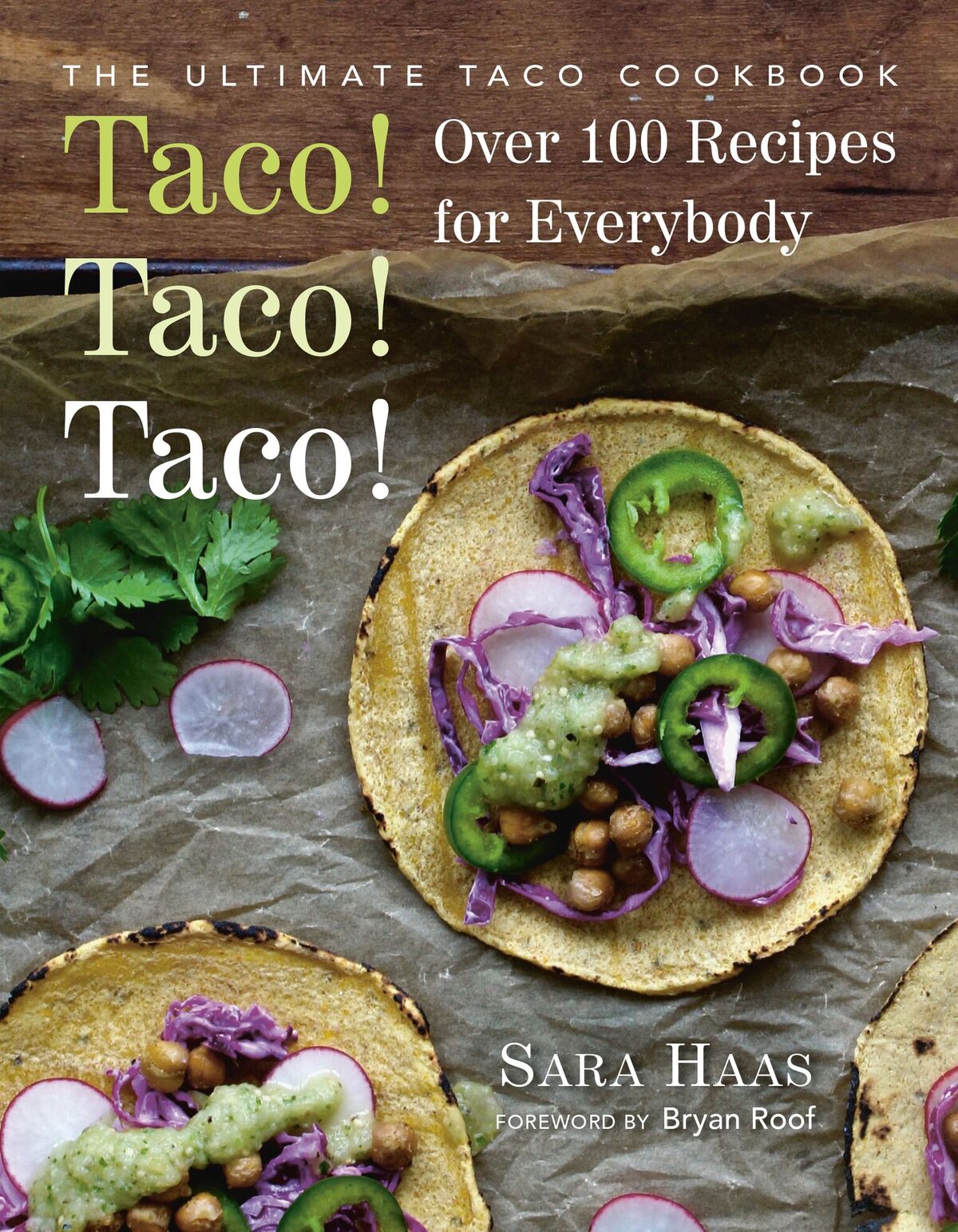 Tacos are versatile, easy to make, and everyone loves them! There is a brand new cookbook, Written by Sara Haas, called; Taco! Taco! Taco! and it contains so many delicious recipes! Just in time for your summer celebrations including the upcoming 4th of July. Yummy Taco Recipes Ideas For Summer! Yay!
Taco Recipe Ideas for Summer!
Tacos are the perfect food–uniquely versatile and great for breakfast, lunch, dinner… even dessert. Taco! Taco! Taco! features 100 savory and sweet taco recipes that are as easy to prepare as they are to love with options for omnivores as well as vegetarians and vegans alike. Make it part of your summer plans!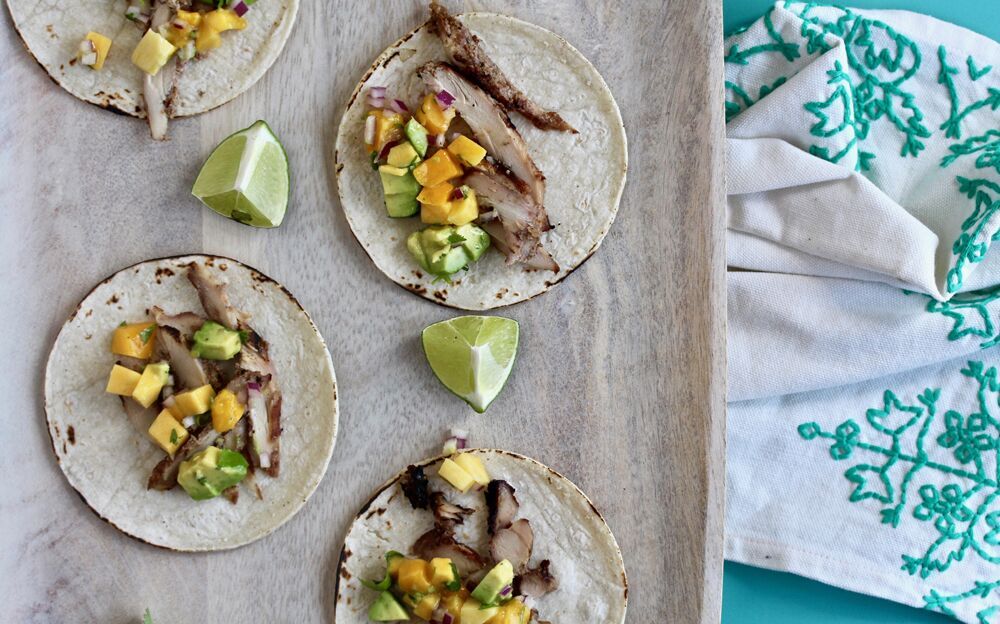 Jerk Chicken Tacos with Mango Avocado Salad (Taco Recipe Ideas for Summer!)
Servings: 4
Ingredients

For the marinade:
1 teaspoon ground cinnamon
1 tablespoon packed light brown sugar
¼ teaspoon ground allspice
½ teaspoon dried thyme leaves
2 cloves garlic, peeled and smashed
2 scallions, white and green parts only, thinly sliced
1 2-inch knob of fresh ginger, peeled and roughly chopped
2 Scotch bonnet or habanero peppers stems removed and roughly chopped
¼ cup canola oil
1 tablespoon fresh lime juice
1 ¼ pounds boneless, skinless chicken breast

For the mango avocado salsa:
1 ripe mango, peeled and diced
1 ripe avocado, seeded and diced
¼ cup finely chopped red onion
¼ cup packed, fresh cilantro leaves, roughly chopped
1 teaspoon lime zest
1 tablespoon fresh lime juice

For the tacos:
8 corn tortillas, warmed

Directions
First, make the marinade. To a blender or bowl of a small food processor, add the cinnamon, brown sugar, allspice, thyme, garlic, scallions, ginger, peppers, oil and lime juice.
Puree until smooth. Transfer the marinade to a gallon-size, sealable bag.
Add the chicken, press out any excess air from the bag, then seal and turn to coat.
Marinate for at least 1 hour and up to 24 hours in the refrigerator.
For the mango avocado salsa, combine the mango, avocado, onion, cilantro, lime zest, and lime juice in a bowl.
Toss to combine. Season with salt, as needed.
Preheat the grill to medium-high heat or set a grill pan over medium-high heat.
If using a grill, clean the grill grates and brush them with oil.
If using a grill pan, coat pan lightly with oil. Once hot, remove the chicken from the marinade and pat dry; discard marinade.
Season with a little kosher salt.
Grill the chicken, turning once until internal temperature reaches 165℉, 10 to 14 minutes total.
Remove from grill and let rest 5 minutes before slicing.
Serve sliced chicken in warmed tortillas and top with mango avocado salsa.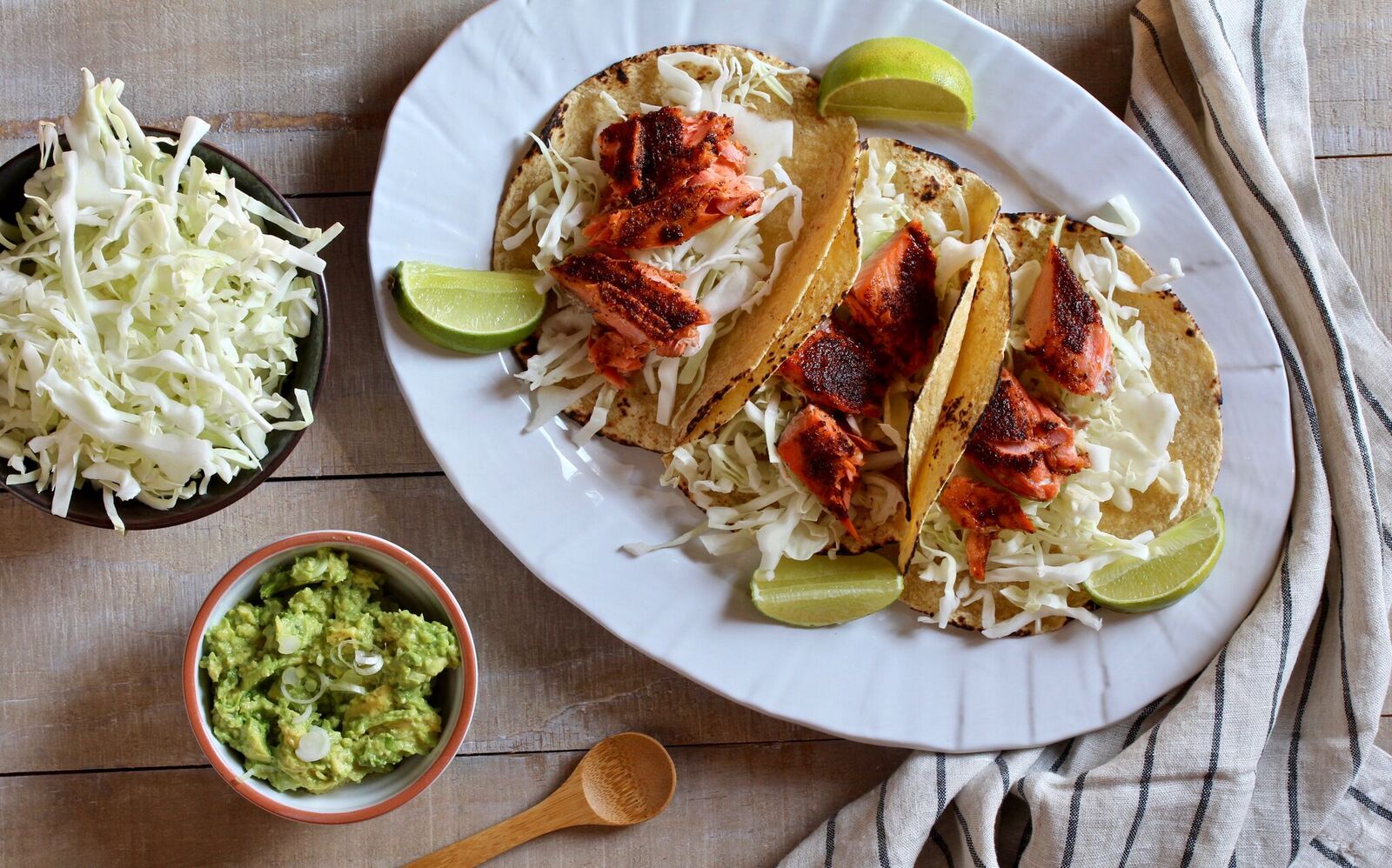 Brown Sugar Chili Salmon Tacos (Taco Recipe Ideas for Summer!)
Servings: 4
Ingredients

For the salmon:
1 to 2 teaspoons chili powder
1 tablespoon packed light brown sugar
1 teaspoon ground cumin
2 teaspoons extra-virgin olive oil
¼ teaspoon kosher salt
1 (1 pound) skin-on, wild salmon fillet

For the guacamole topping:
1 ripe avocado
2 teaspoons fresh lime juice
¼ teaspoon kosher salt
½ jalapeño, diced
1 scallion, white and light green parts only, thinly sliced
1 tablespoon fresh lime juice

For serving:
8 (6-inch) corn or flour tortillas, warmed
2 to 3 cups shredded green cabbage

Directions
Position the oven rack about 5 to 6 inches from the heating element and preheat the broiler.
Line a rimmed baking sheet or broiler pan with foil and coat with nonstick cooking spray.
In a small bowl, combine the chili powder, brown sugar, cumin, and oil.
Place the salmon on the prepared pan, skin-side down.
Sprinkle with salt then place in the oven and broil for 5 minutes.
Remove from the oven and spread brown sugar mixture over the salmon, then cook an additional 2 to 3 minutes, or until fish flakes easily with a fork and internal temperature reaches 145°F.
While salmon is cooking, prepare the guacamole. Remove the avocado seed and scoop the avocado flesh out of the skin into a medium bowl.
Mash with a fork then adds the salt, jalapeño, scallion, and lime juice.
Stir to combine. Using a fork, break salmon into large pieces.
Portion cooked salmon among tortillas and top with guacamole and cabbage.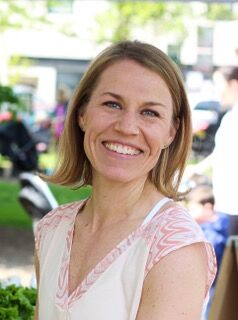 About The Author
Sara Haas, RDN, is a food and nutrition expert with formal training in the culinary arts. She works as a freelance writer, recipe developer, media authority, public speaker and consultant dietitian/chef.
Sara is a former culinary and nutrition instructor and served as a National Academy of Nutrition and Dietetics Media Spokesperson.
Sara has been featured in Eating Well Magazine, Shape Magazine, Parents Magazine, U.S.A. Today, The Wall Street Journal, The Huffington Post, Epicurious, BabyCenter, O Magazine and Today's Dietitian Magazine.
Sara also shares her love of food and nutrition on her website, SaraHaasRDN.com and on Instagram (@cookinRD) where she posts recipes, as well as nutrition and cooking tips.
Now you have yummy Taco Recipe Ideas for Summer! And, if you are searching for a yummy dessert to go with these tacos, check out my recipe for a Caramel-Pecan Cheesecake! Also, check out this delicious appetizer that is sure to please a crowd!
Buy
You can purchase Taco! Taco! Taco! online at Amazon.com.