Below are my tips for The Best Type of Storage Sheds for 2021. Are you looking for someplace to store your lawnmower, those holiday decorations, or other items you don't necessarily need on hand all the time? You could let these items fill up your garage, or you could get a storage shed. These sheds give you the extra storage space you need without breaking your budget.
Best Type of Storage Sheds for 2021
You can find the perfect shed that meets all of your needs, including the size and cost. These sheds even come in different styles, so you can find one that matches your house. Here are some of the best storage sheds for 2021.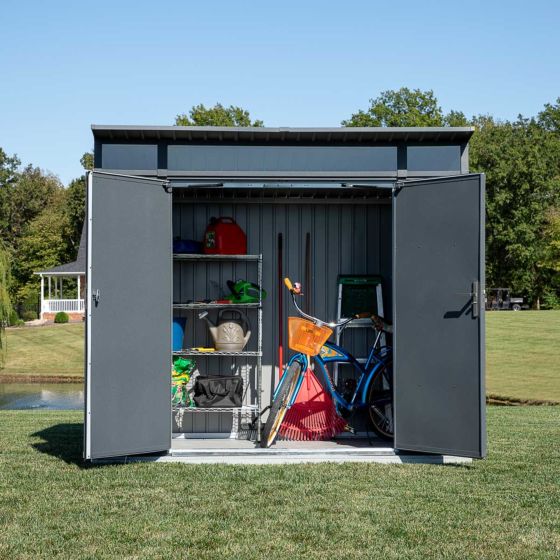 Determine Your Needs
Before you buy your shed, you need to determine what your needs are. You want a very durable shed that will hold everything, of course, but how much space does "everything" take up? Make a list of the items you plan on keeping in your shed and estimate how much space these things will take up.
Ideally, you then add half of that space to the total, so you get 1.5x the amount of your estimate. This is for several reasons. First, you're likely to accumulate more items you want to keep in the shed.
Second, you need to have space to move around and to keep everything organized. If you're thinking about buying something relatively large such as a canoe or woodworking equipment that you will store in the shed, you might need to double your space estimate. For woodworking, some of the things you would need include tool cabinets, storage boxes, worktables, and a rack for lumber storage. Make sure you have space for these if you intend to use the shed as a workshop.
It is always best to err on the side of caution when choosing a storage shed. The shed you choose now might be perfect for today. However, within a year or two, you could quickly outgrow that shed. Then you would be stuck back at square one with needing more storage space. Plan ahead now and get a shed that has more room than what you need.
Next, you will want to think about functionality. Are you going to store a few things, and you won't care how it looks? Probably not. Most people wish to functionality and to be able to access their belongings when they need them without having to dig around for hours trying to find something.
Backyard storage sheds are great places to store items that clutter your garage or home. Gone are the days when sheds only had lawnmowers and rakes in them. Nowadays, homeowners use their sheds for bicycle storage, holiday decorations, outdoor toys, and of course, garden tools and equipment.
Brittany Holmes, a homeowner in California, explains, "We live close to the beach and have found that storing our beach equipment in a garden shed is convenient. Plus, it helps keep the sand out of our garage and house."
Storage Garages
If you know, you'll need a lot of room. You may even want to look at a detached garage. For example, the Everest Steel Garage measures 12 foot by 10 foot, so it's large enough to park a small car or motorcycle in.
This size building is sure to give you plenty of space, and it even has a large roll-up door on one side. Of course, it does take up a lot of space. If you have a small yard, this may not be the right option for you.
If you need a large amount of storage, though, these garage kits come in even larger sizes, or you may want to consider building a custom garage. Although it may seem like a colossal task building your custom garage is easier than you think. You can even simplify the project by leaving out electrical and installing battery-powered lighting.
Steel Storage Sheds
If you need a place to keep your lawn equipment, mower, and a few other items, you don't need a vast storage garage. It would help if you had something like the Denali steel storage shed.
This shed is manufactured by Sojag and is eight foot by five foot. It's small enough that you can fit in just about any yard, but it's not so big that it's going to take up a tremendous amount of space or block your views. You'll find enough space here to store the necessities, and you can even add shelves to store your smaller items.
Allison Frere, a homeowner in Arizona, says, "In addition to our garden supplies, we like to use our backyard shed to help store our pool equipment and games. Our kids enjoy playing in the pool, and we have amassed a lot of pool toys over the years. We tried storing everything in our garage, but it was getting to be too much. So these days, we use our backyard shed to keep everything organized."
Steel sheds are much more durable than wooden sheds. They do not need to be regularly treated to stand up against the elements, nor is there the risk of termite damage.
They can easily be secured, and the weather will not affect them as much as it affects wood. The shed kits you can purchase include easy-to-follow instructions, too, so even those who don't have a lot of experience with projects like this will have no trouble putting their shed together.
Top Shed Brands: The Best Type of Storage Sheds for 2021
When you make a considerable investment in a shed, you will want it to last for a very long time. Some top brands make some high-quality sheds that you will want to consider. Not only have these brands been around for a while, but they also stand behind their work.
-Rhino Sheds
-Sojag
-Best Barns
-Suncast
There are many shed options out there, so be sure to take your time and look at both what's available and what you need before making a final decision.
It's always great to shop online and read the reviews of each shed you want to purchase. Reading reviews is a great way to narrow down your decision and search for the lowest price. I hope my article about The Best Type of Storage Sheds for 2021 will help you decide which shed is best for you.