*This post includes my affiliate links
Have you heard of The Box by Dr. Ava: A Dermatologist-Curated Subscription Box? If not, you NEED to know about this absolutely wonderful skincare box filled with goodies for your skin!!
I am a beauty junkie and makeup junkie and I thought I knew of every subscription box out there. But nope! I did not know about this one! And I am SO glad I found out about it!
What Is The Box By Dr. Ava?
Great question! The Box by Dr. Ava is the first and only dermatologist-curated subscription box. It's seasonally specific and only includes full-size products and devices. The newly launched Spring Box has over $600 of full-size, must-have products for only $250.

Including a new tool and cult-favorite, MySkinBuddy, a calming CBD mist from Aforé, the peel everyone needs from Theraderm, a repairing neck and décolletage treatment from Restorsea, and the Tiege Hanley Skincare System. With purchase, you get access to their private Facebook group where Dr. Ava answers skincare questions and concerns!
The Box by Dr. Ava has some AMAZING skin care products in it including the following products (this is the Spring '21 Box):
The Box by Dr. Ava: Spring '21 has nearly $600 full-size, must-have products for only $250. Including a new tool and cult-favorite, MySkinBuddy, retailing for $300!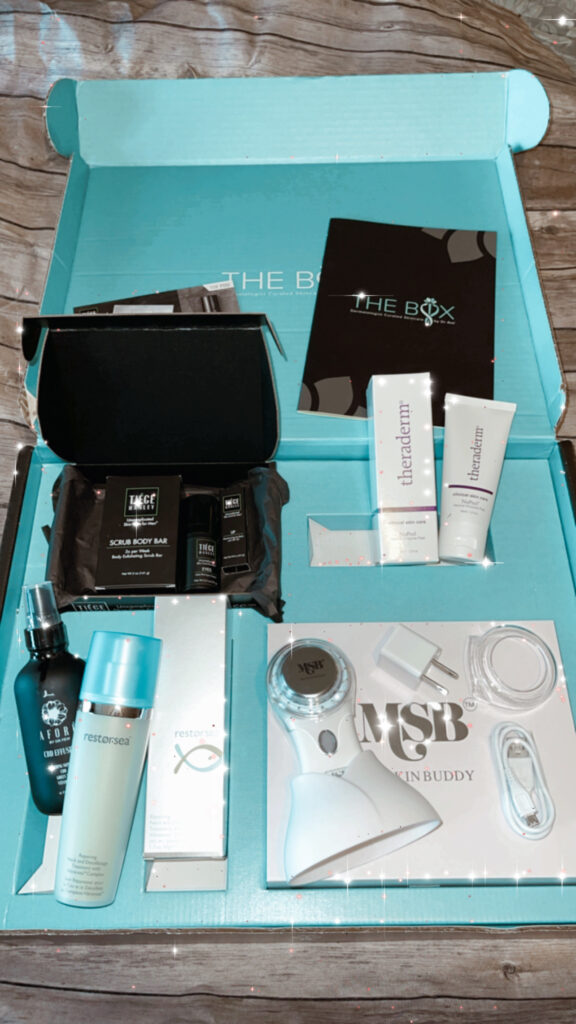 What's inside the Spring box?
ALL of those goodies are just for ME! Yay!
I was SO excited when The Box by Dr. Ava showed up! The shipping was super quick and soon I was unboxing some awesome skincare and beauty goodies! What a fun package to receive in the mail!
I am going to talk about each product that I received in The Box by Dr. Ava so you understand what it does and how it works! Let's get started!
MySkinBuddy
MYSKINBUDDY™ is a revolutionary handheld facial device that utilizes four proven technologies to help you achieve a clearer complexion, brighter and more even skin tone, and a more youthful appearance. This is lightweight and simple to use! I have been using it every day ever since I received my box last week.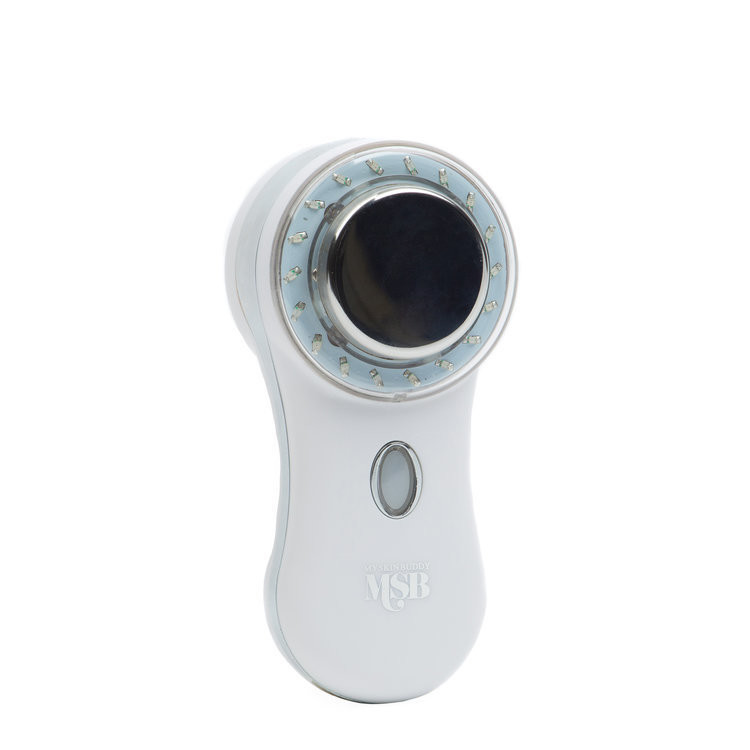 Experience a deeper, yet gentle clean and smoother, plumper, and brighter skin by applying the synergistic power of Iontopho­resis, Effective LED Wavelengths, Ultrasonic Vibration, and Thermal Heat therapy to your skin.
One device. Multiple technologies.
Iontophoresis Care

(Negative and Positive)
This Assists in deep cleansing, gentle exfoliation, and enhanced product penetration through negatively and positively charged ions.

LED – Light Emitting Diode Therapy

(Red 630 nm / Blue 460 nm / Green 520)
Shown to improve the appearance of fine lines and wrinkles, fight bacteria that leads to acne, reduce redness and promote brightening and even skin tone.

Ultrasonic Vibration

(8500 pulses per minute / 3 MHz)
Assists in breaking up dead skin cells and is shown to stimulate the production of collagen and elastin and increase the synthesis of hyaluronic acid, giving skin a firmer and plumper appearance.

Thermal Heat Therapy

(104 -113 Degrees Fahrenheit)
Shown to improve blood circulation, increase oxygen to cells, plump skin, and reduce the appearance of pore size.
Benefits of using MySkinBuddy:
Enhance product penetration.
Reduce redness and inflammation.
Stimulate collagen renewal and skin rejuvenation.
Deeply cleanse and gently exfoliate dead skin cells.
Reduce the appearance of fine lines, wrinkles, and pores.
Kill P. acnes bacteria that leads to acne formation
MySkinBuddy is safe for all skin types and is so easy to use. I will use it when watching my favorite reality television show (Naked and Afraid XL anyone?). It has a self-timer so you know when your treatment is done. My skin, so far, seems to really like MySkinBuddy and is reacting fantastically to it. My skin feels smoother and I love that!
I love how soft this makes my neck area! The Repairing Neck and Décolletage treatment is specifically designed to infuse the enzyme into this area and – if used every day, twice a day for twelve weeks – will result in firmer, more evenly toned skin. I put this on and then use MySkinBuddy to help enhance the product penetration. It is so nice and feels like I am in a spa getting a treatment done! This is for all skin types.
Theraderm NuPeel is a natural enzyme peel that gently removes dead skin cells to promote a glowing, radiant skin appearance. Utilizing papaya/papain enzymes to naturally exfoliate, and packed with botanical extracts like aloe, pineapple, grape seed, green tea leaf, and cucumber, NuPeel is like an at-home, natural facial peel in a bottle.
I put this on my face and let it sit for about 10-15 minutes. Then, I use MySkinBuddy to massage in the peel and help it really to get into my skin and then also help to exfoliate the mask off my face! LOVE.
A first-of-its-kind antioxidant facial mist, the CBD Effusive mist was formulated using 100 milligrams of CBD nano-emulsion. CBD's natural anti-inflammatory properties work in concert with green tea, vitamin C, and witch hazel to calm and cool the skin, depuffing and easing redness.
Additionally, this lightweight face mist hydrates the skin, providing an instant youthful glow. Use it on bare skin or to set and refresh makeup throughout the day. This mist refreshes my face when I am out and about and feeling a bit oily. This is going with me to the beach when we go at the end of July!
Toners help close pores and tighten cell gaps after cleansing. This reduces the penetration of impurities and environmental contaminants into the skin. It also serves to lock moisture into the skin, so use it often.
The Tiége Hanley Skincare System is uncomplicated skincare for men. A subscription-based skincare system designed to maximize your handsomeness with a series of effective, safe products formulated to work seamlessly with one another.
The Tiége Hanley levels:
Skin Care System Level 1: Smooth, hydrate, and protect your skin by starting with these 4 core products: face wash, exfoliating scrub, am moisturizer, and pm moisturizer
Skin Care System Level 2: Level up your system with an eye cream to fight off crow's feet and dark circles
Skin Care System Level 3: Add a serum to reduce fine lines and achieve your maximum handsome
I loved that The Box by Dr. Ava included something for the guys!
All the products in The Box By Dr. Ava are specially chosen for anti-aging purposes, and MySkinBuddy specifically is a revolutionary device. Dermatologist Dr. Ava Shamban specifically selected the products in The Box to compliment MySkinBuddy for optimal youthful-looking skin.
You can check out the past boxes HERE. If you see a product you want, you can shop directly from that page and buy it even though that box is now expired.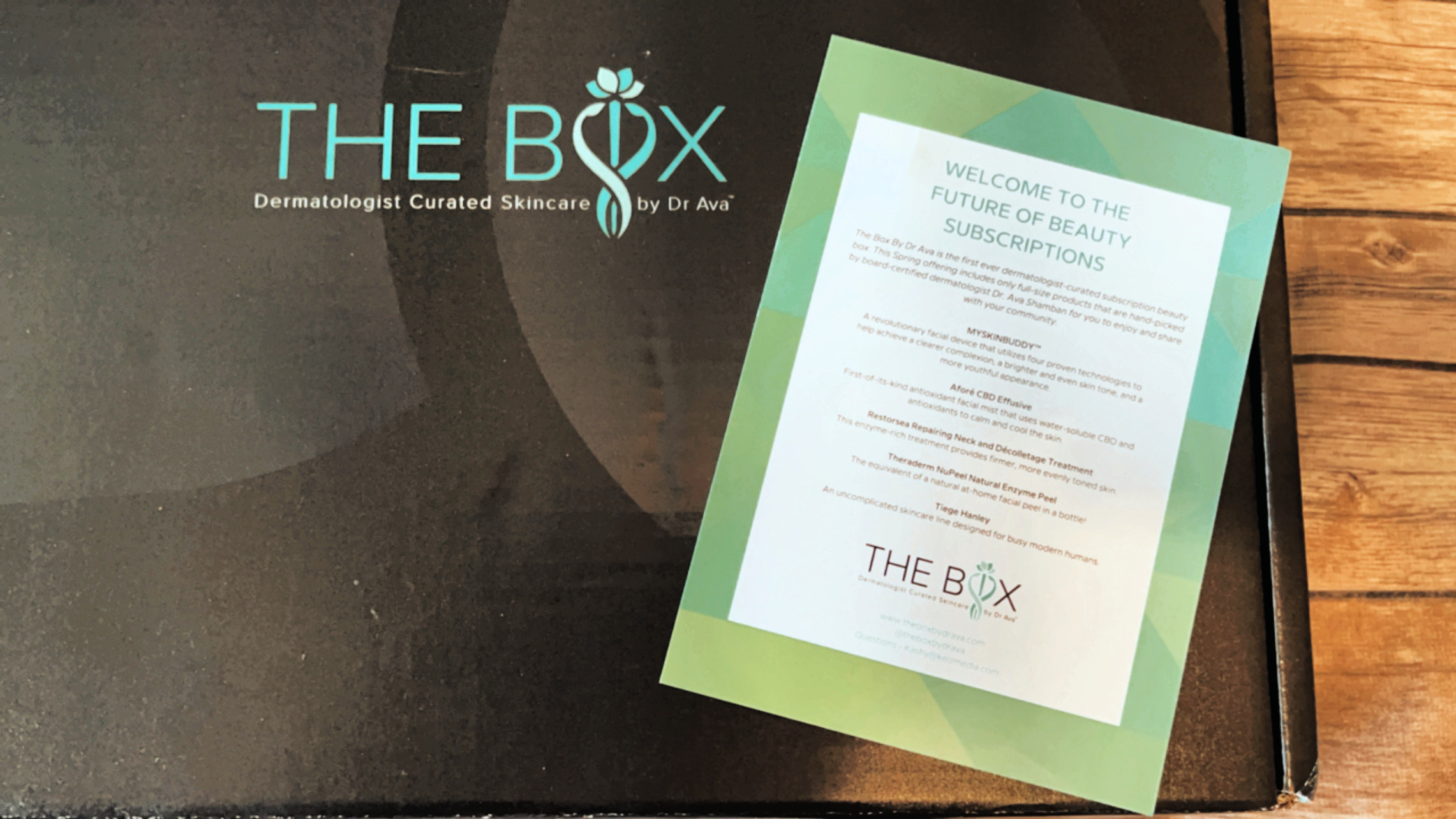 Choose Your Subscription!
They have a couple of different ways you can subscribe to The Box by Dr. Ava. The first option is for skin-obsessed folks like me! It is the best value. You can prepay for 4 boxes and save $150! That is $212. 50 per box. You will be billed $850 annually.
Benefits of subscribing to the Skin Obsessed Subscription Are:
The second Subscription Option is…
Skin Enthusiast! Pay per box. Each box is $250 and is seasonal and billed quarterly.
Buy
You can purchase your subscription to The Box by Dr. Ava: A Dermatologist-Curated Subscription Box by clicking HERE.
PIN IT!