The Mason Jar Personal Blender. This post contains my personal affiliate link.
With spring in full swing (for most of us!) people start thinking of slimming down and getting in shape. Eating healthier is also a big one!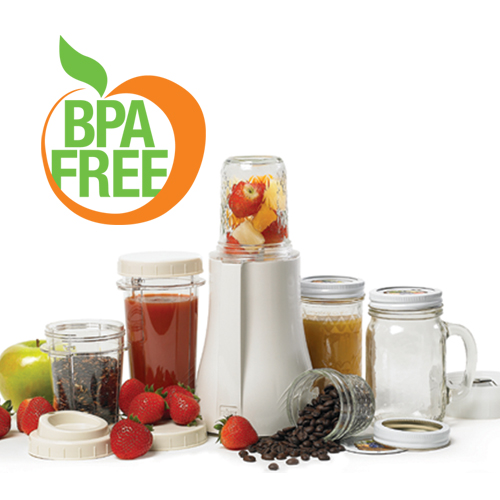 The Mason Jar Personal Blender by Tribest Corporation can help you eat (or should I say drink!) healthier! This is America's first Single-serving blender. The Personal Blender comes in a Mason Jar Version that is compatible with most* regular-mouth mason jars allowing you to blend multiple drinks in separate containers without having to stop and clean a bulky blending jar for each recipe!
The Mason Jar Personal Blender does everything a bigger blender can do, only faster and without the added mess and cleanup. The high-powered, 200-watt motor easily blends ice and frozen fruits and is perfect for making sauces, salsa, sorbets, soups, and baby food in under a minute! And with the stainless steel grinding blade that grinding dry ingredients such as coffee beans, nuts, grains, herbs, and even feisty flax seeds is a snap.
What Does The Personal Blender Come With?
The PB-350 Blending and Grinding Package Includes:
• Personal Blender Motor Base –  110V
• one Blending Blade Assembly
• one Grinding Blade Assembly
• one 16 oz BPA Free Blending Container
• one 8 oz BPA Free Grinding Container
• two Lids
• one Mason Jar Attachment
• one Commuter Sipping Lid
• one 16oz Glass Drinking Mug
• one 12oz Glass Mason Jar
• one 8oz Glass Mason Jar
• one 4oz Glass Mason Jar
• three Mason Jar Lids with Bands
• one Plastic Mason Jar Lid
Where Can I Buy One?
You can purchase The Personal Blender online at
Amazon.com
. They retail for $99.95.