*This is a sponsored post. Opinions are mine and my kids.

We are really enjoying the Toopy and Binoo series! Not only is this a fun series, but it is silly and my daughter is enjoying it so much! I even find myself giggling at times.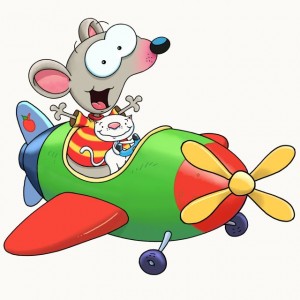 In case you did not read my other posting for Toopy and Binoo, I will let you know what this cute series is! Toopy and Binoo™ is an animated series that follows the adventures of Toopy, a tall, funny and friendly mouse, and his best friend Binoo, a tiny, clever and lovable white cat! They are too cute together! They are charming and endearing friends that love to explore their colorful, whimsical world. Binoo, always logical and perceptive, is the perfect sidekick for Toopy and his vivid imagination and spontaneous zest for life.
My daughter is really loving Toopy because he is super talkative (like my daughter!) and she thinks it is silly that Binoo doesn't say anything, he likes to keep his lips sealed! His gestures are hilarious!
Since this series inspires preschoolers (even though my daughter is in kindergarten, she is 6, so this applies to her), this is perfect for my little girl. My 13 month old also enjoys watching it at times with my daughter. I thinks he likes the sounds and fun characters! This series helps to expand your child's creativity while reinforcing positive values such as friendship, good manners, creative thinking, and humor.
This is a TV series in Canada, but is now available for the first time ever to US audiences exclusively on the Toopy and Binoo TV YouTube channel, which features more than 100 full, five-minute episodes! So that is where we have been enjoying this series!