If you are shopping for that hard-to-shop-for person, look no further because you can NEVER go wrong with gifting the gift of FOOD.
Product received. Opinions are my own.
Gourmet Gift Baskets always has such delicious gift baskets for anyone on your list. I can never browse their site quickly because I have to stop and stare at all of their products! There is certainly something for everyone.
Top Food Gifts For Under $50 From Gourmet Gift Baskets
To help you out, I put together a list for you. It is the Top Food Gifts For Under $50 From Gourmet Gift Baskets. I bet you will find something you want too!  Some are INDULGENT, Others are QUITE HEALTHY!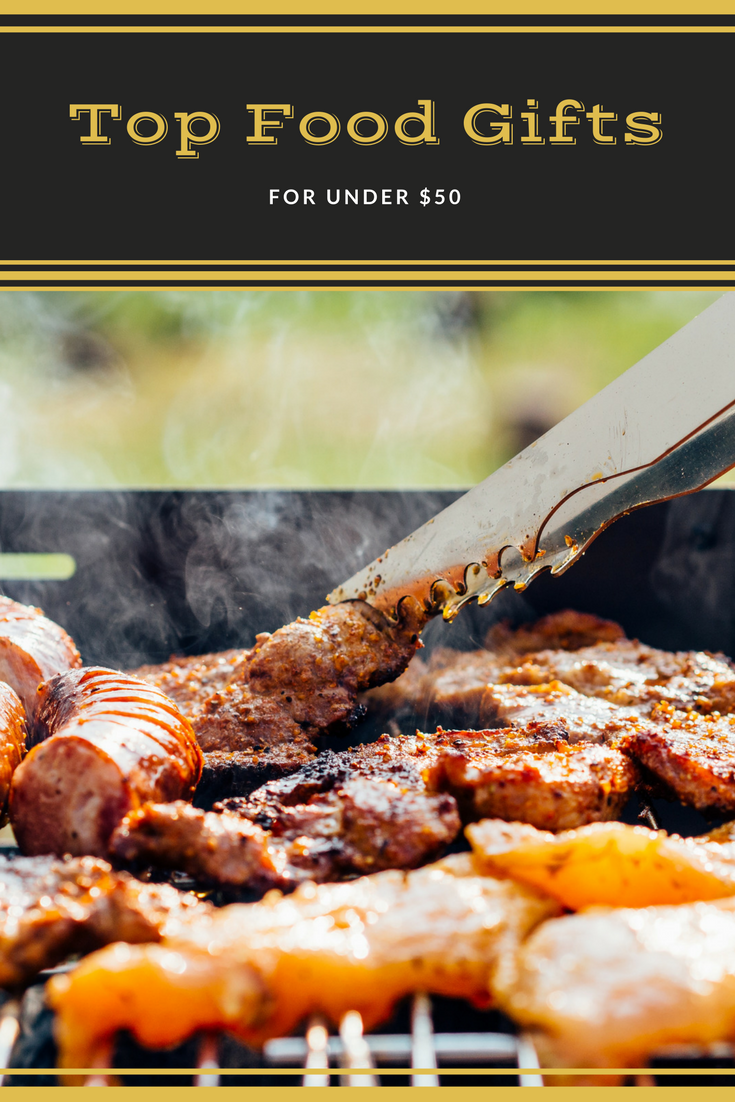 For People Who Just Love Baked Goods Like Cookies & Brownies: Let It Snow Cookie Box, SKU 8965, $29.99, and its confectionery "cousin" the Let It Snow Brownie Gift Box, SKU 8985, $29.99.
Desserts Reincarnated As Popcorn: Holiday Gourmet Popcorn Sampler, $34.99 — This is a true WOW gift for the popcorn aficionado and the dessert lover on your list. It features handcrafted, fresh popcorn reflecting many past and modern holiday cookies and desserts. Flavors include: Gingerbread Spice, Dark Chocolate Peppermint, Eggnog, Cinnamon Bun, Anise Cookie, Dark Chocolate Orange, Pink Himalayan Sea Salt Caramel, and Milk Chocolate Drizzle.
Holiday Dinner Popcorn Sampler: $34.99 — Imagine 10 different gourmet popcorn flavors in a box designed to reflect everything on the table at a traditional, homemade holiday dinner: Turkey, Stuffing, Gravy, Garlic Mashed Potatoes, Herb Roasted Vegetables, Buttered Corn on the Cob, Cranberry Sauce, Pumpkin Pie, Apple Pie, and Strawberry Cheesecake. 
SUPER Healthy Holiday Offering: Christmas Fruit Gift Basket, $39.99, SKU 1040: If you have a friend or loved one who's dedicated to fitness and healthy eating above all else, this is a thoughtful and very budget-friendly gift. Wonderful orchard fruit picked at the height of freshness (plus a couple of fruity candies) make up this wonderful, refreshing Christmas basket. Also, this beauty is a favorite among women who want their men to be much healthier — even at the holidays.
Christmas Ornaments Popcorn Tin, SKU 7263, 2 Gal., $44.99 
Taste of Christmas – SKU 5206, $44.99
Let It Snow Snack Tin, SKU 5351, $49.99
Taste of Elegance Gift Tower, SKU 6805, $39.99
We received the delicious Artisan Meat & Cheese Platter. It retails for $99.99. It must have been SO popular because it is out of stock. I can see why it was so popular because it was SO yummy! I especially loved the creamy cheeses.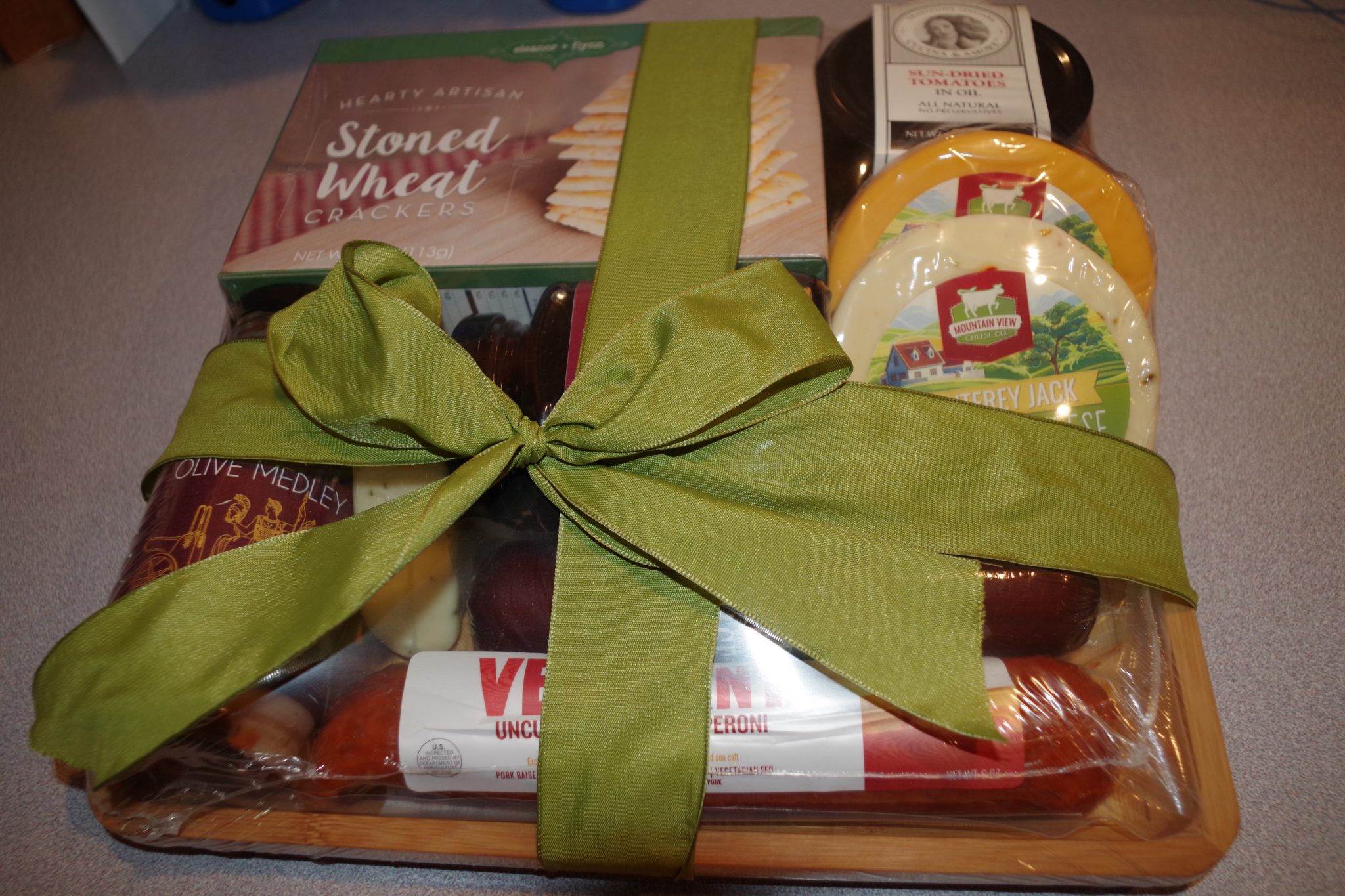 The Artisan Meat & Cheese Platter came with all of the following delicious things:
Summer Sausage by Hanover Smokehouse – 5 oz. – Expertly smoked, this delicious summer sausage is handcrafted using only the best spices and seasonings.
Smoked Pepperoni by Vermont Smoke & Cure – 6 oz. – Spicy pepperoni stick filled with spices to compliment an assortment of cheeses and crackers.
Monterey Jack Jalapeño Cheese by Mountain View Cheese Co. – 4 oz. –Creamy Monterey Jack cheese kicked up with pieces of zesty jalapeño peppers.
Savory Garlic Cheddar Cheese by Mountain View Cheese Co. – 2 oz. – The perfect cheese for any cracked as mild cheddar meets zesty roasted garlic.
UltraSharp Cheddar Cheese by Mountain View Cheese Co. – 4 oz. – Cheddar cheese like you remember – and a total crowd pleaser.
Blueberry Pomegranate Jam by Straight from the Jar – 10 oz. – Sweet jam with the distinct flavors of blueberry and pomegranate, perfect for top crackers or enjoy on some toast.
Stoned Wheat Crackers by Eleanor & Flynn – 4 oz. – Perfectly square crispy crackers with a defined stone-ground wheat flavor.
Sun Dried Tomatoes by Cucina & Amore – 7.9 oz. – Julienned slices of sweet sun-ripened tomatoes in olive oil.
Greek Olive Medley by The Brine Olive Company – 8 oz. – An assortment of green, black, and kalamata olives bathing in a savory brine.
Plus, it came with a reusable wooden tray! I use this in my kitchen all the time! What a great gift! All of the  Food Gifts listed above, are wonderful to gift to that special someone this holiday season (or any time of the year!).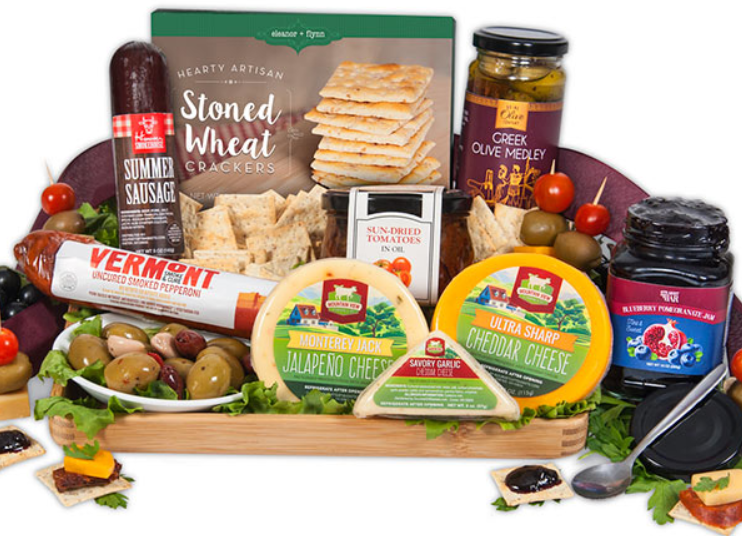 GourmetGiftBaskets.com is a family-owned, NH-based company celebrating its 15th birthday now. Here are a few new items they're offering, plus a few classics. To see the hundreds of gifts they have on display, click here
Win
One person is going to win The Artisan Meat & Cheese Platter! Yay!
Rules
The contest is open to US 18+. Giveaway will end on January 2, 2018, at 11:59 PM MT. Winner will have 48 hours to confirm their win after I email them, or a new winner will be chosen. I am not responsible for lost or stolen mail.