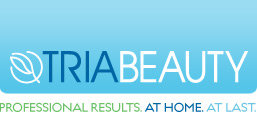 Ever heard of TRIA Beauty? Maybe some of you have heard about their laser hair removal system? Maybe you have heard about their new Skin Clarifying System to help prevent skin breakouts on your face and make your skin more radiant and smooth? Well, if you have not, I will tell you about TRIA Beauty! So, sit back and have a listen 🙂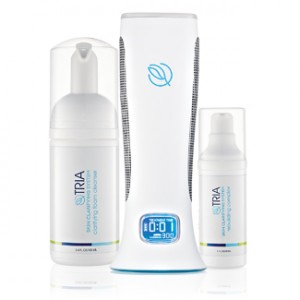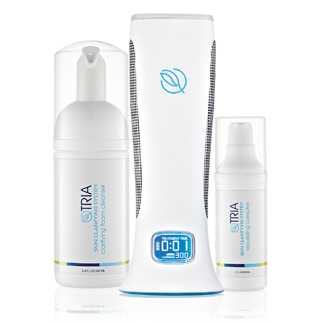 The TRIA Skin Clarifying System is a system that allows you to clear up your skin at home, in the comfort of your home. Have acne all over your face or do you just break out certain times of the month in a certain area? Well, this system will take care of it for you!
Heavens was I skeptical when I first received my TRIA Skin Clarifying System a month ago. I thought, how the heck can a hand held electric device clear up my problem areas?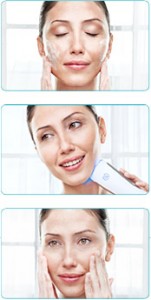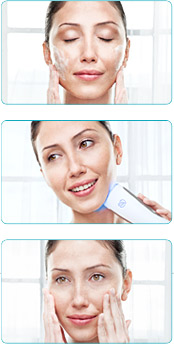 Here is what it promises to do:
• Clear acne faster than any other leading acne treatment
• Prevent future breakouts
• Improve skin texture and tone
• Allow you to enjoy clear, calm, naturally healthy skin every day
How Does it Work? (taken from their site)
The TRIA Skin Clarifying System is a 3-step system featuring advanced blue light therapy that clears, treats and nourishes your skin in just minutes a day.
The TRIA System's soothing Clarifying Blue Light penetrates deeply into the skin where breakouts start to eliminate the bacteria that cause them—effectively stopping the cycle of acne before it starts. The Clarifying Blue Light works with the TRIA System's skincare essentials to restore the skin's natural balance, accelerate skin cell renewal and improve the overall health of the skin.
With 8-10x more blue light than other at-home blue light devices, the TRIA System has been clinically proven to clear acne breakouts and blemishes better than any other leading acne treatment. The TRIA System delivers real results, without the harsh side effects of traditional acne treatments.
why doctors prefer Blue Light Therapy
As a natural and more effective alternative to traditional acne treatments, dermatologists prefer blue light treatment because it has been clinically proven to clear skin faster and more gently than prescription and over-the-counter acne treatments.
TRIA's Skin Clarifying System offers the same advanced blue light therapy as the professionals, with even more benefits: You'll save money on treatments, enjoy treatments on your schedule and be done with treatments in just minutes a day. You'll notice a difference in 7 days. Seeing is believing—or your money back.
---
My Experience:
I was not sure if I had to charge the unit, so I plugged it in and the unit seemed to be charged up and ready to roll. I tested out a patch of my skin 24 hours in advance (maybe it was more like 12 hours in advance?) and had no diverse reactions, so good to go! I popped in the memory card, which goes in the bottom and holds the 300 minutes for your sessions which are in intervals of 5 minutes each. NEVER do the same section or area twice in a 24 hour period! And you just touch the product wand to your face and it immediately turns on. As long as it is touching your skin it stays on. If you take it away from your face it will turn off and resume your session when put back on your skin. Once the 5 minutes is up, and it will let you know by beeping and shutting off, you can then go to a new area or stop and do it again the next day! Simple and very easy to use.
Some things to remember when using this system:
Never look at the bright light, it can cause blindness temporary and permanently. Never use it more than one time on one single spot during a 24 hour period. Also, this was just me, but whenever I go to charge my TRIA, I take out the memory minutes card and then charge it. Not sure if it matters, but seemed like it should not be in there when it was charging.
My Take?
You all know by now that I am a total Proactiv using girl, heck I was in their commercial! So, I was so scared to completely stop using a product I have been using forever and use something else, but I did! I stopped using Proactiv and JUST USED TRIA! Since I started using TRIA Skin Clarifying System, my skin is beautiful. I am talking about smooth, beautiful skin. I do get a pimple here and there, but nothing that is deep or hurting. They go away quickly. I love this system, it works for me. The only thing that I would maybe change is the gliding effect of this device. Sometimes it is hard to rub around on my face, right after I wash it. Maybe if their was some sort of gel or something to help it glide better? I don't know. But I do like this system. I am down to 150 minutes on my card and yes, I will be buying another card for more treatments. The cards are $40 for 300 minutes.
TRIA also has the Hair Removal System, which I would love to try out too, for Summertime! Ugh, I have so much hair on my legs, I seriously have to shave EVERYDAY or I will look like a fuzzy beast!
Would you like to Buy one???
You can purchase the TRIA Skin Clarifying System (or the Hair Removal System) by visiting their website HERE!
---
Disclosure:
I was sent a TRIA Skin Clarifying System to review and keep. These are my honest opinions on this product. Thanks!