Were you blessed with triplets or maybe more? If you were, Triple Paste has a special value/program for families with triplets or more! The birth of children is certainly an exciting and nerve-racking time, isn't it? And parents certainly have their hands full with everything baby (or should I say "babies" in this case?).
Triple Paste For Triplets Program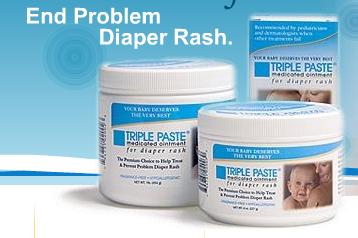 Well, Summer laboratories, Inc., the makers of Triple Paste medicated ointment for those diaper rashes, understand the new challenges and responsibilities. In hopes of providing assistance and some relief (no pun intended ;)), to the parents of triplets, they have created the Triple Paste for Triplets Program! Get your FREE samples here!
With this unique program, Summers laboratories aim to commemorate this significant milestone and congratulate recent parents of triplets with a complimentary welcome package worth over $200!
After applying online at Triple Paste For Triplets, and mailing a printed copy of the application along with a copy of each child's birth certificate for verification, parents of triplets (or more) born within the past year will receive: Triple Paste® Medicated Ointment for diaper rash, Triple Cream® Severe Dry Skin and Eczema Care cream, and membership to an exclusive multiples savings program that includes a thirty percent discount as well as free shipping on all of the Triple Paste® products when ordering direct from Summers Laboratories.
So, if you are a parent of triplets or more, you probably don't want to miss out on this great ongoing offer, do you? Triplets are definitely a big deal, that is why Triple Paste came up with this very special program, so that parents of triplets or more, can receive the most significant multiples-related giveaway available as they look toward navigating through this new stage of life and parenthood!
About Triple Paste Ointment:
If you don't know yet, what Triple Paste Ointment is, it is a premium ointment formulated to treat stubborn, problem diaper rash, yet it is gentle enough to be used on a daily basis to prevent diaper rash from occurring in the first place. Recommended highly by leading pediatricians and dermatologists, Triple Paste's long-lasting barrier works to seal out wetness between changes.
About Summers Laboratories
Summers Laboratories, Inc. is a small, innovative pharmaceutical company in Collegeville, PA dedicated to providing premium over-the-counter and prescription dermatological solutions.
We are focused on providing proven and effective therapeutic treatments for individuals suffering from skin, scalp, and nail problems such as psoriasis, eczema, severe dry skin, diaper rash, and acne.
Our goal is to provide you and your family with problem-solving products that improve your health and quality of life. Backed by our unconditional satisfaction guarantee, our unique niche products offer significant advantages and excellent results, and are highly recommended by dermatologists, pediatricians, and other healthcare professionals.