*Vitabath Luxury Bath And Body Products. products were received and opinions are mine.
I love my bath/shower time! That is the ONE time during the whole day that I get at least 15 minutes to MYSELF! And boy do I need those minutes! Whoosh.
Vitabath Luxury Bath And Body Products
So, it is no wonder that I have a stash of smell good products for just my use when I do take a few minutes to myself, each day. I was sent some yummy Vitabath Luxury Bath and Body products to check out and man they are so yummy smelling!

Everything I received I really liked. I was sent body mist, body lotion and body wash. I am impressed with all of them. They not only smelled wonderful and light but they made my whole body feel clean and moisturized! The prices are really affordable too, so that is another plus.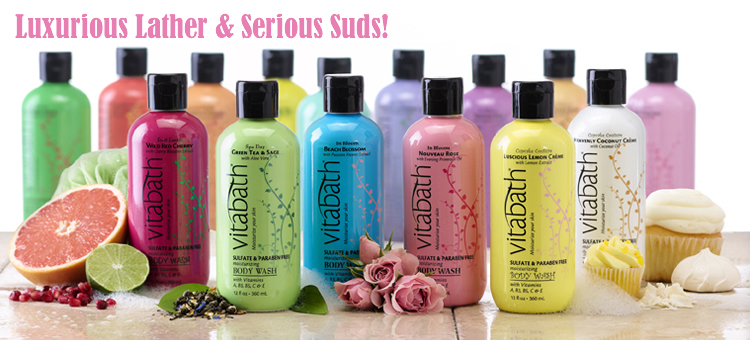 Vitabath has some wonderful collections to choose from and if you subscribe, you will receive 15% off your order plus you will receive valuable coupons and get new product alerts delivered straight to your inbox!! Woot!
Buy
To purchase Vitabath products, please visit them online at http://www.myvitabath.com/
A Bit About Vitabath:
For more than 55 years, consumers have trusted the Vitabath brand for unparalleled skin cleansing and conditioning. Vitabath's quality ingredients and rich fragrances indulge the senses and nourish the skin, resulting in a relaxing, yet invigorating, at-home spa experience. In 2011, Vitabath is revitalized its brand with the introduction of a new moisturizing, sulfate and paraben free body wash line in a wide variety of fresh, playful fragrances.