This post is all about the VTech Dual Handset Cordless Answering System. Hey there!! I hope you are all doing fabulous today!!! I have a question for you all… Do you love talking on the phone? I, for one, cannot STAND it, but, there are times that I have to talk on the phone and I want that phone to work well! Nothing is worse than talking on the phone and having it cut out or die on you, am I correct? And yes, my landline cuts out on me ALL the time. It is horrendous!
*This post includes my affiliate links.
VTech Dual Handset Cordless Answering System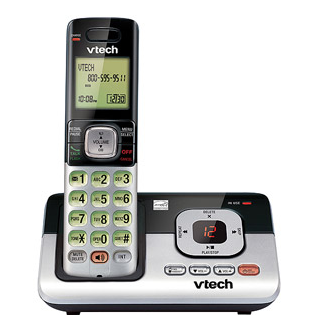 I love VTech phones, own a bunch of 'em. My service up in these parts sucks big time, so my landline is just horrid. But, when you have a good phone, it kind of makes up for it, huh?
I received the VTech Dual Handset Cordless Answering System and think it is 'all that'. Seriously, it is pretty cool! I like that BOTH people on the phone can be heard AT THE SAME TIME. This is great for me because I talk over people sometimes.. 😉 I like to talk, just not on the phone. I would rather talk face to face or on the old net.
I am also quite sneaky! This phone has caller ID so I can spy on who is calling me. If I don't want to speak to that individual, I will ignore the incoming call 🙂 I do this often…
"With Quiet Mode, ECO Mode for power-conserving and DECT 6.0 for the best audio quality, this product offers cost-conscious consumers a dependable phone with loads of functionality at an economical price"
This phone system also has call waiting, so when I gab on that phone, and someone else feels the need to call me up, I can put that other person on hold.. for a LONG time if I want to! The handset displays the name of the person calling, their number, time, and date of the incoming calls. Also, the entire keypad illuminates along with the LCD screen which allows me to view it more easily in dim lighting. Score!!!
Are you STILL not convinced about this phone? Then read ALL the features below:
DECT 6.0 Digital technology
Digital answering system
Caller ID/Call Waiting
Full Duplex handset and base speakerphone
Backlit cordless handset keypad and display
Large backlit base display
Expandable system up to 5 handsets (uses CS6709 accessory handset)
ECO Mode power-conserving technology
Quiet Mode silences the ringers
50 name and number phonebook directory
50 name and number Caller ID history
Intercom between handset and base unit
Conference between an outside line and up to 2 cordless handsets
Voicemail Waiting Indicator
English/Spanish/French setup menu
Table- and wall-mountable
Up to 14 minutes of digital recording time
Call screening
Call intercept
Remote access
Message retrieval from handset
Message time and date stamp
Flash
The last 10 numbers redial
Mute
Volume control
Any key answer
Battery Type: 2.4V 300mAh Ni-MH
Holy heavens!! Now that is SOME great features!!!! Plus, this phone system is quite tiny, so it does not take up a bunch of room! This is perfect for tight spaces like dorm rooms, apartments, and messy blogger desks (not mine of course!)… and this phone is perfect for seniors!
Buy!
So, as you can see, this really is a great little phone system! And, it retails for ONLY $24.88 at Walmart.com. You can also purchase this on Amazon.com!!
What do you think of the VTech Dual Handset Cordless Answering System?