*This post includes my affiliate links.
I have seen so many posts about what is inside of people's bags/purses. I am SO envious of what I see! Talk about organized people and people who never stick a piece of garbage or any other thing that does not belong in a purse/bag.
What Is Really In A Mom's Purse?
Well, my bag is full of good things! At one time it had a filthy diaper in it because there was no where else to put it at the time (thank God it was  not in there longer than an hour or so…). I have also found a used napkin with plenty of slimmy boogers on it… So much fun! I bet you are all so jealous!!
Click Image To Make Larger…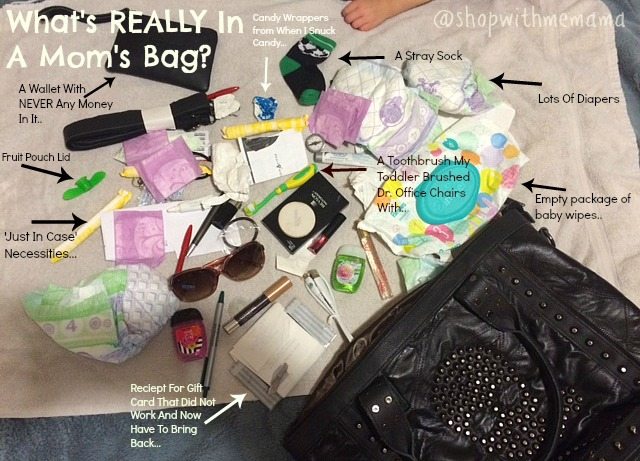 You Should Be..
I am a mom, I have stuff in my bag. I have a little toddler who needs things and I have kids who put things in my bag. That is life. I love my life as a mommy. Some times are much harder than others, but man I would not change this life I have for ANYTHING.
So, what is REALLY in your purse/bag? I want to see! Comment/post them, in the comments!