*Thanks to Amazon for sponsoring this post and providing prizes for the giveaway! Amazon, Fire and the Amazon Fire TV logo are trademarks of Amazon.com, Inc. or its affiliates.
So, where do I get my photos printed? Amazon Prints of course! Amazon has launched a photo printing service that allows all customers to print their memories.
Prime members can upload images to their Prime Photos account, print the product of their choice, and receive free delivery. If you're not a Prime member, you'll receive 5 GB of storage free on Prime Photos and be able to print your favorite photos. Prints start as low as $0.09.
With all of the graduations, weddings, baby showers, family reunions and more going on throughout the summer, it is important to take lots of pictures so you can have great memories to look back on.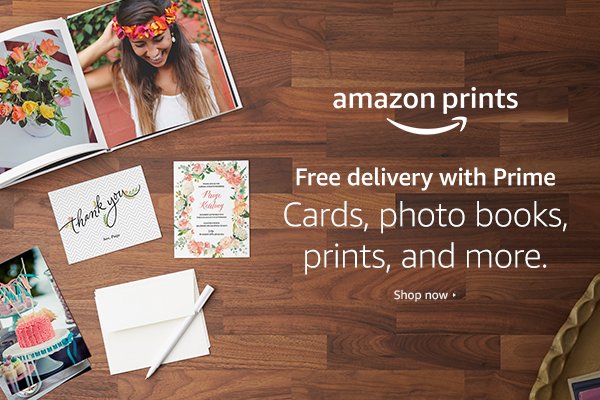 Amazon Prints can help you with all of your photos by printing them and then delivering your photos to you at no cost (if you are a Prime member). If you are not a prime member, no worries! You will still receive 5 GB of storage for free on your Prime Photos. The price is great starting at only .09 a picture! Get ready to take those family photos and get them printed out and into your photo books! No time like the present to get started.
Memories are so important. Time goes by way too quickly and I think that is so sad. I look at pictures of my kids when they were a newborn and it seems like yesterday they were that little. If I did not have these precious pictures to look back on, I would never have known or remembered how tiny and sweet they truly were!
When my oldest was little, I remember sitting at my dining room table and creating photo books. I still have his and it is one of the best memory books I have ever seen. I love it and cherish it so much. I only wish I had created one for my other two kids. But now, with Amazon Prints, I am confident I will be creating those scrapbooks sooner, rather than later!
Where do I get my photos printed? Amazon Prints!
With all those summer festivities coming up and photo opportunities non-stop, now is the time to dust off that camera and start snapping pictures! Being a blogger, it seems I am always snapping pictures of something! My next project is a family picture that I can hang on my wall. I have several photo canvases already on my wall and it is time for one more!
Huge Amazon Gift Card Giveaway!
One person will win the 1st prize which is a $500 Amazon gift card, and there are also five $100 Amazon gift cards to win too! YAY!!