Detoxify and revitalize your skin with the Zensation Collagen Rose Facial Toner. The Demask Rosewater and aloe vera extract moisturize and soothe your skin. It also leaves a cooling sensation after you use it, to make your face feel alive! The mild astringent softens and refreshes your skin while enhancing its elasticity. It also has antibacterial agents to help reduce breakouts leaving your skin smooth and fresh!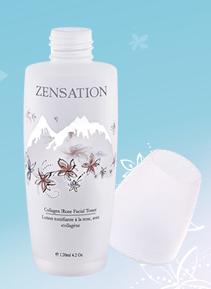 The Key Ingredients Include:
*Rose Water
*Hydrolyzed Collagen
*Aloe Leaf Juice
You can use this every morning and evening after cleansing your face. You then smooth this over your entire face and neck with a cotton pad. Pat dry, then follow with your day/night cream. That is it!
The Zensation Collagen Rose Facial Toner is great for all skin types and has no harmful preservatives. It also has no alcohol, colorants, synthetic fragrance, mineral oil, or parabens. The toner provides aromatherapy via naturally derived fragrance and essential oils. And, this is fully manufactured in Switzerland.
Buy It!
The Zensation Collagen Rose Facial Toner retails for $35 for a 4.2 oz bottle. You can purchase it online at
http://www.zensationbeaute.com/
Disclosure:
I received nothing for this post/giveaway, so enjoy!