After having baby, I lost my weight VERY quickly. I gained about 30 lbs with this one and the other two you don't want to know how much weight I gained! It was crazy how much each pregnancy is soo different!
Now that I am down to my pre pregnancy weight, I would like to maintain it and FIRM up a bit! I got a bit of jiggle in that wiggle if you know what I mean…sigh.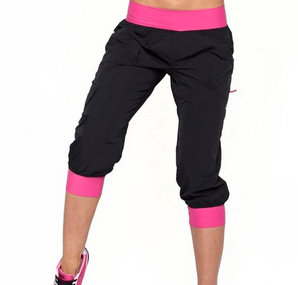 Anyways, I was able to check out some really cute ZUMBA Wear. I received the adorable ZUMBA Stellar Cargo Capri Pants. I ordered a size small and maybe should have done a size medium, because they fit rather snug, but are still pretty cute on!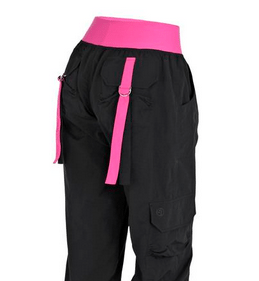 I love how they look and the double tassels on the back pockets are totally cute!! The pink trim on the black capri is nice looking and fun. The capris are 100% nylon, and pretty thin, so you don't have to worry about a heaviness to them. The band around the tummy fits nicely and does not feel uncomfortable. Plus, the cuffs around your calves are rather comfy feeling too. Overall, these are cute, fun and comfy.
I tend to workout maybe twice a week. I KNOW, it certainly should be more often than that, but I am too busy with the kids, baby, summer break AND doing my blog full-time, then to add something else to my already busy days! Maybe in the Fall I can play catch-up on my workouts??? Perhaps..
These capris are comfy to workout in and are airy enough that I don't sweat profusely in them. I wear them with a tank top and I will even wear these to the store, because they are cute enough to do so!
Buy
You can purchase these capris online at http://www.zumba.com/en-US/. The capris are on sale right now for $36.50.
Do You Wear Zumba???