*10 Things Not to Say to Someone Trying to Conceive. This is a guest post written by Kelly.
Like Kim, I suffered a miscarriage in December. I was extremely upset about the abrupt end of my pregnancy but gained new determination in my quest to conceive again. I have a type A personality and have this innate drive to plan things. I don't like to leave things up in the air but come up with a game plan. There are things you can and should say to women trying to conceive and there are plenty of things you should NOT say to them too.
This served me well in deciding when to start trying for my now 2.5-year-old daughter and again the pregnancy I miscarried. Miscarrying was a shock in itself but not getting pregnant again right away after seven months of trying came as almost an equal shock. You can do everything you know how to do to get pregnant and your body can still betray you. Fertility products may help you, but you never know for sure.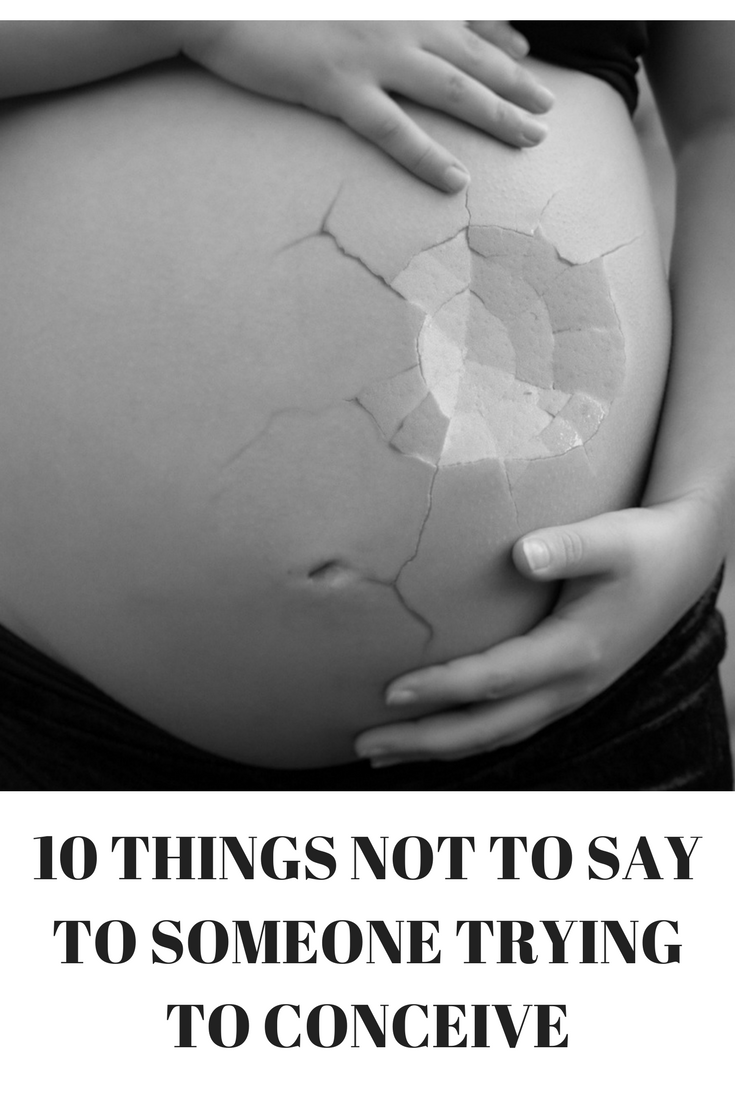 In my struggles to conceive again, I've gotten lots of support and advice. Most of it comes from a good place but some of it has been so misguided, insensitive, and off base. Here's my list of the top 10 Things Not to Say to Someone Trying to Conceive.
10 Things Not to Say to Someone Trying to Conceive
"Don't worry, it'll happen eventually."
"You're still so young."
"Why be greedy? Can't you just be happy with the child(ren) you already have?"
"Things will happen in their own time." Or the variation, "things will happen when you least expect it."
"Maybe it's just not meant to be." Really?
"Relax. You're just trying too hard. Stop trying and it'll happen."
"Have you thought about adopting?"
"Everything happens for a reason."
"If it's meant to be, it'll be."
"Maybe you're not doing it right, maybe you're trying too hard or not trying hard enough. Maybe you should look into acupuncture, specialists, herbs, tests, treatments, etc."
What You Could Say:
A better comment if you don't know what to say or are unsure of how your comment might be perceived by the person who's having a hard time getting pregnant, try saying something like, "I'm sorry you're going through this". I'm here for you if you need to talk." Conveying support and sympathy can mean the world to someone that's fighting with their whole self to create a new life.
Kelly is an Austin blogger and stay-at-home mom to a preemie (now toddler). She writes on her blog, Texas Type A Mom, about family, food, reviews, and trying to live a green life in Texas.