*This post is brought to you by Jaguar Of Naperville. Opinions are my own.
I can't wait until spring! We are supposed to be traveling to Oregon to see my family and we are very excited. I just hope that we will be able to go. It all depends on the weather, the kid's school, money and a good running vehicle like the ones you see at Jaguar Of Naperville.
There are quite a few things I always take with me on vacation or on a road trip. I tend to over pack at times, but hey, what can I say, that is how I feel most comfortable! And, I have piece of mind that we will have all we need in case of an emergency. See, I am always prepared 😉
There are some absolute must-have products to take on vacation, that I cannot leave home without. Do you have things you have to take with you on the road or when you go on vacation? Below, are my 5 must-have products!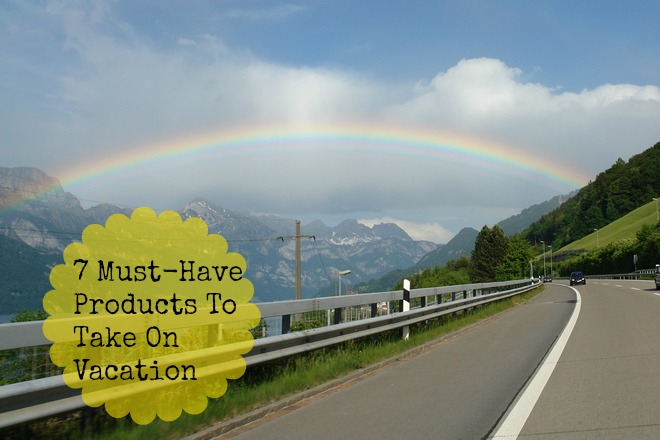 7 Must-Have Products To Take On Vacation
Hand Sanitizer. I always have to have a hand sanitizer in my purse. Why? Because you touch so much gross stuff when you travel! From gas station bathroom doors to dirty handles on doors to stores, you touch a lot of yucky stuff folks! Might as well be prepared and have hand sanitizer on hand.
Baby Wipes. Yep, these too. What happens when your kids are snacking and get grimy hands? Or what about you? You touch something sticky or something spills, you will need those baby wipes! I like to carry some in my purse alongside my hand sanitizer and a big pack of baby wipes in my center console of my car.
Chapstick. I absolutely cannot stand dry lips. It will literally shut me down if my lips become chapped or dried out. I always have to have my candy cane chapstick by me at all times. Plus the tingle of the candy cane chapstick keeps me awake!
Hand Lotion. I can't stand having dry hands. After using the hand sanitizer, my hands tend to feel dry, I don't like that. So, I carrying hand lotion in my purse and one in my glove compartment of my car for road trips. Plus, my kids have dry skin, so having this on hand has been a life saver for us.
Blankets! I must have at least three blankets when we travel. Why? Because I have three kids! Just think, if I packed one blanket. Oh, the fights that would break out in the back seat! Heck no! So, I always have cheap blankets in the back seat for my kids to use. Oh, and I make sure they are all EXACTLY the same color and texture or they will fight over who gets the blue or red blanket. Heavens NO!
Sunglasses! I remember, once upon a time, I forgot my sunglasses. I was in the worst mood because the sun was in my eyeballs and the visor wasn't cutting it. The closest store was about 60 miles away, so I was not a happy traveler. Remember your sunglasses even on the gloomiest of days!
Phone and Charger. Okay, those are two things, but you need them both! Duh. I just keep my phone charged the whole time when I travel. That way, I don't have a dead phone when I need it the most.
What Must-Have Products Do You Bring With You When Going On Vacation?