This post is all about 8 Travel Packing Hacks Everyone Needs To Know! How you pack is just as important as what you pack. By embracing a few packing hacks, you can fit more items in your suitcase, while still keeping it all organized. Below are just a few packing hacks that are worth trying.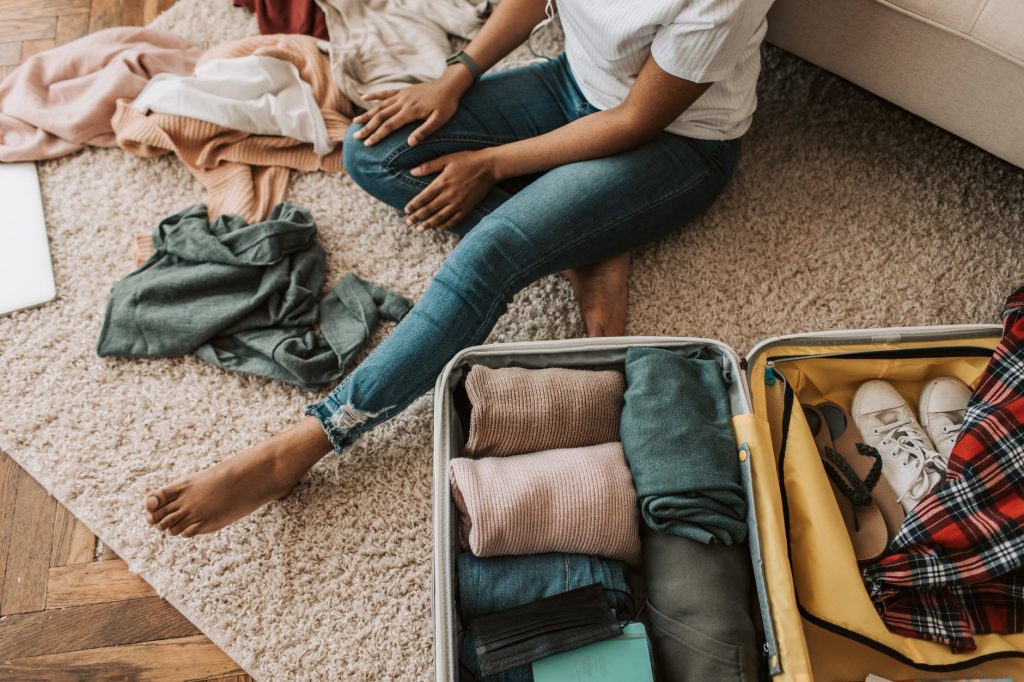 8 Travel Packing Hacks Everyone Needs To Know
Roll don't, fold
Most of us fold our clothes when packing, but rolling is actually much more space-efficient. If you want to pack a few extra clothing items, rolling is the way to go. That said, you should avoid rolling certain items like bulky coats and jumpers as these tend to take up more space when rolled.
Pack in cubes
You can keep your luggage more organized by packing in cubes. This involves separating different items into different zip-up compartments called packing cubes. This prevents clothes from all getting mixed up during transit and also allows you to easily take out certain items without disturbing other items. Packing cubes can be bought in sets and come in all different shapes and sizes, allowing you to compartmentalize your items in whatever way you find best.
Bag up loose items
If you decide not to use the cube method, you should at least try to bag up loose items like jewelry, make-up, headphones, and cables. These items can easily become mixed up and tangled if you don't bag them up. Sites like Roam Often sell specialist jewelry bags for traveling that could be perfect for keeping jewelry organized (and secure).
Bag up shoes
Shoes can sometimes end up transferring dirt onto other clothes. While cleaning your shoes before you pack is an option, a faster solution is to simply keep them in a separate bag within your suitcase. This stops dirty shoes from making contact with other items.
Pack heavy items near the wheels
It's best to pack the heaviest items at the bottom end of your suitcase near the wheels. Put them at the top and they'll compress everything below when pulling along your suitcase – this is not good if you've got fragile items in your suitcase (they should ideally be packed at the top end).
Wear your jacket at the airport
If you're traveling by plane, take your jacket with you through the airport and onto the plane. Jackets tend to be some of the bulkiest clothing items and can take up a lot of luggage space. By not packing it in your suitcase, you'll free up extra space for other items. It's also worth having your coat on you in the airport – even in hot countries, airports can get quite chilly as a result of the air con.
Buy a luggage scale
Getting to the bag check-in desk and being told that your suitcase is too heavy is a nightmare situation that many of us have been in. It often means having to take out items and rearrange bags last minute. Save yourself the stress by checking the maximum weight beforehand and then weighing your bag with a luggage scale before you get to the airport. It's worth packing the luggage scale so that you can use it on your journey back too – many people end up taking home souvenirs, which can add extra weight. Check out this guide to luggage scales here at Trip Savvy.
Bring bags for dirty laundry
Without a means to separate dirty laundry, it will likely end up getting mixed with clean laundry, and then you won't know what actually needs washing when you return. Bring some bags to put your dirty laundry in so that it doesn't mix with clean clothing. Dirty laundry bags could be particularly useful if you're planning on packing and unpacking multiple times in your trip (for instance, if you're staying at two or more different hotels throughout the trip).